Dave Graham – Pro Blog 13
Heading out the door? Read this article on the new Outside+ app available now on iOS devices for members! Download the app.
Well, I'll be damned! It sure is a trip being back here on the North American continent! It sure is great to be kickin' it with my homies, Isaac Caldiero and Joey Kind Kid. It's really nice to see all the stuff I have been starved off lately! Some obvious things I've noticed being lots of English fluttering around, big wide streets, Gangster rap, decent hamburgers, Cheez-its, and wide-open spaces abound. I have to admit it's been great; I really enjoy some things here, which don't exist in Europe! I have been on one hell of a journey the past year, introduced by the Spanish hard livin', rapidly moving forward into Sarkozy-land, and then an international Flight. The past months particularly have been crazy, full of all kinds of exciting action, adventure, and multi-lingual life stuff. I am quite stunned to realize I blew off doing a blog for over two whole months, and for that I am sorry. Yes, I am slightly ashamed, and Yes, I was definately caught in the grips, but that's not a surprise to me … With crags like Ceuse, and intercontinental living changes, It's hard to extend yourself any further than the current world in front of you. Old-school, Yes again, but there weren't no got dang Blackberry handhelds, or wi-fi ports to be seen in the Land Before Time (Europe.) I saw an Iphone, but Josh Lowell was yielding the thing, and it looked liked magic, I just remember staring like an idiot at the little mirror apple symbol thing. Yeah. So. Ever since I left Spain in the beginning of July, it's been pretty intense. I lived in a camper (a small motor home) and sold my car to the circus. No more EU for six months, and I ain't scarred.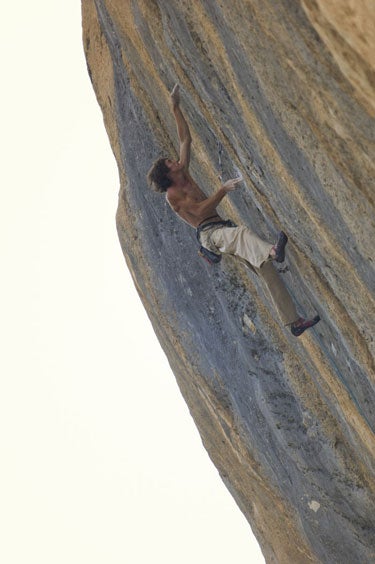 I left off the last blog lingering upon the sweltering Valley of Mascun, where I was chillin' in the sun, and doing all kinds of jug-hauling. After I realized I had been there for almost three months, I felt weird, and needed to do some objectives and get the hell out. In the beginning of July, after completing my Rodellar objectives, like bouldering the route-boulder Ali-Hulk (9a they say) and onsighting an 8b+ and a couple 8b's on my last day, I felt all strong and ready to tackle the strange new land of France. The change of scenery was wonderful. It was hard to leave the brilliant Spanish climbing scene, so much fun, and so relaxed, but it was necessary, like a worm getting out of a cocoon, it was an evolution of life, which must take place.
My destination in France was Ceuse of course, to try Realization. Was I weak or was I strong? I had no clue, I made assumptions, assessed my strengths, and concluded — Sure, why not try A Muerte on the coolest climb in the world! As Chris Sharma was already reporting climbable conditions, and Team Big-Up was arriving in only matter of days, I got my hustle on and cruised out. As I walked up the trail on the first day I was there, quite worked from experiencing the trail again after many years, I realized a lot of things I hadn't seen in years past. Ceuse is beautiful, in all respects, and I had one hell of a good time enjoying its majesty, something I hadn't fully delved into in my younger years.
It was rad there! We had a kick-ass equipa which included the good ol' Lowell brothers, Josh and Brett who are gangsters, Corey Rich, who a straight G as well, and the two biggest thugs of all Daila Ojeda and Chris Sharma. The King Lines filming was on. Then there were the other Americans and some Germans too. Udo Neumann, Lalya Mammi, Seth, Chad Perkins, Ethan Pringle, Jon Cardwell, and Gabor Szekely where all kickin' it like thugs too, making up the caravan family, the hard livers … Having the younger crew brought some good energy to the wall. Ethan was embarking on his quest to climb Realization as well, just crushing all over the thing, and looking really strong, which got me very excited to try and crush too.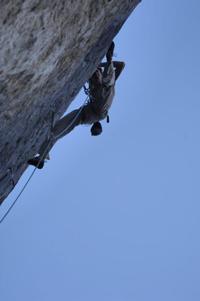 The first day climbing it was freezing cold, the dead inverse of Spain. I worked out the moves one try, thought I would blow all my tendons, and said, oh no. STEP! This is way harder then I remembered! The next day, and the next try, with extreme freezing conditions as well, I linked to the upper crux, and was shocked, it all the sudden, felt easier then I remembered. This began the strange cycle of "how it felt" every other try. I made attempts for the next three weeks, mostly two a day, going two days on one day off, and every time, it was something new.
As Ethan and I started trying more ritualistically, we became confused. Not pumped, and feeling strong in the bottom, but weak shit in the crux, strong as shit in the crux then weak like never before in the bottom, I declared ignorance to understanding anything, and attempted to analyze and think about what was going as little as possible. This is very hard for me to pull off. Finally, at the end of the three weeks, I randomly decided that the beta [what Ethan and Chris was doing] sucked for me. I never felt strong doing it, and it felt "proper awkward" … so thank god for the nature of rock, I grabbed a strange gaston, which is always looked at but never crimped, due to the fact it gnarly… and did my old school wicked 2003 beta, and busted through the upper crux, the first time I tried the beta from the ground! Shepadang!
After a rest day, I fell off three times on the crux move, which was kinda discouraging, then after another rest day, fired it off the first try with some kick ass conditions. It's been a month, so i'm less excited naturally about the send, but it was f&*kin' great! It felt so good to do that route, and it was so fun, and enjoyable, and within reason, and resistant, it got me really psyched on life and climbing. Massive props and a huge Gracias go out to Layla for belaying my ass all the time, and dealing with my lack of self belief (until the moment I actually did it, I wasn't sure whether I could it or not in the seven days I had left, some serious mental blocks stuff!) and everyone else who had do deal with my ramblings about the beta. Never, had I thought it would work so easily. It wasn't like I just showed up and climbed it, but at least it didn't take me three more years or something crazy. Renewed confidence is all I can say.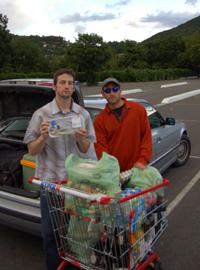 What happened after that? $h*t. I sold my car to the damn circus, for 500 euro, and which they painted red or, something crazy and put clown stickers on it. Sentimentally difficult, but that's life. International flights, next thing I knew I was in Utah… My first words were like… here we go! I ate Thai food with my bros, and the next thing I knew again, I was at the good ol' Outdoor Retail Show, where it was nice to see all the guys from Prana, and Five Ten and Petzl America, and old friends from our climbing universe. Right this second, I am in Calgary, and soon I'm going to Boulder. Yesterday I did some heinous climb called Existence Mundane in Acepahle. Its dope. tomorrow I want to do some heinous climb called Bunda de Fora, also dope.
Life is good I would have to say, even though I am a full fledged gypsy at this point, would love to visit my family, and probably should settle down a moment, stop climbing so much and chill the fuc% out. But this is now out of the question due to the massive well of motivation I have tapped into, I feel myself getting really psyched to get way stronger, train my ass off, and get better, and climb hard shit, and yeah, the open road.
Next up in life — SLC for two day, RMNP STAT, climbing with thug-overlord Ty Landman master of the british one foot up power deadpoint, and art director and gay fashion designer The Chad. After this looks like some Kentucky souf side livin', Petzl gangster party ROCTRIP RRG, Maine life, then SOCAL, St. George projects at the black and tan, the FORTRESS, where me and Joe shall do something hopefully, then who knows? We shall see …