Heading out the door? Read this article on the new Outside+ app available now on iOS devices for members! Download the app.
Mythique, Patrick Edlinger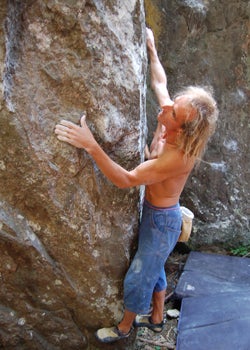 September 25,Verbier, CH
It's raining. My apartment is engulfed in a cloud, and its weird. I am in the process of cooking potato-leek soup and I have cut the regular onions, the green onions, and the leeks and sautéed them for around 20 minutes in butter. It's an easy soup to make at least. All I have to do now is stir. Eventually, I will put chicken broth in with the vegetables, and soon after, it will be time to add the potatoes I have been boiling. Afterwards, I will let it cook, and I'll wait. I will watch a movie, perhaps. The House of Flying Dagger's?! TV here sucks, and it overwhelms me, as well. I watch the Italian programs and it reminds me of living in Ticino. I watch the German version of Cops, and it reminds me of Bavaria in 2001. The French I understand well and it's usually boring, and really bizarre. I watch CNN, and I see George Bush sometimes. He is an Idiot, and it awes me. I won't talk about the rest of the news. It's not that entertaining.
I am going to Ceüse! Its amazing. One of the most exciting things that can possibly happen, and I get really the strange urge, even though it doesn't make sense, to just run out to my car and drive there. Le Massif de Ceuse is beautiful. The colors, the ambiance, the feeling of being there…it's dreamlike, especially the way the clouds move.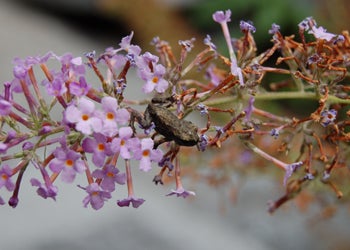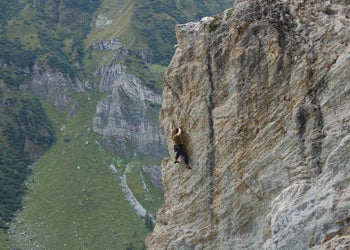 Normally, my last day here in Valais will be Sunday, and I pray the weather will be good in the strange, pre-alp region of Haute-Savoie filled withmassifs, rivers, and lakes. It will be cold, no swimming, and I hope I will feel fit on the hike. I am a little worried, as I have not been hiking a long ways for a long time. It kicks my ass. Especially when you bolt a route. Normally you arrive to the cliff and gasp for air, especially if you have to run up the trail for your own strange personal reasons. When you bolt, you must get on top. Using an Alpinist's eye for lines, its obvious, which line one takes. Unfortunately, They remove the first 10 rungs of the via-ferrata at the end of the guiding-season. They don't forget to remove the safety line, as well.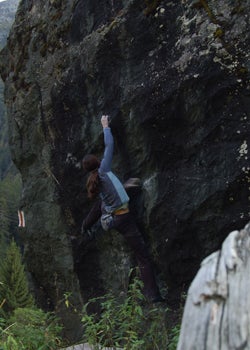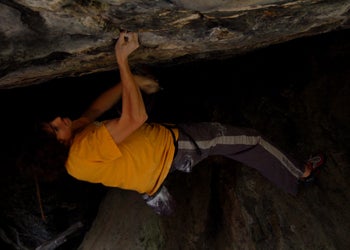 Forced to free solo a slab, you get onto a crazy staircase of bars glued into the cliff. They are thin, and shaped like a "U" but in block-letter font. You move upwards slowly, clinging to each little bar, cursing yourself for forgetting your belay gloves perpetually, and gradually, the route becomes overhanging. Maybe 25 meters of the ground, it's a perfect time to freak out, and try desperately to protect yourself with your quick draws on each rung. You get pumped because it's heinous, slow down because you feel lost with this new task of clipping and unclipping yourself into rungs, adding more and more quickdraws into the equation, cruxing, you feel safe. Ten draws deep, you feel ridiculous. Your gear was not made for this. Its lucky your friends aren't watching because they would say, laughing, "Ca-va ou bien?!" Thinking to yourself, it's gonna be all right, you take a deep breath. Bordel. Drained of all your power, you just say fuck it, unclip all the quickdraws, and when liberated, climb with all your technique and experience up the rungs. Your huge backpack pulls, ropes coiled around your head slide, and sweating under all your three layers of clothes, you realize: this could be the end.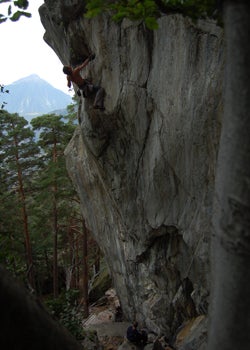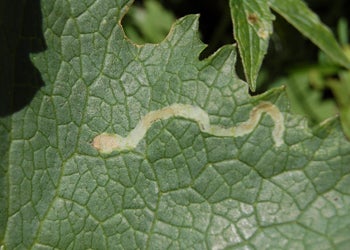 I am thinking of hiding one of my batteries for my drill every other day in my friend Sacha's backpack. I perhaps will sneak some bolts into Patrick Edlinger's pack, as well. I am really skinny, and it's a hard life. You gotta get by for Christ sakes. I hope they don't find out, because they will most likely kick my ass. Sacha is a mountain guide, and Patrick used to free solo. I will bolt another route in Ceüse.
—Dave Graham