Heading out the door? Read this article on the new Outside+ app available now on iOS devices for members! Download the app.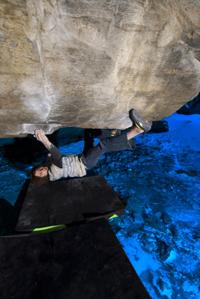 Mata Solana, February 11, 2007
"Better late than never." I heard someone say something like that once … whether it was a saying coined in the dawning of the age of humans, such as ourselves, and doomed just to be a relic of something that we don't practice or need anymore, like the bones which still form in the current human hand, useless to everything except walking on fours … Anyway, I was inspired by this phrase, when I realized I was about one month late on my blog which is titled "NUMBER 9." Well, check it out. I have excuses. It's my thing — excuses — shot blockin' and what not, so I brought my basket full of 'em today so let's just leave it like that.
Which reminds me again. Fours.
Four Fours.
In Rummy 500 this would land you a sweet 20 points. Which is more or less worthless. Says a lot about life. 15 points for an Ace, and 10 points for any face card. Then any "normal" card gets only 5. It's a rip-off, and I will never like it.
In Rumney we learned to climb on all fours. Coincidence. Hell no. We played Rummy 500, last night.
So, in the last month my life has been full of crazy shit (pun intended). There's been everything from international travel, shopping for socks, driving on curvy roads, pensive moments, talking out loud, being alive not dead, cooking and eating, hysteric laughter, stretching, onsight climbing, facial expressions like "Well, shit … ", being depressed, getting injured in multiple ways, making tea, walking aimlessly in airports, giving hospital staff a hard time, rock climbing, convention center things, frozen riversides covered in snow, and to top it off, friends in Catalunya! I can say for sure, life has not been boring.
I am in Mata Solana right now, a quaint mountain town near Terradets. We see a valley, we have a fireplace, and the sun hits the building all day. We are all exuding peace and happiness, and we have in three nights drank over 15 bottles and that's probably being conservative with the truth. The name Mata Solana is meaning, "killed by the sun" so you can imagine, a blistering inferno, where myself, Klemen clementine Becan, Joe Kinder, and his queen, Colette McInerney, are roasting alive.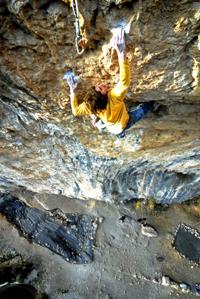 This is a paragraph given to Joe kinder. He is allowed to write here, its not some bullshit scam, and his name is spelled KINDER not KINDNER, which is a common misconception, and almost sure-fire for sure because he is around Chris LINDNER, not to be confused with LINDER. ya heard. well, dammit, its Joes turn.
Well good god…I have only had one week here and I am seriously bugged out on the illmaticness of Spain. My cuticles are all shredded up and I am sore as shit….but I am here for a while so I have to suffer to excel…ya heard!!! Dave's blogs are good shit and I just wanna comment on our house in which we reside. We call it "The Haunted House" and all hold some fear in one way or another for this place. Less than 15 feet from our front door there is a tiny cemetery and a small church with a tomb in it. Supposedly no one knows what or who is in the tomb and I'm really not trying to open it! There have been no sightings of any ghosts yet, But, man, I know there will. Clementine hopes the ghost is a hot chick….I'm with him!! This house is the most rustic sort of living situation I have been in ever. We are truly in the middle of nowhere and only one other person lives in this little villiage. We keep warm by a the fire in the kitchen and almost always end up drunk as shit late night…..good living. I am embracing it all though and I truly a lot happier here than where I was living previously. Well….thats my word. Stay tuned for more! All my people in Colorado…stay warm and stay psyched….Jyeaaah!!!!
That was a mesasage from Joe.
At night we make a fire, and it smells bad, but to be honest, I like the rustic nature of this place. We are here to get in shape, and slowly but surely this will be the case. Ultimate fitness, sick endurance, resistance atope, and further more, rhythm. I have focused my energy upon onsighting beautiful long routes, and trying 8c+ [5.14c] routes at the same time, with slightly different styles. As I have just returned from a two week travel from the states, where I was robbed of much life-force, beamed in the eye with a broomstick, maimed, then repaired by a man in a black suit, and further managed to re-tweak a tweaked finger due to an unfortunate past experience with a mono-pocket (while climbing in the gym!). It was a very traumatic month to say the least, and being a cynic, I won't even get started on my true thoughts about all that jazz …
The rock climbing flow pours into the body pure, like a glacial river, and I begin to relax and chill both at the same time, in order to feel like I did before I went on my mad trip. Deep breathes, cups of Twinning's Baja Voyage, maybe vacuum my car later … Don't want to die young, you know …