Desert Roof Cracks Galore: A Conversation with the Wide Boyz about Their Latest Utah Trip
Heading out the door? Read this article on the new Outside+ app available now on iOS devices for members! Download the app.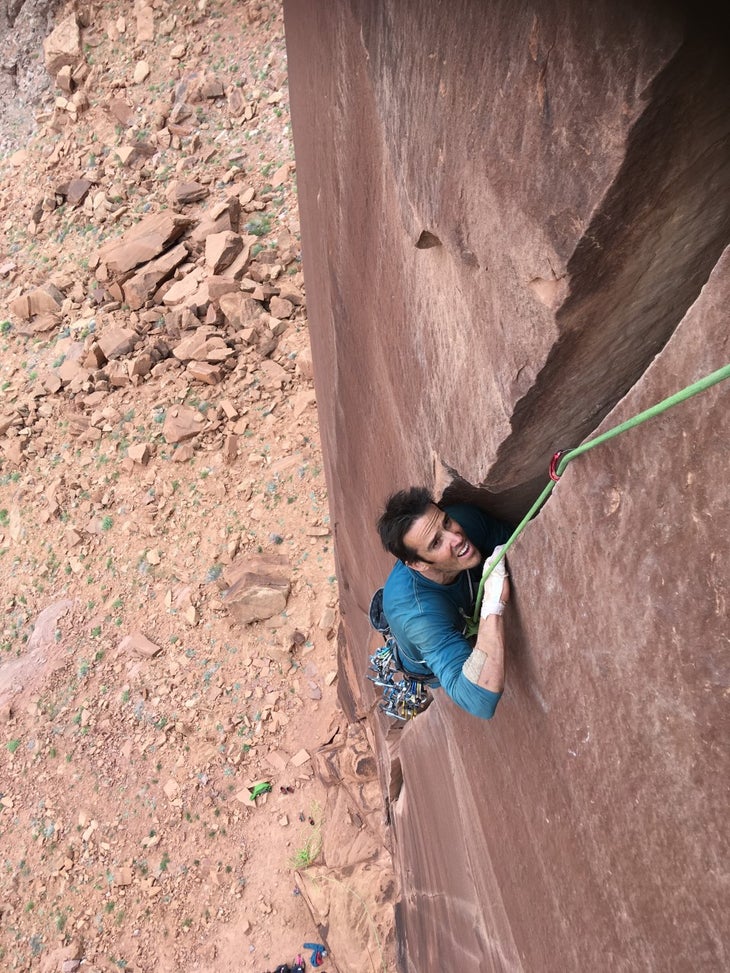 Since they were featured in Reel Rock 7 way back in 2012, the UK duo known as the Wide Boyz— Pete Whittaker and Tom Randall—have become household names in the climbing community for their difficult offwidth ascents, affinity for painful hand jams, punishing basement crack-climbing training regimen, and hilarious crag antics. In the ensuing years, the duo has continued to put down some of the most impressive cracks in the world. They have also started their own business selling the crack volumes they've developed as training tools for staying fit back home in Sheffield, England—a city known more for its rain and scary gritstone faces and aretes than splitter cracks. (These volumes, which come in a variety of jam sizes and feature "soft grip technology," are available at wideboyz.com.)
This past April, Whittaker and Randall spent three weeks in and around Moab, Utah. While there, they expanded their résumé of difficult desert crack climbs, including the second and third ascents of Pamela Pack's three-pitch offwidth Kill Artist, located in Long Canyon, as well as the second and third ascents of Necronomicon (5.13d/5.14a), a 30-meter line in the White Rim of Canyonlands put up by Jean-Pierre Ouellet in 2011.
Also in Canyonlands, the Boyz returned to an old project that had not yet been climbed but would become the 5.14 Black Mamba. Whittaker and Randall had initially tried the 50-meter boulder problem-route hybrid roof crack back in 2011, when Rob Pizem took them to it after their first ascent of Century Crack (5.14b), another super-gnarly offwidth in the area. It wasn't until this year's trip to Moab that they took Black Mamba seriously as a project, however. While the majority of the climb is done as a boulder problem, the final 10 meters (dubbed the Angry Pirate Finish [5.13a/b]) are climbed with gear and a rope; the integral route incorporates an array of different techniques, including hands, fists, and fingers, as well as long sections of offwidth. Both Whittaker and Randall sent, grading the climb 5.14b.
Climbing caught up with the Wide Boyz after they had returned home to England to find out more about their thoughts on their latest trip to the American West and to get a sense of what's next.
What is it about Moab that keeps bringing you back?
Pete Whittaker
Moab is a unique area because the cracks are so splitter. You go there and you know what you're getting, which is good for us when we're only there for three weeks. The area we climbed at, in Canyonlands, is very unique. You get these huge cave formations with massive roof cracks through the middle. I've never seen anywhere, in person or in photos, with that many horizontal roof cracks in such a small area. It's like Indian Creek on steroids.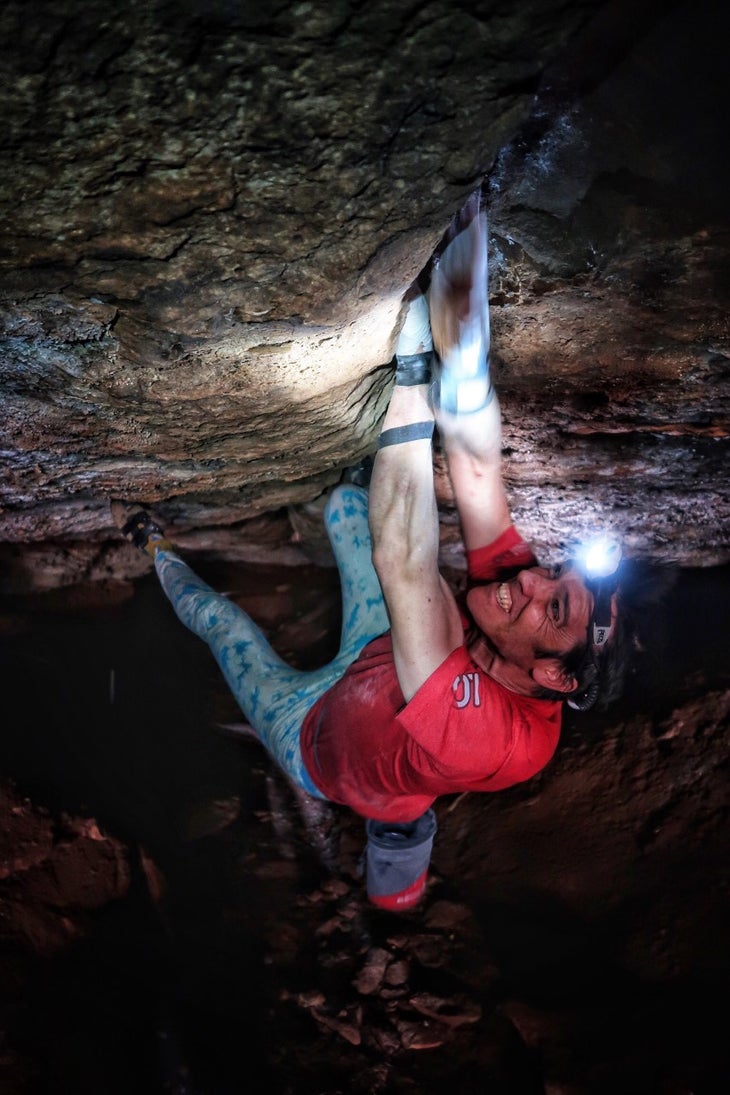 Tom Randall
Moab is such a brilliant place for crack climbing because it genuinely caters to every type of enthusiast. If you're into finger cracks, then there's probably a thousand in the region to go try. Likewise, if you're a wide-fan, then there're probably a thousand offwidths to do. I don't know of any other climbing area in the world with the breadth and depth of climbing in that style.
What was your favorite climb from this most recent trip?
Pete Whittaker
We didn't actually do that many climbs, as we were working on projects. But to be honest, the few things that we did do were all great. It's hard to separate them out. Necronomicon felt nice to do at the beginning of the trip as a leveler to gauge our standard. Plus, we'd had a session on this a few years back, so it was nice to put it to bed. Black Mamba was very unique. It's a boulder problem/route hybrid and incredibly long and pumpy—a real fighter to get up it. That one was pretty cool as it felt exactly like Tom's cellar, and we do like Tom's cellar.
We also did some routes outside Canyonlands at the end of the trip: Bushido, Dark Passenger, and Kill Artist. These were really clean and enjoyable lines to finish on. I guess we just picked the right routes for the right time in the trip, so all of them felt like good fun. It was a proper-good trip.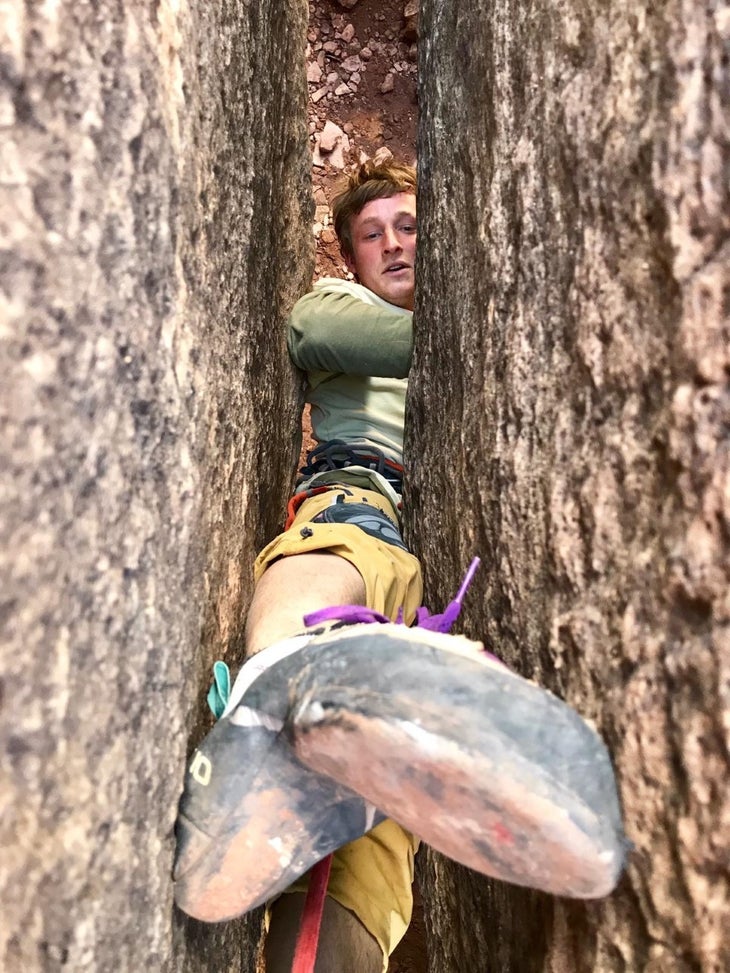 Tom Randall
Funnily enough, I really enjoyed Bushido, just outside Moab, which involved quite a lot of laybacking. It seems weird to be saying that as a crack climber, but it was such a nice break to layback something for once. It saved the backs of my hands, too!
Is there anything that you feel you left undone?
Pete Whittaker
We still have the Crucifix project [a possible 5.15 roof crack] in that area. That thing is tricky, though. We did, however, come away from this trip with some big realizations. I think the next year will tell us if the Crucifix is going to be possible for us or if it will be left to the next generation of crack climbers. It's going to be interesting. We'll see!
What are your perceptions of the Moab climbing scene?
Pete Whittaker
People are psyched on cracks! We have a good bunch of friends in the Moab area and in the American crack-climbing scene in general now, so it's always nice to visit. Everyone always has brilliant stories, and its great to have them all thrown at you within a three-week period. I'm always having a good chuckle to myself over what I hear.
Tom Randall
I'm always impressed to see how passionate the younger crowd of crack climbers is. There's a nice scene of girls and guys in their twenties who are very motivated and driven to up their game. They're aware that training is useful. They know that climbing on wooden cracks has a benefit, and they're prepared to try pretty much any size and style of crack. One particular climber, Mary Eden, has come along with her climbing so much since we saw her two years ago, and watching her cruising around on The Crack House [a 5.13 boulder-problem roof crack near Moab] was inspiring. I'd also like to mention another young climber: Laura Sabourin. She's got an amazing attitude toward climbing and the community, and has the guts to go and try some pretty full-on lines.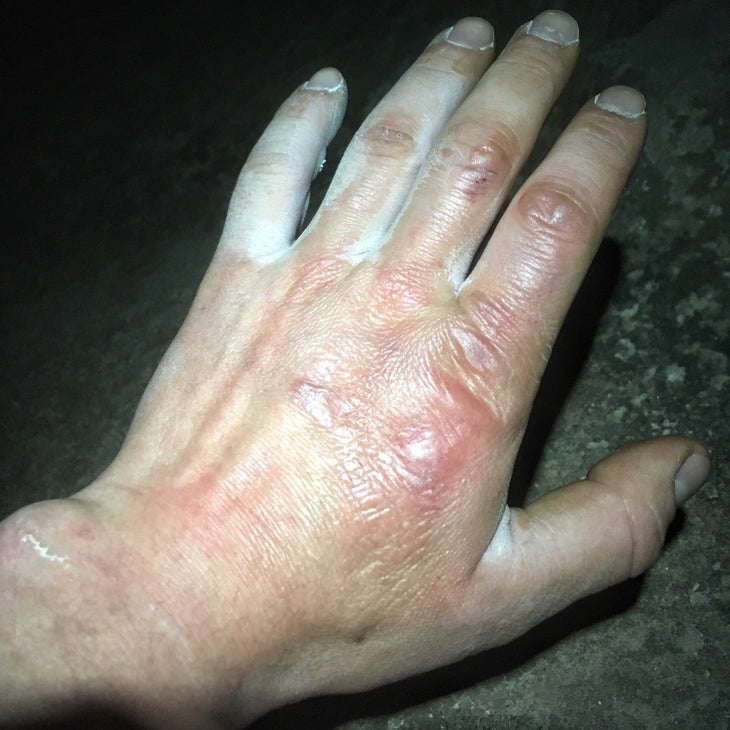 What's next for the Wide Boyz?
Pete Whittaker
We have an unfinished climb we want to complete on our side of the Pond, and then of course our desert crack projects. Plus, we also want people to find the joys of crack climbing, so we're pushing forward with our Wide Boyz company and bringing crack climbing to indoor walls, with our soft-grip volumes.
Tom Randall
Having the chance, after a decade of total crack immersion, to teach some of the stuff we've learnt is a real privilege. Running the Crack School classes in recent years has been a lot more productive as we produce our own crack-climbing volumes— basically we needed to solve our own problem! We lacked the ability to show people indoor crack climbing in a comfortable and non-intimidating way, so we created something that's modular, soft on the inside, and really easy to teach on.