Diamond's Honeymoon is Over (5.13c) Sees First Repeat
Heading out the door? Read this article on the new Outside+ app available now on iOS devices for members! Download the app.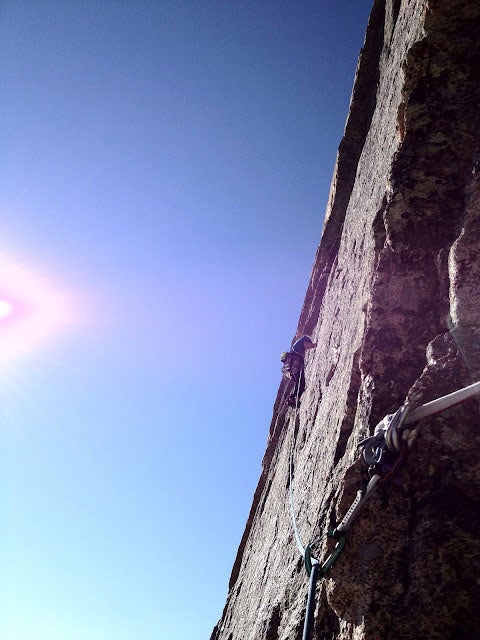 8/8/12 – Jonathan Siegrist has made the second ascent of Tommy Caldwell's The Honeymoon is Over, a nine-pitch 5.13c on the Diamond of Longs Peak, Colorado.Eric Doub bolted The Honeymoon is Over in the 1990s, but it was Caldwell who made the first free ascent in 2001. (The route was originally an aid climb at VI- 5.10 A3+.) It's the hardest route on the Diamond, and one of the hardest alpine rock climbs in the U.S.
Siegrist spent the latter half of July and beginning of August working on the route, "acclimatizing, hauling loads, and trying the route a couple of times on mini-traxion from the top," he said in an email. He's had his eye on The Honeymoon is Over for "years," he said. "I've gotten my ass kicked on the Diamond several times, and The Honeymoon… would be a real challenge."
The route starts with two easy pitches of 5.6 and 5.9, then moves into the first two pitches of Eroica (5.11b, 5.11d). After that, The Honeymoon is Over begins, with pitches of 5.13b, 5.13c, 5.13a, 5.13a, and 5.12b. On his blog, Siegrist describes the crux pitch as 50 feet of "ultra-techy, right-facing dihedral, with a few opportunities for fingers… feet on dime edges… and body tension." Following this is a 5.12+ section, then a traverse across a blank face for a "huge span/crimp/mantel move that was just barely within my reach," he said. He had no problems on this pitch, finishing it first try. It wasn't until the penultimate pitch that fatigue began to settle in, and he took a whipper near the top of the pitch.
"When I fired the first six or seven pitches and felt good, for a moment I thought, 'Hey, maybe this won't be so bad,'" Siegrist said. "In the end, I had to climb through wet terrain, and I took a big fall… I was kind of mentally crushed after falling, and I knew having to repeat the entire pitch would be a struggle. I thought it could be all over."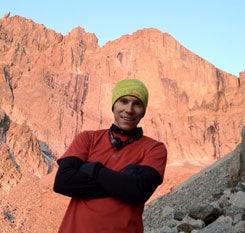 Siegrist is no stranger to America's hardest climbs. He's dispatched high-end 5.14s from the Red River Gorge to Nevada, including Kryptoniteat the Fortress of Solitude in western Colorado, largely considered America's first 5.14d, and also first climbed by Caldwell. But it's hard to compare this one to his other hard ascents, he said."It's really a different world up there on the Diamond," he said. "It's committing, burly, and not super-clean and well-traveled like a single-pitch route would be. The individual pitches are certainly hard, but nothing extreme. It's really the altitude, exposure, and putting it all together in a day that's so hard. I could even imagine calling the crux pitch soft for 5.13c, but the overall difficulty of climbing the entire route cannot really be expressed in numbers. It's hard."
Siegrist thanks his dad for being the ever-supportive belayer, Dan Gottas for providing the weather forecast that prompted Siegrist to try the route this weekend, and Caldwell for "being such a badass and an inspiration."
Date of ascent: August 5, 2012
Source: Jonathan Siegrist / jstarinorbit.com
MORE NEWS