Difficult Everest Season Nears Close
Heading out the door? Read this article on the new Outside+ app available now on iOS devices for members! Download the app.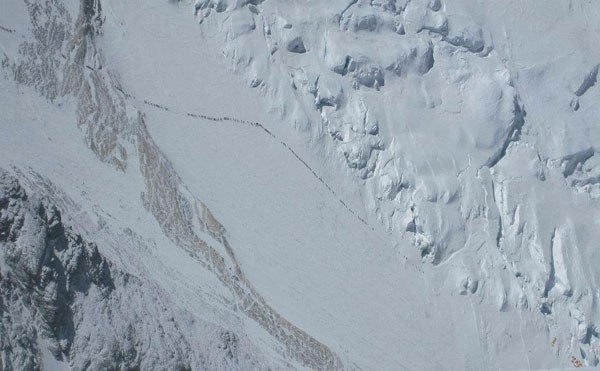 5/24/12 – It has been a crowded and tragic season on Mt. Everest this year, with more than 700 people occupying the mountain.This year's insufficient snowpack created an additional danger of loose rock. It's estimated that 316 people have summited this year, through May 20. But, sadly, at least 10 climbers have died so far on the mountain.
Karsang Namgyal Sherpa died from an alcohol-related incident at Base Camp

Namgyal Tshering Sherpa died from a fall into a crevasse near Camp 1

Dawa Tenzing died from a stroke in the Khumbu Icefall (died in Kathmandu)

Ramesh Gulve from a srtoke near Camp 2 (died in India)

Dr. Ebehard Schaaf died from high altitude cerebral edema (HACE)

Shriya Shah died below the Balcony

Won-Bin Song suffered two falls, at the Hilary Step and the Balcony, died after summiting

Ha Wenyi died below the Balcony

Juan Jose Polo died from exhaustion after summiting

Ralf D. Arnold suffered a broken leg at the Second Step, died after summiting
Some good news emerged, however, after Luigi Rampini, a 69-year-old Italian climber, was rescued May 23 after spending four days alone on the upper mountain without supplemental oxygen. He became stranded in the "Death Zone" (above 8,300 meters) but refused assistance and would not descend, deciding instead to wait for another chance to summit. He had no food or water for two of those days, but managed to escape unscathed save frostbite on his fingers and nose.
The American expeditions have not sustained any serious injuries. The Eddie Bauer First Ascent team abandoned their West Ridge summit bid on May 22 due to rockfall and rotten ice. The North Face/National Geographic expedition left Camp 3 early on May 24, and is scheduled to make a summit bid on May 25.
Currently, it's reported that 70 to 100 climbers are poised to make a final push for the summit.
Most know of the 1996 Everest tragedy, when eight people died in one night during summit attempts. The teams encountered several delays, which bottlenecked climbers and forced their summit times back to the afternoon; bad weather moved in during the descent. A total of 15 climbers perished that season.
Sources: alanarnette.com, explorersweb.com
MORE NEWS