Do Climbing Gyms Pose a Coronavirus Risk?
Heading out the door? Read this article on the new Outside+ app available now on iOS devices for members! Download the app.
COVID-19, the the disease caused by the new coronavirus, has been found in several states within the US. The virus is both more contagious than the flu and more dangerous. It is an epidemic, and it seems likely that COVID-19 will continue to spread throughout the US for the near future. But does it pose an additional risk to gym climbers? Dozens of people can climb a gym route in a day, and holds are generally not cleaned until the route is reset. Climbing Business Journal summarized why the issue needs to be considered.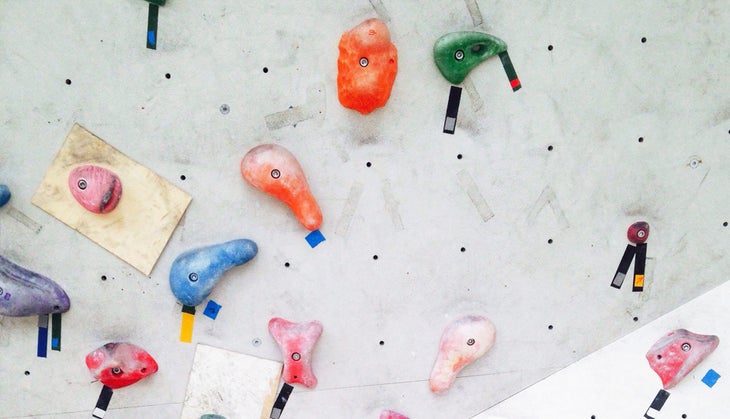 "Very simply, climbing gyms cannot be fully sanitized," they wrote. "The nature of climbing—grabbing holds with sweaty hands—leaves plain the risk of transmission. It's not panic to admit this as an industry; it's pragmatic."
The coronavirus has already affected the sport in various ways. The IFSC has taken precautions, cancelling all competitions in China for April 2020 which includes two World Cups, and they are reconsidering the Asian Championships scheduled for Japan at the end of that month. The Olympic Committee has even hinted that cancelling the Tokyo 2020 Summer Games is not off the table. These measures likely stem from the risks associated with international travel and large crowds, more than the likelihood of competitors spreading the disease to one another. The virus has also disrupted supply chains for outdoor brands.
The virus is now present in all but a few states, according to the CDC. Though the federal agency writes, "CDC's numbers are not representative of all testing being done nationwide." And lack of access to testing kits within the US, along with the disease's incubation period of 1-14 days, means that any posted numbers may not be conclusive. People should exercise caution whether they live in a state with confirmed cases or not.
Updated with new recommendations as of 3/16/20:
When this story first ran, we explained that the virus spread primarily through respiratory droplets. While transmission through infected surfaces might be possible, it has not been documented. According to the CDC:
"Based on what is currently known about the novel coronavirus … spread from person-to-person with these viruses happens most frequently among close contacts (within about 6 feet). This type of transmission occurs via respiratory droplets. On the other hand, transmission of novel coronavirus to persons from surfaces contaminated with the virus has not been documented."
While surface transmission is not the primary risk, the federal agency still encourages caution.
Current evidence suggests that novel coronavirus may remain viable for hours to days on surfaces made from a variety of materials.
So while it would be possible to contract COVID-19 at a climbing gym—where crowds and close contact are common—it did not seem more likely than contracting the virus at any other crowded public space. Now, in light of the virus's spread since we published this story, we can no longer recommend that our readers visit climbing gyms while the pandemic continues. This is not because climbing gyms create more of a risk, but because it has become irresponsible to visit any crowded public place. Coronavirus transmission has been noted at gyms in Singapore (likely through respiratory droplets from people in close proximity). And now many gyms in the US have closed temporarily due to the virus.
Social distancing is the best course of action for everyone right now. Even young, healthy individuals need to be wary of COVID-19 because it's up to all of us to work together to flatten the bell curve, to minimize the disease's ill effects on both individuals and society. Furthermore, we're still learning about COVID-19. A recent study showed that some patients suffered from reduced lung function even after recovering from COVID-19, according to the South China Morning Post. For now, the best advice is to just stay home.
Read a statement from Climbing editor Matt Samet about the situation.