Do Paul Ryan's Athletic Claims Matter to Climbers?
Heading out the door? Read this article on the new Outside+ app available now on iOS devices for members! Download the app.
This Paul Ryan guy…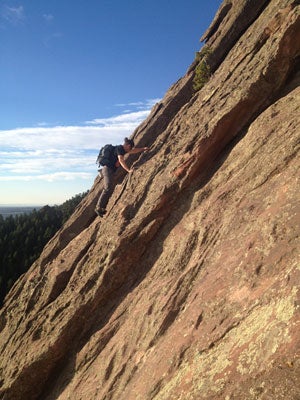 In addition to Eddie Murphy dying, Ryan was one of the most Googled topics in America this week. The Eddie Murphy thing was a hoax—no, he didn't meet his fate snowboarding in Switzerland (I had no idea). But Paul Ryan's respective search engine ubiquity came as a result of general election–cycle spray and his alleged truth-stretching about a couple of athletic feats.
Our old friends at Runner's Worlddebunked an off-hand comment he made about running a marathon in less than three hours, while the The Atlantic and others yesterday uncovered another claim made in 2009 to the Milwaukee Journal Sentinal: That he had made close to 40 climbs of Colorado's Fourteeners.
Colorado has 54 such peaks, which would take anyone a fair amount of time to hike (except maybe this guy). So naturally this raised suspicion. The Romney campaign replied quickly to The Atlantic report, saying, "He's not said 40 different peaks, its nearly 40 climbs—with a number of peaks climbed more than once. He's been doing them for more than 20 years."
I brought this up on a morning group solo of the East Face of the Third Flatiron here in Boulder (that's contributing editor Brenden Leonard of semi-rad.com fame above), asking my two partners, "So, do you guys care one way or the other?" I posed the same question around the Climbing office and to Backpacker, our sister publication down the hall. Answers ranged from "Yes," followed by things I shouldn't say in a public forum, to "Nope, hiking Fourteeners isn't technical climbing anyway," to "Who cares, he's still sexy." (Really?)
But one train of thought was pretty common in all commentary: We're psyched he's drawn to the mountains, and we know a way he can make good on his next Colorado visit. Come climb one with us. What do you say?