Does climbing guard against arthritis?
Heading out the door? Read this article on the new Outside+ app available now on iOS devices for members! Download the app.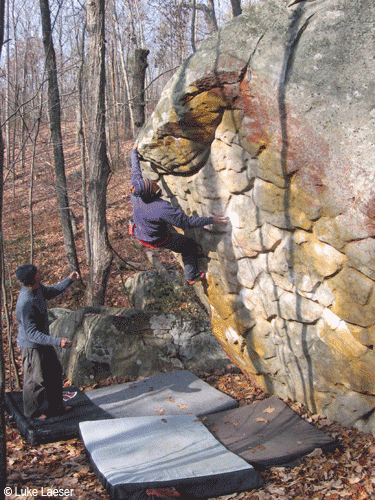 Osteoarthritis (OA) is no picnic: joint stiffness, pain, and swelling are all hallmarks of this degenerative condition, caused by the breakdown and loss of crucial cartilage. But can climbing — in particular the brutal stresses of repetitive use — cause it? According to a new study comparing 27 recreational rock climbers against 35 non-climbers, the answer, at least for the joints in the hands, is quite possibly no.
Run by three researchers (two of them climbers) out of the University of Tennessee and the University of Washington, the study looked at a sample of Southeast climbers from all the rock disciplines, climbing from 5.9 to 5.14b sport and from V1 to V12 at the boulders. Searching specifically for joint changes to the metacarpals and phalanges associated with OA and bone strength, the research uncovered some interesting findings. First, climbers tend to have greater bone mass in these areas than non-climbers, due to their bone "[remodeling] to accommodate high-intensity mechanical stress." (According to one of the researchers, Dr. Adam Sylvester, a climber of 14 years, there is no link between greater bone mass and OA, and added bone will "almost certainly" go away if you stop climbing.) And second, the greatest predictor of bone strength is the intensity (read: type), but not frequency, of the climbing itself.
Sylvester said that how hard a person boulders was the single best predictor of bone strength, suggesting that bone is likely added in response to the peak mechanical stress. Sylvester designed the study after reading research that showed that chimps and gorillas, presumably from climbing trees and walking on all fours, have thicker hand and finger bones than humans.
Major predictors of OA in other sports include joint impact (e.g., football players' battered necks and knees) and joint torsion, issues that could arise with highball boulderers and diehard thin-crack aficionados, respectively. But because of the relatively small samples and the overall low incidence of OA in both the climber and non-climber samples, Sylvester says he was not able to establish any link to these specific problems. Also, there is very little pure-crack climbing in the Southeast, where the sample was taken.
Because OA is a chronic, slow-developing condition, climbers may not even be aware of it until it's too late. The good news is that climbing — especially a long, modulated career without too many periods of high-intensity bouldering/sport climbing — may not increase the risk of OA. Sylvester warns, however, that additional studies that include larger samples, pure crack-climbers, and those with longer/elite climbing careers might alter conclusions. Visit blackwellpublishing.com/press/pressitem.asp?ref=951 for more.