Drone Attack: The Ingenious First Ascent of Colorado's Highest Unclimbed Peak
Heading out the door? Read this article on the new Outside+ app available now on iOS devices for members! Download the app.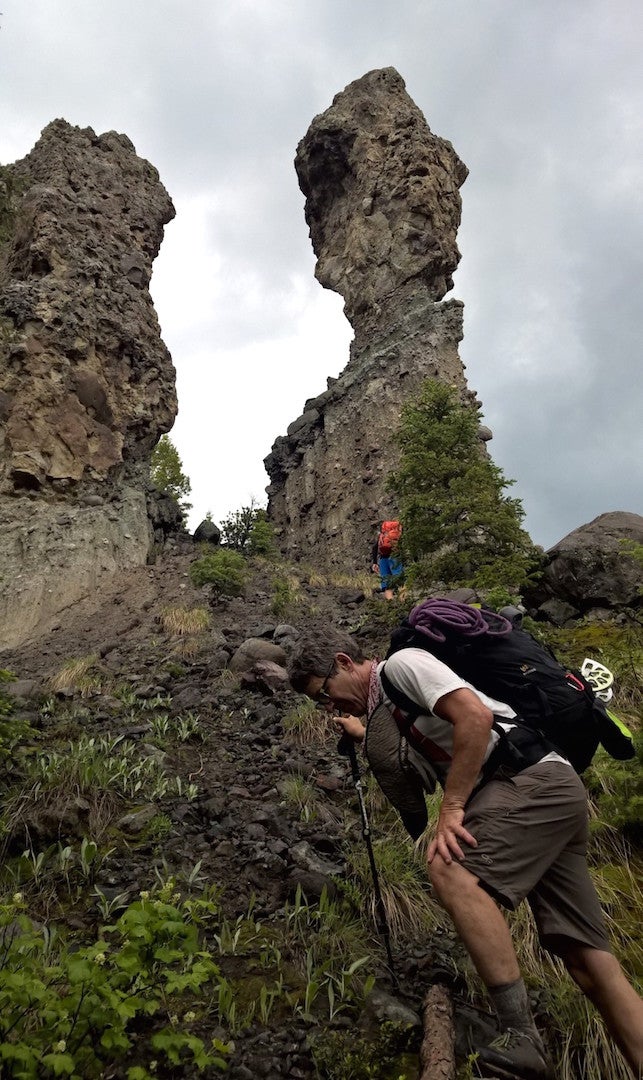 June 24, 2015 – Given that Colorado has been home to generations of serious climbers, it's hardly surprising that very few unclimbed peaks are left in the state. The ones that remain are remote, chossy, or unprotectable—sometimes all three. Peak 9,854, a 60-foot "upside-down bowling pin" in the San Juan Mountains of southwestern Colorado, was likely the most difficult unclimbed, ranked summit over 8,000 feet in the entire state. Until this month.
Dave Goldstein, from Boulder, has been a serious technical climber for more than 35 years. In recent years he has focused on peakbagging—Goldstein has climbed 603 of Colorado's 638 ranked 13ers and 14ers (a list only about 30 people have ever completed) and countless lower peaks. Last June, he and a friend, Laura Zaruba, were climbing north of Pagosa Springs and decided to check out Peak 9,854, a summit that had eluded legendary Colorado peakbagger Mike Garratt, who'd described the tower as unclimbable and dangerous. "This naysaying made the peak all that more intriguing to me," Goldstein wrote in a trip report, "though I hedged our bets by packing, in addition to aid and free climbing gear, a bow and arrow, thinking that in the worse case I could shoot an arrow trailing fishing line over the summit pinnacle and use that to get a rope over, which we could jumar."
This bow and arrow "technique" was inspired by John Middendorf, who once used this method to make the first ascent of a desert tower that otherwise would have required a long bolt ladder. Once Goldstein and Zaruba reached the base of the tower, he said, "It was readily apparent that Garratt hadn't been blowing smoke." Perched on a steep, loose hillside, the conglomerate spire's faces were 50 to 80 feet high and overhanging on all sides, with no chance of natural protection and an initial 15- to 30-foot band that "resembled dirt more than rock."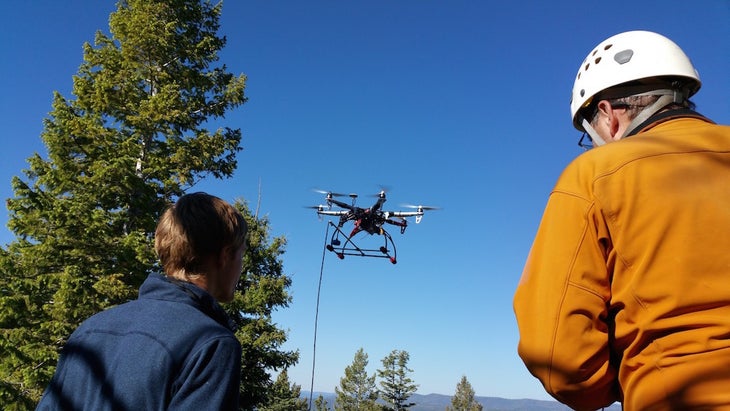 With a conventional ascent obviously out of the question, Goldstein scrambled up a neighboring pinnacle about 30 feet away and 10 feet lower than the top of Peak 9,854. His attempt to fire an arrow trailing fishing line over the top proved to be an "utter failure," with the line snarling and the arrow falling short. In one respect, this came as a relief: Had they managed to launch an arrow over the summit and pull a rope to the top, they would have had only their 8.8mm dynamic rope to jumar up—and this rope would have quickly abraded on the rough rock.
Goldstein was eager for a rematch, but how? "The most straightforward means of ascent would be drilling a bolt ladder, but this would require a lot of hard work and it seemed kind of pointless to go to that much trouble for a route rock climbers would shun," Goldstein said. "Another attempt with bow and arrow seemed to have little chance of success; throwing a stone attached to fishing line seemed more promising, but still unlikely to result in success. Then, sometime during the winter, it occurred to me that a drone might be the ticket for getting a line across the tower."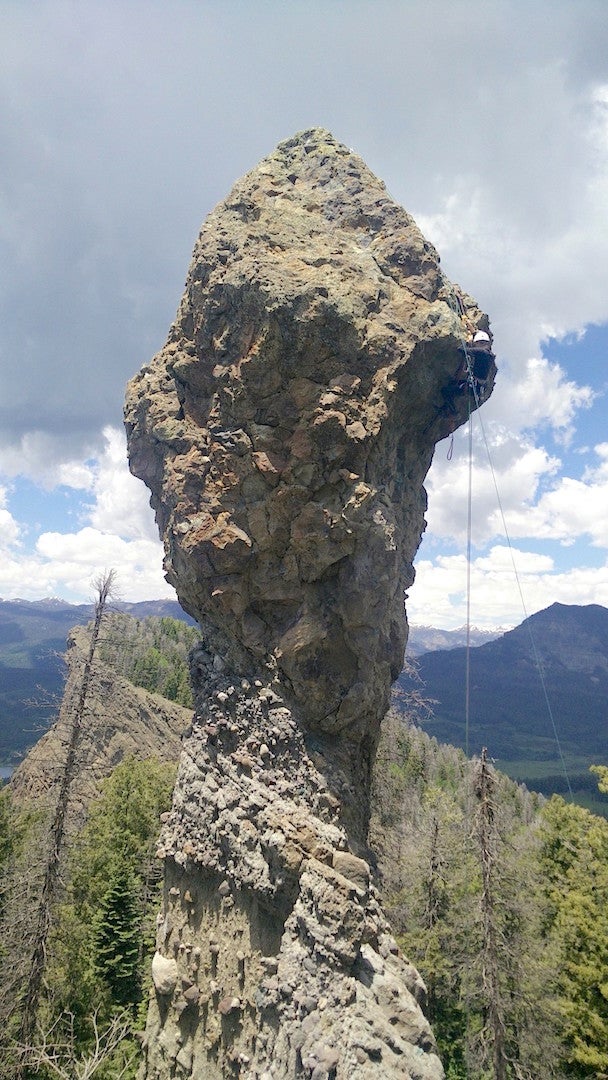 The opportunity came this month, when an old friend and climbing partner from Washington state, Randy Day, and his 17-year-old son, Kastan, told Goldstein they'd be up for an attempt. More importantly, Kastan had custom-built a drone for his personal video projects and knew how to fly it. Game on!
After an afternoon of practice flights in Boulder with parachute cord trailing underneath the drone, they headed south to the San Juans. On summit day, the first attempt ended in a crash landing when the cord snagged on a protruding rock and pulled the drone into the hillside. After some quick repairs, it was time for the second flight. With Kastan piloting, Randy feeding cord from the neighboring pinnacle, and Goldstein waiting on the other side of the tower to retrieve the drone, the flying robot successfully carried the cord over the pointy summit and down the other side. The team pulled a 5mm cord over the top and then used this to pull over their 9mm static rope. They hauled a second rope over the top as backup and built an anchor (No. 6 Camalot, No. 4 Camalot, brown Tricam, sling around a cobble) in the single crack splitting the "dirt" at the base of the spire. Now all that remained was to jumar up the free end of the static rope that was hanging down the other side.
Goldstein was first on top, jumaring over a roof at 40 feet and then up the final slab to the summit. He found the ropes had settled nicely into a small notch, making them unlikely to slide off. He wrapped some cord around the spire for a rappel anchor and top-rope backup belay, then rapped to the ground for other two to take their turns. Kastan was next (his first time ever jumaring), and then Day jumared to the top, leaving a summit register that is unlikely to ever receive many signatures.
They called the 9,854-foot peak Drone Home. "Our ascent was impossible to rate using the traditional system," Goldstein wrote. "Since we'd done no free climbing and no aid climbing, the default would be Class II, though that would be the all-time sandbag. A new rating system seemed in order, so we called it D3 (on the D5 scale). A higher tower and/or more trees would have increased the difficulty. A more level base, fewer trees and less vertical would have made it easier."
Read Goldstein's full trip report, with many photos, at 14ers.com. Below is Kastan Day's quick edit of the incredible video footage from the day.