Earth Corps – Environmental Service in the Extreme
Heading out the door? Read this article on the new Outside+ app available now on iOS devices for members! Download the app.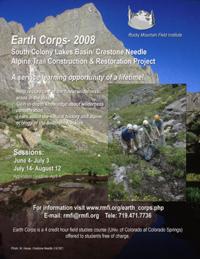 "Men wanted for hazardous journey. Small wages. Bitter cold. Long months of complete darkness. Constant danger. Safe return doubtful. Honour and recognition in case of success."
—Ernest Shackleton The London Times, 1911
In the summer of 2008, the Rocky Mountain Field Institute will select undergraduate students to participate in its Earth Corps program. Earth Corps was created to address critical environmental threats in remote wilderness environs. The 2008 program will provide key support for the completion of high-altitude restoration projects near the summits of two of Colorado's most famous and challenging 14,000-ft. peaks—Crestone Needle and Crestone Peak. The Crestones are located in one of the most beautiful wilderness areas in the Southern Rockies. The program includes an in-depth look at alpine ecology, alpine restoration methods, and wilderness conservation and preservation.
The program will be 30 days in length. Participants will be required to live at a remote wilderness setting for the duration of the program, complete long hours of demanding physical labor, work effectively as a team, and exercise the highest level of commitment and perseverance. Excellent physical condition is a must. Earth Corps is environmental service in the extreme! At the completion of the program, each student will receive 4 hours of credit from the University of Colorado at Colorado Springs (GES 446: Field Studies in Geography). Travel expenses to and from the program are not covered, but there are no charges for the program or the UCCS credit.
While Earth Corps embodies the adventure and commitment of Ernest Shackleton's journey, the program is open to members of both sex (10 enrollees per program), and will be conducted under the watchful supervision of a highly skilled and qualified staff. The Rocky Mountain Field Institute has been completing environmental service programs since 1990. Our safety record for environmental service in remote and challenging terrain is outstanding. Time will be set aside for climbing and hiking nearby peaks.
2008 Program Dates:
June 4-July 3
July 14-August 12
To Apply:
Check our website www.rmfi.org or contact our office for more detailed information and an application form. A complete application includes:
Completed application form
Current resume
Deadline for submittal: April 4. Outstanding applicants will be awarded internships in advance of the deadline. Early applications are, therefore, strongly encouraged. Final decisions will be announced by April 11.
Rocky Mountain Field Institute3310 West Colorado AvenueColorado Springs, Colorado 80904Phone- 719.471.7736 Fax- 719.622.6707 E mail- rmfi@rmfi.orgWeb- www.rmfi.org