Editor's Note: God's Own Stone (Plus December/January 2020 Issue Preview)
Heading out the door? Read this article on the new Outside+ app available now on iOS devices for members! Download the app.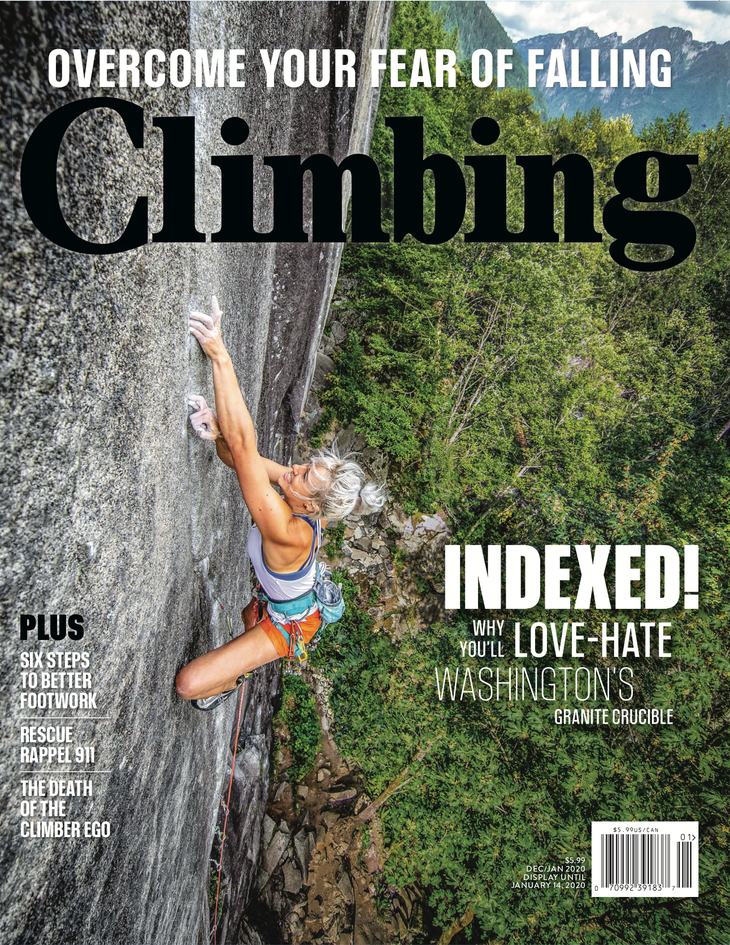 Last July, three friends and I were climbing at a quiet crag in the Rocky Mountain foothills. We clipped bolts on the wall's swirly gneiss, which offers an interesting array of square-cut edges, deep, biting fingerlocks, sloper sidepulls, and pegmatite crimps. The rock quality at the cliff varies from brilliant to "Why was this bolted?"—in other words, it's typical stone for the Front Range, which makes up for any deficiencies in quality with its staggering quantity.
I'd redpointed a route with a sandy layback crux—the rock is so chossy where your feet go that you have to grind down the footholds with your toes to get them to stick, then kick the dust off your shoes—and then lowered. On the ground, we chatted about the closures in the Grampians, Australia. Two of the climbers, Jed and Jill, had visited the Gramps, and gushed about the impeccable stone.
"You know how, up on that route, you were kicking grit off the footholds?" Jed asked me. "Well, in the Gramps, there's none of that. The rock is so stellar, you just place your feet and go." As he said this, I realized I'd become so accustomed to our iffy local stone that I hadn't even registered the "foot-grit-kick"; it was just another tool in the arsenal.
You may have heard the term "rock snob." It describes climbers who don't deign to lay fingers or toes on lesser stone. I've never subscribed to this philosophy: It's too limiting and rules out entire crags. And it smacks of elitism: "I don't have to climb on the local choss because my sponsors [parents, trust fund, etc.] are paying for my flight to Oliana." It may also be because I learned to climb in New Mexico, with its chunky basalt, soft tuff, and weathered desert granite.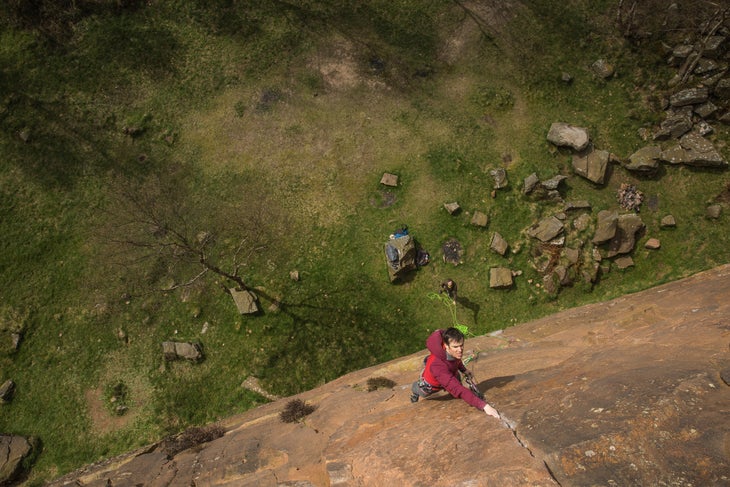 Still, there's something to be said for unimpeachable rock, such as the orange sandstone of the Grampians, the gray granite of El Capitan, the blue limestone of Céüse, and the water-hardened sandstone of the New River Gorge. This is the rock we dream about, and these are the areas where you set off knowing you won't fail because a hold crumbled or your foot slipped on an exfoliating smear; you'll fail because you weren't good enough.  
This issue features two complementary stories about some of
the world's finest stone, rock in the vein of the other bucket-list destinations cited previously. First is Michael Hutton's photo-exposé on the cutting edge of Peak District, UK, gritstone, "No-Bolt Roulette." Next is Chris Schulte's "Circuit Court," detailing the unique appeal of the bouldering circuits in the magical forest of Fontainebleau, France, where the compact rock—the sister stone to the flawless English grit—is often encased in a granite-like patina. Schulte also penned Topo, on Font's historic 6a bloc La Marie Rose, which at a "mere" V3/4 still commands as much respect today as it did during its first ascent 73 years ago—and which even Adam Ondra failed to flash. Rock snob or not, as you delve into these stories, you can't help but be amazed by the stone's clean, eye-pleasing lines. This is Earth's geology at its finest, seemingly sculpted for climber fingers and toes.
I was lucky enough to visit Fontainebleau, in the mid-1990s. With only a general climbing guidebook to Europe, my friend Trip and I wandered into the woods outside Paris. Our second day, we stumbled upon Font's showcase area Bas-Cuvier after a two-hour walk that involved crossing paths with a herd of wild boars. At the boulders, which lured you in with their strange, molded forms and flat landings, we climbed like American gumbies, sliding down the slabs, oozing off the arêtes, walking in circles looking fruitlessly for roofy stuff more akin to the familiar bouldering in Hueco Tanks: This smooth rock is awful! But then, by the end of our week, we began to imprint the subtle movements, hip flicks, sloper-slaps, and crimp-stabs that made success possible. And when it was time to leave, we didn't want to go, with untold perfect sloper, arête, and patina problems left to try: This smooth rock is amazing!
We'd had a taste of the good stuff. Trip and I hadn't become rock snobs exactly, but we'd certainly sampled God's Own Stone. And like anyone who taps into the sublime, we wanted more—we'd seen just what the sport can be when practiced on its finest canvas. This is the rock that inspires us, I remember thinking. And also: This is why we climb.
–Matt Samet, Editor 
Get Climbing Magazine 
In this issue… 
Features 
No-Bolt Roulette
How headpointing evolved to become a legitimate tactic on Peak District gritstone. 
Hot, Wet, Slug-Infested Sandbags 
Five reasons not to climb at Washington's Index Town Walls. Ever. 
Threshold
Why some of us freeze high off the deck—and how to push through this common fear. 
Circuit Court 
Fontainebleau superfan Chris Schulte lays out the visionary appeal of the magical forest's bouldering circuits. 
Departments
Basecamp
Letters 
Top 10: Ways to Overcome Your Fear of Falling 
Re-Gram: Winter Goals and Projects 
Talk of the Crag
Minding the Gap: For many women, bridging the climbing-confidence divide starts by going deeper 
Onsight
Our regular climbing photo gallery
Tested
Gear Reviews 

Arc'teryx Proton LT Hoody
Mountain Equipment Kaniq 33
The North Face Futurelight Summit L5 Vapor LT 
Fixe Solution M1 Wire Gym Draw 
For the Love of Climbing
The Death of the Ego: How resisting change hold's back the sport—and puts lives at risk
Peaches Preaches
The Perils of Recreational Outrage: How the internet became a climbing-anger machine
Topo
La Marie Rose: Fontainebleau's groundbreaking first 6a, No. 22 on the Bas-Cuvier Red Circuit
The Place
Heaven Sent: How hard limestone sport came to Burlington, Vermont
Unsent
Skills
Fancy Footwork: Six foot-focused tips to help you glide up rock with ease
Quick Clips: Recovery Edition 
Return to Sender: Comeback fitness in two weeks for climbers over 40
The Buddy Rappel: Rap safely with an injured partner 
Rock Art
Drawing Parallels: Landscape Artist Tessa Lyons 
Subscribe to Climbing: Print | Climbing.com Summit Membership