El Cap Pioneers Hudon and Jones Plan Fast, Free Ascents
Heading out the door? Read this article on the new Outside+ app available now on iOS devices for members! Download the app.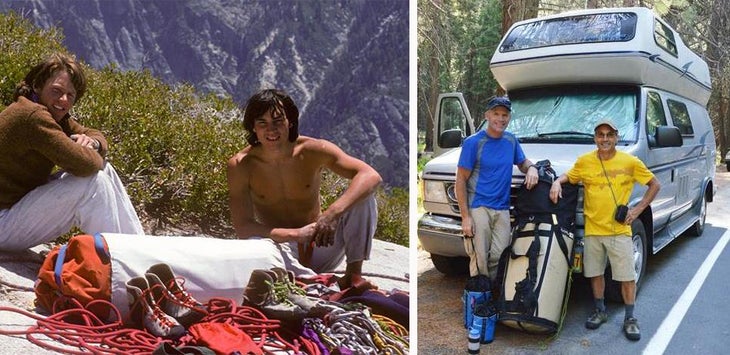 2/27/15 – Nearly 40 years after their first El Capitan climbs, Mark Hudon and Max Jones are ticking El Cap routes once again and aiming for the big prize: an all-free ascent.
Back in the late 1970s, few climbers did more to advance the idea of long, hard free climbs. Solid 5.12 climbers, they made "free as can be" ascents of the Salathé Wall and the Nose, without extensively working the pitches or establishing new variations—they simply led and followed each pitch, free-climbing as much as they could. In 1979 they freed all but about 300 feet of the Salathé, a route that didn't go completely free (at 5.13b) until 1988.
Both men drifted in and out of climbing in subsequent decades. Each tried sport climbing for a while—Hudon, who lives in Hood River, Oregon, focused on the techy climbs at Smith Rock, and Jones, who lives in the Lake Tahoe area, climbed everything he could at the thuggy, overhanging Cave Rock, before it closed. In their own styles, each got solid at 5.13.
"Max is the football climber, I'm the ballerina climber," Hudon said in an interview this week.
But projecting short routes soon lost its appeal. Hudon spent about 15 days over two years working on French Connection (5.13b) at Smith and concluded his time would be better spent on long routes. Jones focused on mountain biking and his business and family. With few options for long, hard free climbs near Hood River, Hudon began traveling to Colorado and California to explore the classics. And he soon had an epiphany.
"I realized that every time I told someone about rock climbing, I was really talking about climbing El Cap."
Hudon  hadn't climbed an El Cap route in 30 years, but he soon began training hard for what he calls his third climbing career, after the early days with Jones and the sport climbing era. In 2009, with partner John Fine, Hudon climbed the Nose in a Day (15.5 hours), leading every pitch. He was hooked.
"I had done nine El Cap routes before my third career, and I've done 24 now. I'm doing three El Cap routes a season."
Before long he was thinking about Max Jones.
"I thought, dang, I need to get Max out here, because we were such good partners."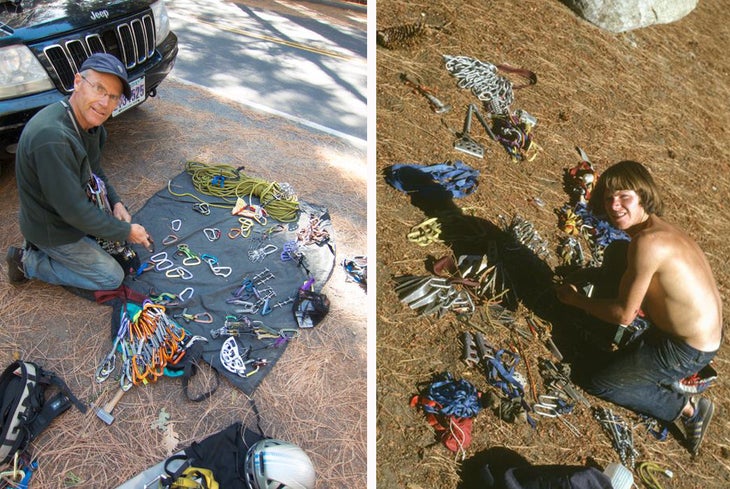 The two men reunited in late 2011, 32 years after Jones' last El Cap route, and climbed the southeast face (South Seas to Pacific Ocean Wall) over nine days. Now both men were hooked, and they've since done several walls together, including the Reticent, one of El Cap's hardest.
Next year, 2016, they plan to climb the Nose in a Day, 40 years after they did the route as their first big climb together. Hudon will be 60 and Jones 58. And that's not all.
"Of course Max wants to free El Cap, and I want to free it with Max. There's going to be a Hudon-Jones free ascent."
Hudon said the old partners are eyeing an attempt on Freerider (5.12d) in the autumn of 2016. But he's not waiting that long to get on the route. Hudon and David Fay, a younger climber he met while climbing at Rifle, Colorado, last year, will attempt Freerider this May. Hudon said he'll "tour" the climb, freeing as much as he can.
"If I climb Freerider with five aid moves and the rest free, I'm going to be a happy guy. I'm not going to go up there 600 times. I'm more into having fun. If I'm not happy with what I can do now, I'm just going to be a pissed-off old guy."
Hudon said he and Jones never had any doubt that other climbers would free climb El Capitan after they made their early attempts.
"Max and I took a step, and we knew other people were going to take a step beyond us. Back in '79 the only guys free climbing on El Cap were Max and I, and now it's quite common. We camped on top one night [in recent years], and the only people we ran into were coming off free ascents or rapping in to work on free routes: the Salathé, Freerider, Corazón, the Muir. We started this, we helped move this forward, and it's really cool to see how far it's come."