Erica Lineberry – Reader Blog 3
Heading out the door? Read this article on the new Outside+ app available now on iOS devices for members! Download the app.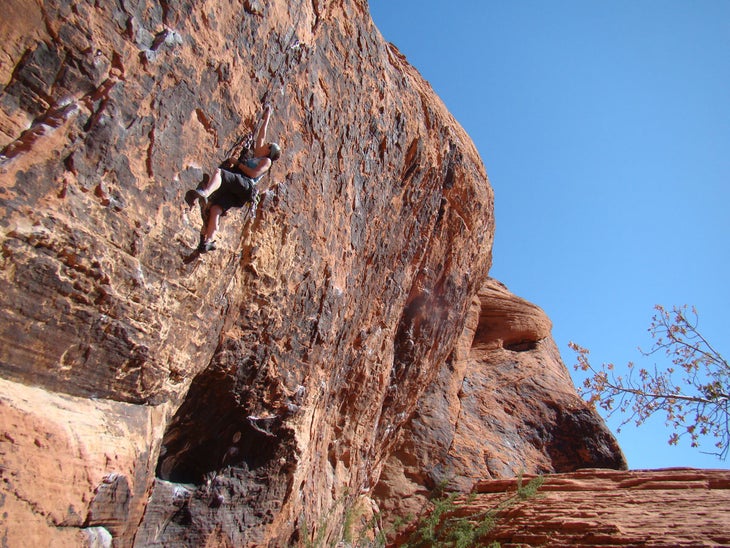 Red Rocks Trip Report
I'm now in what most consider the "feel good" stage of my pregnancy. At 18 weeks, I am no longer exhausted like I was in my first trimester, but I'm not huge and cumbersome yet (just big enough to feel like a whale…) So this seemed like the perfect opportunity to take a vacation! Steve's company sent him to Vegas all last week for a Microsoft SharePoint conference at the Mandalay Bay. The conference ended Thursday afternoon, so I used some frequent flyers to meet him out there Thursday night for some weekend desert climbing!
Red Rock Canyon National Conservation Area was a new destination for us, and the scenery was spectacular! Our first day dawned bright without a cloud in the sky, and all the rain, humidity and cold from the east coast was lost in the Mojave Desert! Our first day was spent in the Black Corridor. We were the first ones there, but as the day progressed, the corridor got REALLY crowded – we started to wonder if anyone in Vegas had real jobs, but upon talking to everyone, they were all from out of town too – everywhere from Alberta and Quebec to Colorado and California. The routes in this area were mostly vertical or slightly less than, and consisted of technical face climbing on crimpers – just what we like! Despite the crowds, we got in 8 pitches, and never had to wait in line. Our only injury was my ripping off the top of my fingernail trying to get the rope out of my pack.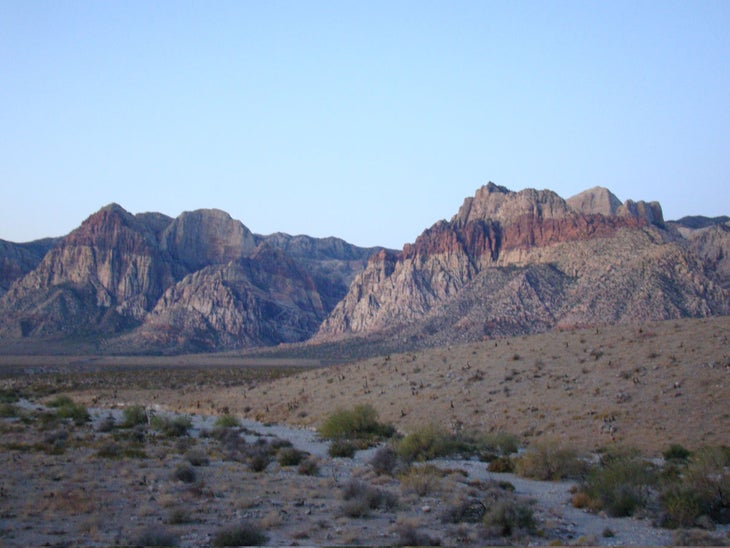 Day 1 Routes:The CEL – 5.9 – first route on the left side (not listed in the Brock guidebook, but in the Falcon guide)Bonair – 5.9Vega Bonds – 5.10a – fantastic route – well deserving of the 5 stars the guidebook gave it!Crude Boys – 5.10d – Steve's first 10d onsight, woohoo! Reachy, technical crux down low led to fun, casual climbing up top.Black Corridor Route 4 Left – 5.11a – Steve wasn't up for leading this one, so we set up a top rope from the top of the 10d. My goal so far has been to get at least one 5.11 clean every week of my pregnancy, outside or in the gym if I couldn't get out that week. (As my balance gets worse and I start to get huge, I'll knock it down to 5.10, then 5.9, etc.) I was psyched to check my clean 11 off of my list on the first day!Fool's Gold – 5.10bTexas Tea (direct start)- 5.10d – Steve was mentally done for the day so we set up a toprope on this and the following route from Fool's Gold. We both opted for the direct start which was (a painfully crimpy!) 10d until the first bolt, then the rest of it backed off to 10a.Black Gold – 5.10b – difficult start, then the rest backed off a good deal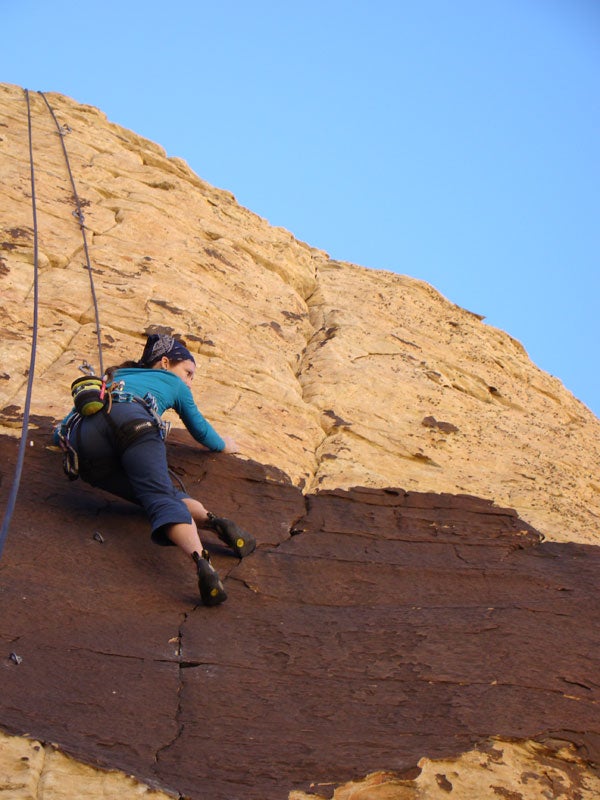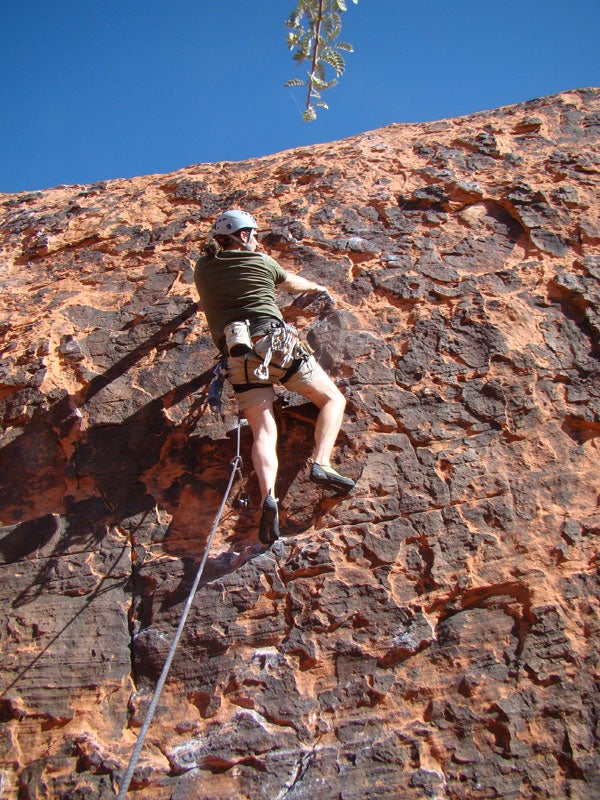 Our plan on Day 2 was to get up at the crack of dawn and climb at The Gallery – a south-facing wall that got all day sun. Our hope was that the early morning and the heat would keep all the crowds away. Our plan worked out perfectly – we were by ourselves almost all day, quite a contrast to the Black Corridor! The heat was pretty debilating out in the sun, but thankfully we were prepared and added sunscreen and lots of extra water to our gear. Also, even though all our routes were in the blistering sun, there was a nice shady spot where we could leave our packs and hang out in between climbs to eat and rest. We had lots of fun navigating through the rock formations and the wash today, and the hike was really fun with lots of scrambling. The climbing was much steeper today than yesterday. Slightly overhanging, crimpy climbing, with the last 10-15 feet topping out on a big slab made for a unique variety on the routes, as well as a sustained and pumpy day! We pooped out pretty early on in the afternoon due to the heat, so we decided it would be a good night to check out The Strip. We drove through it and had a blast spotting all the buildings we've seen so many times on TV, and took a picture in front of the Las Vegas sign, where we even saw Elvis getting into his truck and talking on his cell phone! Dinner was in Old Vegas, at Uncle Angelo's Pizza Joint, where I had by far the best stromboli I've ever tasted! We took advantage of our early evening by playing a session of Bingo back at the Fiesta Rancho (which was a really fun hotel, despite everyone's warnings not to set foot off The Strip for fear of death or worse…).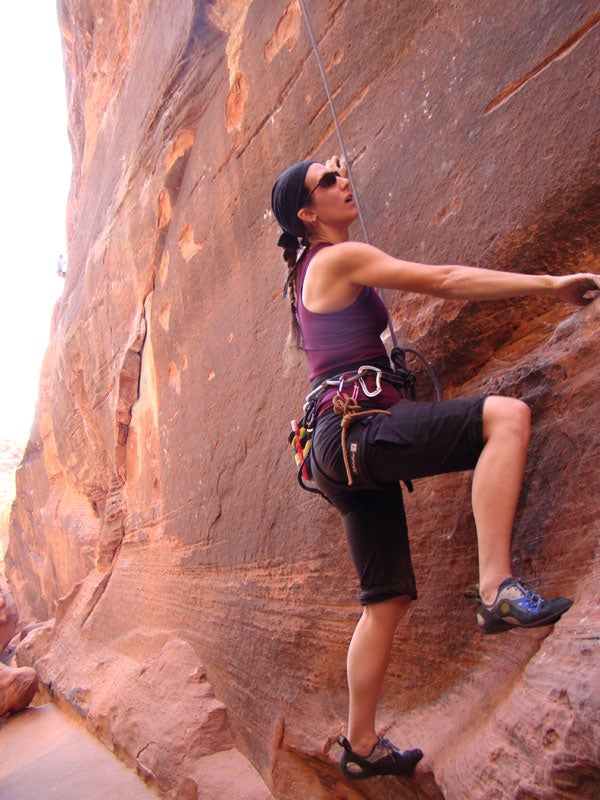 Day 2 Routes:Sport Climbing is Neither – 5.8Bucks Muscle World – 5.9Gelatin Pooch – 5.10a – fitting name for me and the jellybean Pump First, Pay Later – 5.10b – REALLY sustained and pumpy, I fought really hard to get this route cleanRunning Amuck – 5.10c – tricky crux sequence!Unknown – 5.11a – Steve was done for the day, but I wanted to try this one, so we set up a TR from the 10c. It was a really fun route, but I did have to hang a few times to rest.
Since I was still on east coast time, I woke Steve up before 5 on Day 3, and we arrived in the canyon just as the sun was coming up over the city in the distance. We climbed at the Mass Production Wall in the Calico Tank area. What a beautiful approach hike, mostly along the popular Calico Tanks Trail. We saw lots of hikers below us throughout the day, but only one couple ventured their way up the gully near where we were. We wished we had brought a couple more layers – our wall was in shade all day, and the wind had picked up substantially overnight – the complete opposite from the day before! Thankfully, the slabs behind us were nice and sunny, so we could head out there in between climbs to warm up a little. The climbing here was sequential and tricky for the grade – not easy to read, pretty technical, and actually had kind of a trad feel to it. There were lots of precarious layback moves, with a few fingerlocks and hand jams thrown in here and there.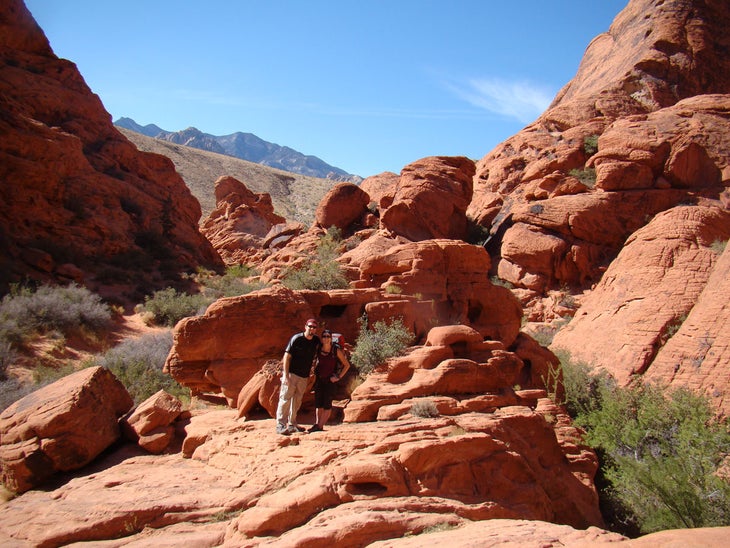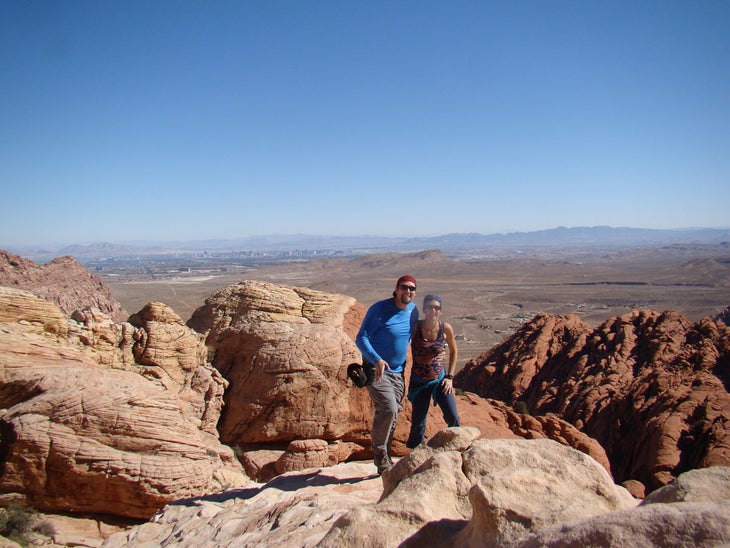 Day 3 Routes:Parts is Parts – 5.8 – weird, sequency, and hard to get into a flow of movementBattery Powered – 5.9 – fun route, but pretty runout between the 1st and 2nd bolt, so not a good choice if not strong at the gradeTrigger Happy – 5.10a – Best route on the wall! This route was really intimidating from the ground, but ended up being a lot easier than it looked. First bolt was about 30 feet off the deck, but Steve supplemented with a .5 and a .4 camalot. Very unique moves kind of "hugging" your way up the edges of the black patina on the left, and a crack on the right.Foreman Ferris – 5.11b – It was easy to set up a toprope on this route off the 10a. Steve didn't want to do this one, but I'm really glad that I gave it a whirl. The first section, although technically not that difficult, was pretty hard to read, and I wasn't able to make it through without a hang or two. However, I surprised myself at getting through the crux and the rest of the route cleanly. Really sharp, credit card size crimpers and sidepulls, with precarious balancy laybacks up through the patina – then it was a lot less sustained the rest of the way.Hit and Run – 5.9
All in all, FANTASTIC weekend! Our choice to stay on the northwest side of town kept us out of all the traffic on The Strip, but was still a convenient area to be in – good eats within 10 minutes, downtown within 30, and most importantly, only 20 minutes from the canyon entrance! Vegas is truly a unique place, somewhere everyone should see at least once. We both decided that although it was great place to visit, it would make a horrible place to live! We also decided that it's a shame that there are such fabulous recreational options right outside of the city that most people aren't aware even exists, let alone try to tap into. Oh well, I guess that's more open space for the rest of us!
For more visit:erica.thelineberrys.com