Meet Erik Murdock—New Interim Executive Director of Access Fund
Chris Winter is stepping down, but he leaves Access Fund in strong hands 
Heading out the door? Read this article on the new Outside+ app available now on iOS devices for members! Download the app.
Access Fund has announced that, on June 7, Chris Winter will step down after five years as the executive director. His role will be temporarily filled by Erik Murdock, the current vice president of Policy & Government Affairs, while Access Fund searches for a new executive director.
During Winter's tenure with Access Fund, he helped pass a landmark public lands bill and launch Access Fund's Climber Steward program, and he leaves the organization in a great position to continue advocating for climbing access around the country. Winter will take on a new role at the University of Colorado Law School, where he will lead the Getches-Wilkinson Center for Natural Resources, Energy, and the Environment.
Erik Murdock started climbing in 1989 and describes himself as the archetypal climbing lifer.
"I enjoy all forms of climbing," he told Climbing. "I'm not a specialist. I'll boulder, I'll sport climb, I'll trad climb, I'll winter mountaineer. I do whatever is around me. If I'm in D.C. and I have to climb scrappy little boulders and cliffs, that's fine. If I'm in Rocky Mountain National Park, I'll get out and ski couloirs and climb big, fun alpine routes. If my legs are hurting, I'm going sport climbing. If I'm feeling pretty good, I'm going out in the mountains. Whatever's not sore is what I'm going to make sore. And that's been the last fifteen years of my climbing career. I'll be at it until the bitter end."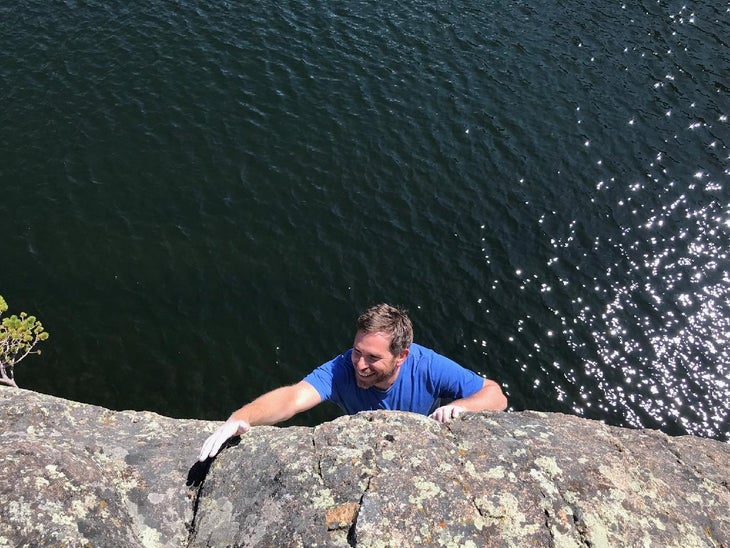 After starting his career as a geologist, Murdock earned his PhD in Natural Resource Studies with a focus on Geographic Information Science and Environmental Psychology at the University of Arizona. He did his doctoral research at Joshua Tree National Park, where—with funding from Access Fund—he studied the effect that wilderness climbing management policies had, or could have, on climbers. (Needless to say, he's quite concerned about Joshua Tree's recent anti-anchor pivot.)
Murdock takes the helm at an unprecedented moment in the history of American climbing advocacy. Just last week the Senate Energy and Natural Resources Committee unanimously voted to add an amendment to the America's Outdoor Recreation Act specifically protecting rock climbing—and fixed anchors—on public lands.
"I don't think enough climbers appreciate the significance of this moment that we're in right now," Murdock said, adding that Senator Hickenlooper's climbing puns were a huge (and delightful) moment for the community.  "Everyone should be thinking about these national level policies," he said, "because these ideas percolate down to local climbing areas. Even if you live in New York City and never climb in federally designated wilderness, you have skin in the game."
When asked what everyday climbers should be doing to contribute to Access Fund's mission, Murdock said that the simplest thing was to just stay informed.
"Sign up for Access Fund's news and action alerts," he said, "but also be aware that things are changing at the crags. Standards on human waste and trails, expectations around wilderness behavior and permits—all of that is changing. Sometimes the hardest people to convince are people like me, who've been climbing for thirty years. But don't assume you know everything."
Another way to support climbers: become an Access Fund member.
Murdock estimates that there are 8 million climbers in the United States—not just gym climbers but "people who climb outside, own some gear"—yet less than one percent of them are actively engaged and contributing to access issues. "People need to think about how they appreciate climbing," he says, "because it's not necessarily going to be there in 20 years—at least not in the same way you want it to be."
Lastly: "Go climbing. Share climbing with your friends. Buy climbing gear from companies. Visit new climbing areas and learn the difference between climbing in the wilderness and climbing in Central Park. That way, when we ask you to write a letter to your senator, you can say, 'I went climbing last week, and here is what I want for my future and my kids's future.' "