Ethan Pringle – Pro Blog 12
Heading out the door? Read this article on the new Outside+ app available now on iOS devices for members! Download the app.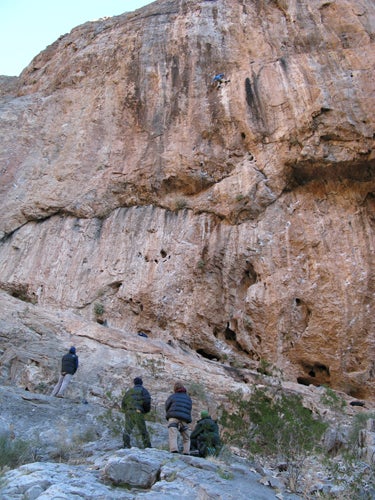 11/24/07Its Christmas Eve, and I'm about to hop on a flight to So-cal to party down with Natasha's family and snack on Vegan Tamales. Over the past few years, I've grown to know the McCarran airport in Las Vegas quite well, but that doesn't keep me from getting lost on the maze of roads on the way to the departure area, or being slightly freaked out at the automatic soap dispensers in the bathroom that squirt soap into your palm in a way that makes you want to retract your hand as fast as you can and wipe it off on the nearest surface.
After a week and a half I had just about had my fill of the VRG, surrounding climbing areas, the town of mesquite, and yes, even the Virgin River Casino and Hotel for the time being. Just the same as anywhere, a place that feels like paradise can take a turn for the worst unexpectedly.
It wasn't the first time they had cleaned our room, and my partner can testify by the girl's hair he pulled out of the drain that the sink was already clogged before we got there. But for some reason when they cleaned the room this time they noticed the dog food bowls on the floor and alerted the front desk that we had animals. We knew the hotel was pet-friendly, but they put all the people with pets in a certain building, because they said, they wouldn't want someone with pet allergies to walk into a room that had been recently inhabited by dogs. Not only was our new room a brisk (freezing and windy) walk, instead of a hop and a skip, from the hot tub, there was no open network I could feed off to access the Internet. The rooms were still only twenty bucks on weeks days (now a ten dollar fee for the pups), so we really couldn't complain that much. The Wall (buy-it-all) Mart, and (Joe) Smiths were still open 24hours. Ah, good 'ole Mesquite. Things did get a bit boring though.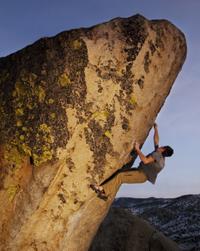 The TV, which was constantly on in our room kept the books in our bags and our brains washed with shows like "What Would Jesus Really do?" "Locked Up: Extended Stay" and "Real O.C. Housewives". Speaking of the Orange County, apparently Natasha's dad lives in the neighborhood in which that show is filmed.
We made a couple visits to the local cinemas where we saw the town's only attractive females that prompted quotes from my accomplice like "She's no ten, but for Mesquite, I'd grill it."
With the Winter solstice upon us, the sun would set at a premature time around 4:30. Even though we usually wouldn't rush out the door in the morning, we, I, would rush to get on as many climbs at the cliff as time would allow.
On our rest days we would jog up to the Cathedral's wailing wall, wishing it was ten degrees warmer so we could climb there. But instead we had the short and bouldery Black and Tan and Gorilla Cliffs to work with, and of course, the Gorge.
I used an extremely wet and humid day at the Black (pronounced Brack) and Tan to figure out a really neat project with Isaac Caldiero and Dave Graham. "Let the love Die…" At first the route seemed nearly impossible, just a series of almost un-usable holds with no real connection between. But after figuring out a really wide stem, a knee-bar and some tricky drop-knees and funky body positions, a sequence formulated to link all the cryptic moves together. It was like a little dog park that day with my friend's two Blue Nosed Pits, Isaac's dog Sage, Rob's dog Sadie, and Lauren's dog Pierre.
The next dry day, it was 35 degrees at the B and T, which would have been fine, without the 20MPH gusts of wind that seemed to pick up just as I was ready to climb. I had to employ some old tricks in between burns to stay warm including layering (duh), jogging around to keep the blood moving, staying hydrated (as always), wearing pants over my harness and performing the "Freeze-Thaw" technique, where you climb around the base of the cliff or fondle sharp crimps until your fingers freeze, then warm them up in your pockets to get the blood moving before you quickly get ready to climb. I also had to climb in shorts because I needed to wear a kneepad on my left leg. That made the experience slightly less comfortable when the gusts came. I sent the route my third time up it that day after a couple more attempts to sus beta. All said and done the route turned out to be really cool, with really nice moves between cool grips following an obvious feature. Short and sweet.
After one more day at the VRG, I was ready to bail. One night there was a Baileys Promotion at the Smiths, so we sipped a couple shots of the chocolaty liquor with the Baileys girls and they said they would send me a picture of my climbing partner and I posing with the younger girl and our drinks, but of course they never did. Sorry.
Photo by Kyle George — kylegeorgephotography.com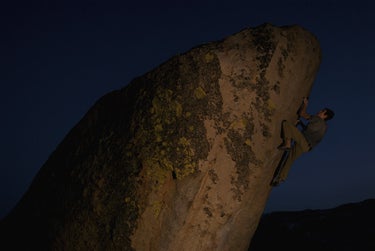 1/2/08Christmas came and went. We ate, hung out, drove around, slept, drove again, ate more and waited. We did in fact visit Coto De Caza, the "most exclusive gated community in the US" Natasha's cousin in-law boasted at Christmas day gathering at Natasha's dad's house (yes, near the filming location of Real OC Housewives).And I ate too much dessert. It dawned on me how easily I get depressed without climbing of surfing, or at least the prospect of one of those things in the near future. So we got the heck out of there as soon as we could and hightailed it to Bishop.
Even though I'm not as psyched on bouldering as routes at the moment, I always have fun climbing at the Buttermilks and I figured if I got spanked I could use it to motivate myself to get stronger on the boulders. Natasha sent a couple hard things that she was psyched to do, which was awesome, and I sent a couple hard things and worked on a couple harder (more crimpy and sharper) things that I hadn't done before. I've spent so much time bouldering at the Butters over the last few years that all I have left to do are the extremely tall and dangerous highballs, i.e. Kevin's new things: Golden Rule, Footprints (crazy), or the extremely crimpy and hard low starts or obscure lines i.e. Mandalion, Swarm (sharp). On this trip I decided to go for the latter, requiring a lot less time and commitment, and less consequence, or so I thought.
So last night I was trying the Mandalion, the low start to the forever famed Mandala, and found some really sweet tall-person beta that made it feel like I was cheating. I was getting through the bottom several times only to pump out and fall high on the wall. It was obvious to me I should have warmed up more, and my fingertips were sweating feverishly from the razor sharp crimps that I was over-gripping. But they hadn't broken into a full-blown seep yet, and there was still light for one more try. I ended up falling on the last big move; missing the pads and smashing my left heal rather hard on the compact ground. F—k. So we made it to Whiskey Creek in time to put a happy-hour order and after eating our half price dinner I ate my depression away with a chocolate ice-cream concoction they called the brownie monster.
So this is the New Year, and I don't feel any different… except for a piercing pain in my heal. Looks like it will be campusing and hang boarding for a little while. A quick resolution: get really strong, come back and get revenge… and make sure my I have more than enough pads.