Extraordinary Speed Record on Mont Blanc
Heading out the door? Read this article on the new Outside+ app available now on iOS devices for members! Download the app.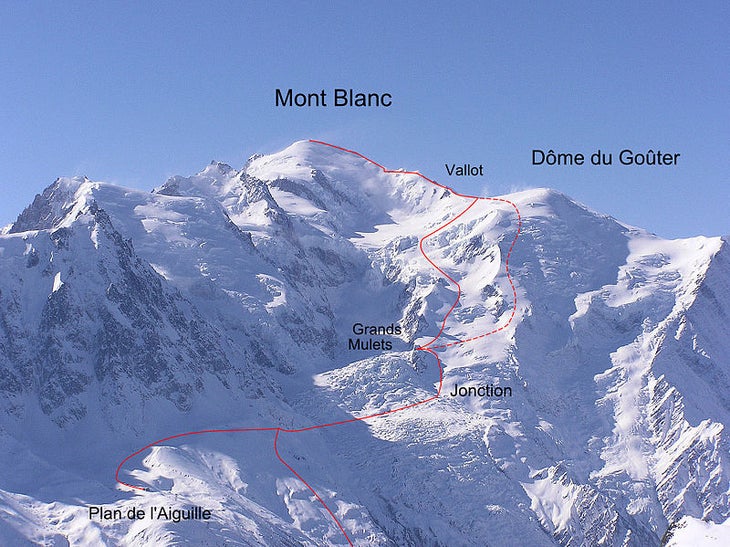 The Spanish runner Kilian Jornet, 25, ran up and down Mont Blanc, the 15,781-foot high point of Western Europe, in just under five hours, taking more than 13 minutes off a 23-year-old record. Jornet was accompanied by the French skier Mathéo Jacquemond to the summit, but the Frenchman was injured during the descent and Jornet finished the run alone.
Starting at the church in central Chamonix, France, at dawn on July 11, the two men climbed the historic Grands Mulets route up the north face, a route used mostly by skiers. The heavily glaciated route ascends 12,378 vertical feet over nearly nine miles. The two reached the top in 3 hours 30 minutes, averaging 3,500 vertical feet of climbing per hour.
During the descent, Jacquemond fell into a small crevasse, injured himself slightly, and encouraged Jornet to continue alone and claim the record. (In May, Jacquemond had set a new record for the round-trip on skis at 5 hours 5 minutes.) Jornet descended the peak and ran into town in less than 1.5 hours, for a total round-trip time of 4 hours 57 minutes 40 seconds. The previous record, set by Pierre-André Gobet, was 5 hours 11 minutes.
Jornet and Jacquemond had previously attempted the record on July 3. This time, "The snow conditions were good, so we were able to descend easily, by sliding down on our bottoms or running," Jornet told reporters. "It was a shame to finish alone. I did the entire ascent and the descent with Matteo. I think the record is for both of us even if I am the only one to make it back to the church."
Jornet wore running shoes with robust lugs, shorts, and a T-shirt for most of the climb. He carried light windbreaker (top and bottom), half a liter of water, two gels, and trekking poles. The two men carried a 15-meter rope to protect themselves on some crevassed sections.
Jornet soon plans to attempt speed records for Mt. Elbrus and the Matterhorn. Last summer, he broke a 29-year-old record for running up and down the Grand Teton in Wyoming, though the new mark was broken again 10 days later by Andy Anderson.
How fast does Jornet go on mountain terrain? Watch this video of him making the winning move to pass two leaders near the end of a vertical kilometer race in the Dolomites this month. Jornet climbed the 3,280-vertical-foot course in 32 minutes, 43 seconds.
Date of ascent: July 11, 2013
Sources: Thelocal.es, Desnivel.com, Trailrunningspain.wordpress.com