Heading out the door? Read this article on the new Outside+ app available now on iOS devices for members! Download the app.
Photo by Jeff Achey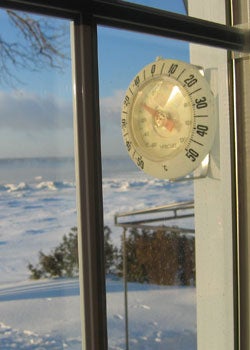 2/20/06 – More on the comp: the speed event, held Sunday, was eye opening for anyone who hasn't seen the latest techniques in speed ice. Competitors now use short, totally toothless Russian-style "speed hooks." No swinging or long reaches, just a vertical scrambling motion that sends them flying up a well-featured vertical flow to the bell. Winner was the Ukrainian Evgeny (which is just Ukranian for Eugene) Krivosheitcev, who also got top points in difficulty, and who charmed as well as asskicked everyone with his all-around ice prowess and curly-locked Greek boy-god good looks. When it was all over and I had dinner Sunday night with a table full of Festiglacers including lead judge France Seguin (ex national-level competitor and coach in Canadian figure skating) and event organizer Gen Lamontagne, they explained something that I'd overlooked, since the comp fanfare was so low-key: that the team element was the focus of the event. Festiglace does not want to add any more to the "me, myself, I" ethic that climbing seems to have moved towards. They want something that honored and encouraged that fundamental mountaineering value of partnership – which is both a good thing in itself and very key to most big-mountain ascents. With several Quebequois competitors at the table we debated possible formats. They also don't like the super-technical focus of, say, the Ouray format, where competitors get one shot at one very hard route. That's what sport-mixed is all about, but not the multi-pitch adventure ice that's the highlight of this region. You need to be able to keep at it, in the cold, when you're tired, when pillars crack or your tools get dull. So they want to keep a format that continues to encourage and reward endurance and stamina, as this year's format did, with 3 hours of open climbing, yet find a way not to penalize the individuals so much if they happened to be paired with a very slow partner, find a way that it would be in the fast partner's interest to encourage and support the slower one, instead of trying to rush him through his lead time. Anyway, it was a surprisingly interesting conversation, and I had never thought much about how a comp format really rewards and validates certain climbing skills and values over others, and how the kind of compromise reached speaks about the nature of the community or organization that puts on the event.
Photo by Jeff Achey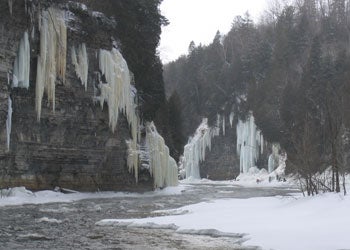 Conversation, fortunately!, soon turned to party antics from Saturday night, and pocket digi cameras soon came out replete with incriminating imagery of several men at the table in various states of undress with eyes that looked brimming with the vodka and cranberry juice shots that were making the rounds on the dance floor. Missing from Festiglace this year, sadly, was the "greatest climber in the world" contest, a Festiglace tradition, which in past years has featured such events as full-pack pull-up contests and feet-in-ice-bucket rope coiling (which can turn into to ice-bucket-poured-over-the-head rope coiling, if anyone looks too suave). Genevieve promised to bring it back next year, and I definitely felt cheated to have come so far and missed that spectacle.At festival's end I found myself having impossible thoughts: imagining a possible ice-climbing road trip, something I've never done (spa weekends in Ouray notwithstanding – Ouray is close to my home and so absurdly cush and easy that it doesn't really fall in the same category as a genuine ice-climbing road trip, with the true spirit of passion and suffering embodied involved in the real thing). Nor had planned to ever planned to do one. Yet what made the idea seem plausible was not the idea of spending more time in the beautiful old town of Quebec city, North America's oldest, attractive as that was, but the idea of sharing rope days with the hearty, tough Quebequois climbers who befriended me so quickly over the weekend. Though I still barely knew them, eheir companionship seemed worth a week or so of ice-block hands, forcing screws into -30 degree ice, as spindrift blowing across some frozen lake into my eyes. God, doesn't ice climbing suck?! The Quebequois are a different breed. The bolts that protect the Pont-Rouge mixed climbs are fat and modern enough, but driven into shale so totally unreliable that only the Quebequois, or those under their local spell, would think for half a second that they offered protection. Bolts regularly rip, often pulling out large blocks with them – this happened during the comp, as a competitor was lowering off some M8 thing – a bolt just pulled out with the outward force on the rope. No one made a big deal about it. As two competitors, Roger Strong and Sean Isaac, climbed side-by-side lines on semi-connected pillars, the whole formation cracked through. They made a gentleman's agreement to both retreat from their leads and sacrifice the lost time. No one got on those routes for the rest of the day, obviously, and I think the lower-off pieces were simply flicked out with the rope. And its not just the climbers who seem completely at home with hazard. The spectator access stairs, a precipitous flight of a hundred odd narrow icy wooden treads, would never fly in the US – they would not even be placarded with huge yellow warning signs; they would be closed immediately for threat of deaths and lawsuits. Yet Quebequois families trotted up and down (resting on the single landing to catch breath – they weren't particularly fit, just fearless) without a care. And the Quebec winter is unforgettable, so fantastically austere and harsh. The St Laurence River looks like something in the Yukon. Snow covers everything, all season. After storms or during the frequent periods of high wind and mountainous drifts, snow shovels are a joke. Everyone has serious motorized snow-blowing equipment, farm-combine scale, that bite into double-overhead drifts and send powdery plumes arching across the landscape, as the Quebequois wage an endless battle to claim back necessary human living space from the Great White.Festiglace – what an adventure! Can't believe I'm saying this, but I may be back.
Photo by JD LeBlanc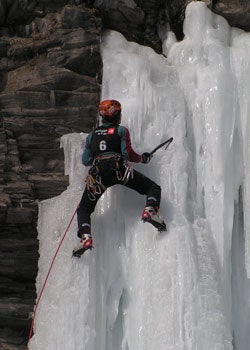 2/19/06 – By midday Saturday the Festiglace crowds were back up to normal – over 500 people by my very rough guess. This is the largest regularly held climbing event in Canada (although last summer's Squamish Roc Trip matched it), and has been for much of its 9 years. Yesterday's report in the Quebec newspaper made a point of the temps: minus 30 C, with a wind chill on top of that. 'I got the screaming barfies TWICE!' said Sean Isaac, one of the pro competitors.The Pont-Rouge climbing takes place in a mile-long stretch of a dramatic river gorge lined with shale cliffs up to 25 meters high, that seep with countless free-hanging icicles. The ice is unusually steep, and the rock is … unique. 'At Pont-Rouge you bash at the rock and hook the ice,' says LPMenard, a local. Shale was falling everywhere below the mixed climbs, and the fat sport-climbing bolts have been known to pull out complete with large chunks of the soft shale. Everyone seems to agree that of the rock they have seen bolted for climbing, this is the very worst they have ever seen. Still, in the Quebequois spirit, falls were frequent, risk of death taken as part of the fun, and major injuries rare.Saturday activities included the usual clinics and tool demos, along with an amateur speed contest held in the main tent zone and a low-key pro difficulty contest held throughout the climbing area. For the pros, format was two hour-and-a-half sessions at two different zones, during which time they tried to climb as many high-point-value climbs as they could. It was the same basic format as the old Phoenix bouldering contest: great natural climbs all set up to go, where competitors chose the hardest things they could do while still completing enough routes to score high. It was a good test of strategy, endurance, and versatility of ice and choss, all taking place in arctic cold in a beautiful setting. Both team (climbing partners for the day) and individual scores were kept; Evgeny Krivosheitcev of Ukraine, Will Mayo of the US, and the legendary local Guy Lacelle took the top three spots in individual difficulty; speed finals will take place on Sunday. Only one woman competed this year, Audrey Gariepy of Quebec. Powerful and graceful on both the brittle ice and crumbling shale, she held her own with Krivosheitcev to secure first in the team scoring, and sixth overall in the individual out of 17 pro competitors.Saturday night was as hot as the day was cold, with a packed community center, great presentations, and a basement disco that continued into the wee hours. Here, finally, was an evening activity where command of the French language was absolutely unnecessary. Also, as in most ice festivals, many of the Festiglace events had that 'sausage-fest' quality, but as the men steadily dropped out over the course of the evening, the dance floor ratio rose to something approaching a reasonable mix of female and male, supplemented by the ever-present SWAT team of blue-jumpsuited event girls who worked the bars and threaded the crowds balancing trays of vodka-and-cranberry-juice shots. When I walked out of the venue for a breather sometime after 1 a.m., into the clear moonlight and numbing cold of the small-town Quebequois night, I could only marvel at the massive convergence of partying, ice-climbing fools secreted away in the solid brick building behind me, all here as in some sort of primitive winter tribal rite, to pry loose dinnerplate ice and teetering shale, hang with like-minded fanatics, and celebrate one of the great annual rituals of North American ice climbing.
Photo by JD LeBlanc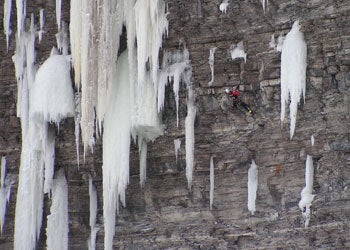 2/18/06 – Despite horrendous driving conditions on the roads from Waterloo, Toronto, Boston, and elsewhere, nearly 150 climbers arrived at the Pont-Rouge community center last night for Friday night's kick-off program. Tales of whiteout conditions and overturned semis vied with climbing lies in French and English conversations among clusters of new arrivals. The evening presentation was almost entirely in French, so the monolingual Americans us had to plead 'je ne comprend' and make extra trips to the bar, but spirits were high, if only from relief to have survived the journey to Festiglace. Feature speaker Mark Synnott was the token English-speaking presenter, and offered an unusual combination on Polish frozen grass climbing (from his Climbing feature) and his more recent journey to Pitcairn Island, in French Polynesia, where he attempted to rock climb and mostly hobnobbed with the island's 40 residents, all direct descendants of the mutinous crew of the famous HMS Bounty. Quebec climbers Max Turgeon and LP Menard wrapped up the evening with a nice show 'Spice Factory' about their badass climb of that name in Alaska's Ruth Gorge. Highlight of that show was surely the lengthy video clip of the pair, still home in Quebec, trying to get into their twin sleeping bag bivi setup. Today, the renowned Festiglace competition begins, along with clinics and other festival fare. Weather has turned from stormy to clear: il fait sole, il fait bon! Time to hit the ice.
Photo by JD LeBlanc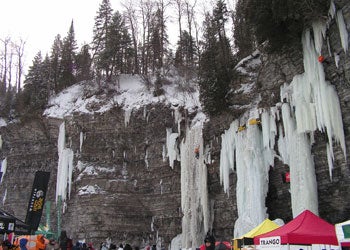 2/17/06 – Afternoon – As ice climbers converge from around the world on the famed Festiglace, held just south of Quebec city, Mother Nature has prepared an alpine welcome. Blizzards and other weather obstacles clog many of the Midwestern and Northeastern travel hubs, and here, outside our traveling headquarters at the Gite a Emilie in Neuville, snow is blowing sideways across the ice-choked St. Laurence River … which is a welcome change from this morning's sleet. The colder temperatures bode well for the superb flows at the recreation and competition venue in Pont-Rouge, but the Climbing team has yet to set tool to ice, save the lengthy session outside our motel this morning freeing the rental car from beneath a centimetre and a half cocoon of the stuff. Formal events kick off in a few hours, with presentations by the globetrotting Mark Synnott (a Climbing Senior Contributing Editor) and local Quebec alpinists Maxime Turgeon and Louise-Philippe Menard. So far, conditions seem to be shaping up perfectly for the premiere Festiglace activity: partying!