Slovenians Grab First Ascent of Chobutse's Striking Northwest Face
Luka Stražar and Nejc Marčič made an alpine-style ascent of the unclimbed northwest face on the 6,686-meter Nepalese peak.
Heading out the door? Read this article on the new Outside+ app available now on iOS devices for members! Download the app.
Slovenians Luka Stražar, 33, and Nejc Marčič, 36, have made the first ascent of the northwest face of Chobutse (also referred to as Tsoboje), a seldom-climbed 6,686-meter peak in Nepal's Rolwaling Valley. The duo climbed their new route clean, without aid and in alpine-style, from October 28 to 30. They reached the summit at 2:00 pm and returned to their basecamp via the west face by 10:00 pm that evening.
Stražar, a professional mountain guide based in Jesenice, told Climbing that their new line, Slovenian Direct (ED M5 AI 5; 5,500 feet), included around 1,600 feet of soloing on the easier lower portion, with ice climbing up to AI 4.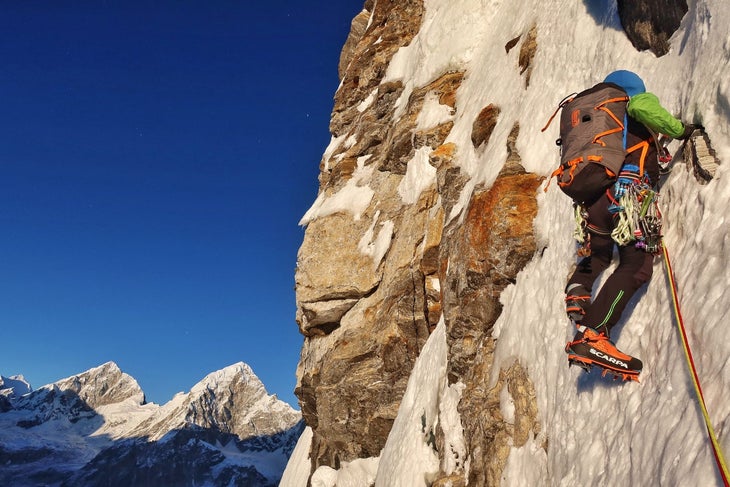 The soloing was followed by approximately eight steep, exposed mixed pitches in the middle of the route, and an "easy angled, but super windy finish." He said that the mountain appealed to him and Marčič largely because of its aesthetics. "It has a really nice symmetry," he said of the northwest face. "And the most obvious line goes straight up the middle." As for the difficulty, "I have problems defining cruxes on complex routes like this. [The crux] was really the whole thing." 
He and Marčič traveled to Chobutse and the Rolwaling Valley as part of a four-man Slovenian expedition, along with Marko Prezelj and Matija Volontar. The latter attempted a line on the peak's southern aspect but was pushed back by high winds and foul weather.
Chobutse, also known as Tsoboje or Chobuje, was first summited in 1972 by a German team of Wolfgang Weinzierl, Peter Vogler, and Gustav and Klaus Harder via the Northeast Ridge. Mingma Gyalje Sherpa achieved acclaim for his solo of Chobutse's west face in 2015, which, ironically, occurred on the same calendar date that Stražar and Marčič began their climb (October 28). The Nepali climber called Chobutse  "the hardest mountain I have climbed" at the time, christening the route Dorjee Sherpa in honor of his late father. His was only the fourth ascent of the peak, and "the first technical new route to be soloed in the country by a Nepali," according to the American Alpine Journal.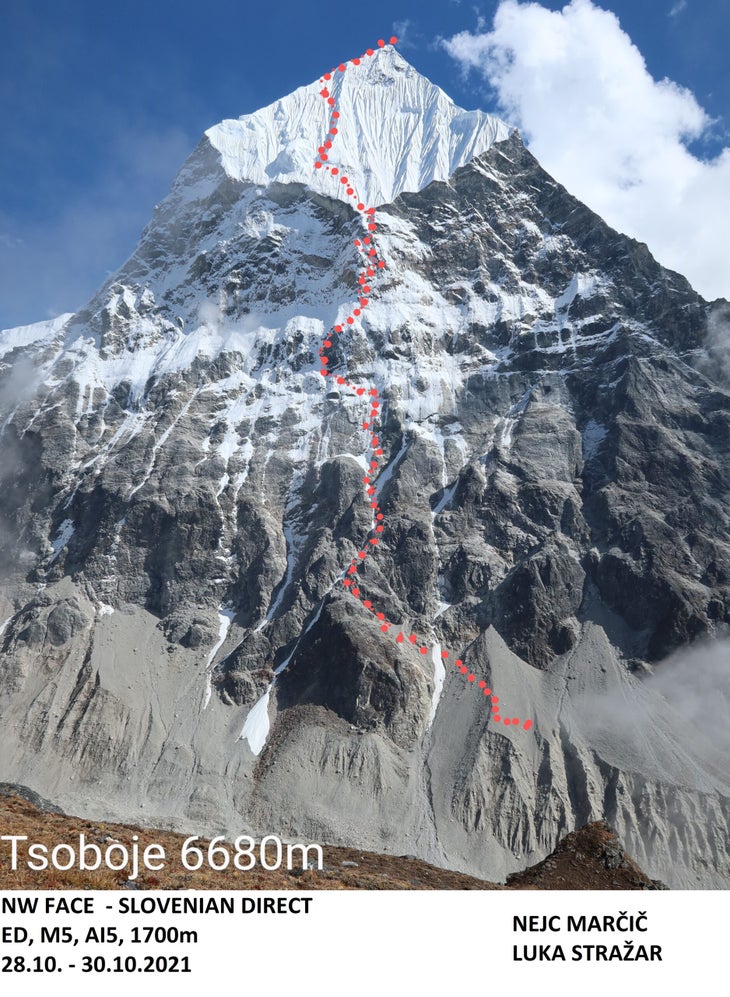 Marčič felt extremely ill for his first week at basecamp, bedridden with a throat infection and high fever above 102°F. "Then he [developed] an ear and tooth infection, so it was pretty bad," said Stražar. He said the most stressful part of the entire expedition was perhaps that initial period in basecamp, taking care of Marčič, unsure if he would recover in time to attempt the peak. Luckily Marčič managed to make a full recovery before the duo began their climb.
"It's been more than 10 years since me and [Marčič] did our first climb together," Stražar said of his partner. "What is great is that even after a long pause, we can go climbing and we have the same approach to tactics, gear, etc. Not much consulting or fine-tuning is needed."
Like their comrades Prezelj and Volontar on the south face, Stražar and Marčič encountered extremely high winds and heavy spindrift, particularly on the upper ramparts of the mountain. But Stražar was reluctant to expand on the poor conditions. "In high ranges, there is always something," he said matter-of-factly. "It was not too bad, since we were able to climb the thing."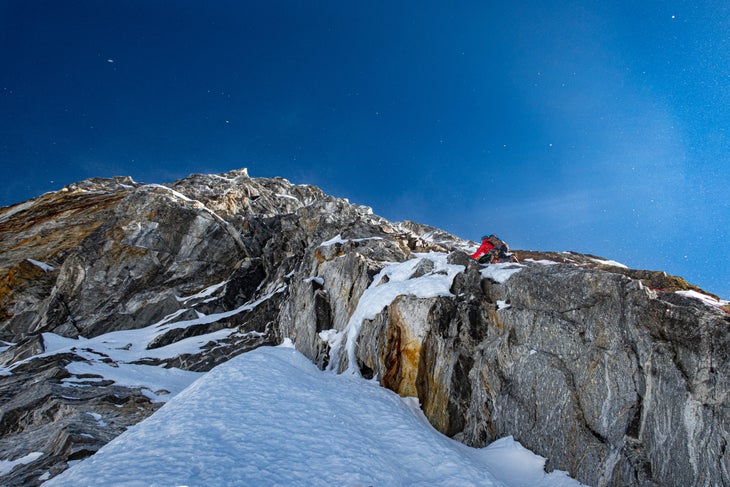 The pair summited both the central and east summits of the peak to ensure they made a proper ascent, since they weren't sure which summit was higher.
"I was climbing towards the central summit, looked towards the east summit, and instantly I was convinced that it was the higher one," Stražar said. "So we abandoned the central one and climbed the east one. Being on top of the east summit, we looked towards the central one and thought 'Shit, the central one looks higher!'" Despite this delay, the "central and east summits were quite close together, so it didn't take us long," he noted.
The duo rapped the first 3,000 feet of the west face to descend after their climb. "The conditions were perfect for rappelling on V threads, so it went really fast." said Stražar. "After this there were some route finding challenges on the broken terrain about [2,600 feet] more, where the recently glacier retreated."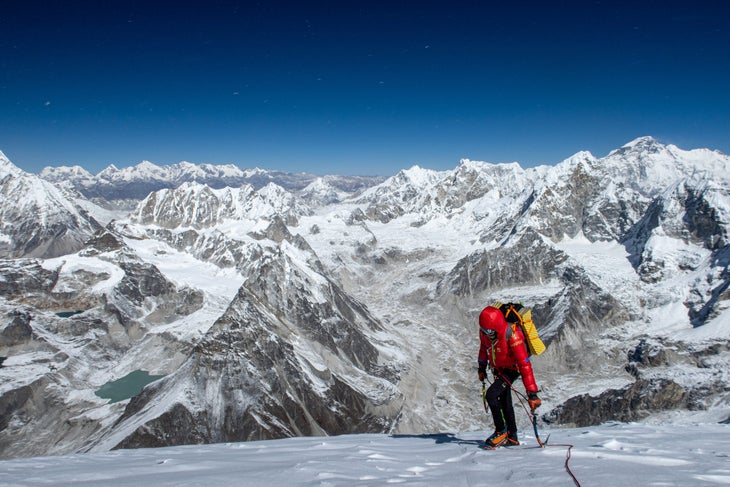 Stražar has been climbing for over fifteen years, since joining a local alpine club in Ljubljana, his hometown and Slovenia's capital, back in high school. "After high school, alpinism and climbing slowly but surely took over basically every aspect of my life. Today I'm an IFMGA mountain guide, sponsored alpine climber, and husband to a girl who really likes to climb as well," he said.
He has made several accomplishments in the last year that he's proud of, from sending 8b (5.13d) sport to tackling Divine Providence (3,000 feet, ED+, 7b+/5.12c) on Mont Blanc both free and onsight in a single day. He also sent Ulina Smer (3,280 feet, IX/7c/5.12d) on the legendary North Face of Triglav (9,396 feet), the highest peak in his home country of Slovenia. 
"But the biggest accomplishment is that on the first of April I became a dad," he said.
---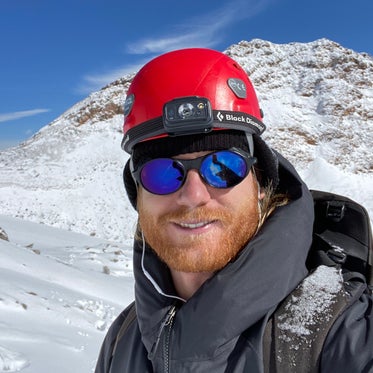 Owen Clarke is a freelance writer living on the road. In addition to spending time in the mountains, he enjoys motorcycles, heavy metal, video games, and key lime pie. 

This article is free. Sign up with a Climbing membership, now just $2 a month for a limited time, and you get unlimited access to thousands of stories and articles by world-class authors on climbing.com plus a print subscription to Climbing and our annual coffee-table edition of Ascent. Please join the Climbing team today.