Massive Attack: U.K. Climbers Weigh in on the Northeast Pillar of Tengkangpoche
Heading out the door? Read this article on the new Outside+ app available now on iOS devices for members! Download the app.
From October 24 to 30, the U.K. alpinists Matt Glenn and Tom Livingstone made the first ascent of the Northeast Pillar of Tengkangpoche (6,487 meters) in Nepal's Khumbu Region. They christened the route Massive Attack, and while they have not explicitly provided a grade, they feel that the proposed grades of past attempts—up to 5.11, M7, and A3—are fair.
The pair arrived in Nepal at the start of October and were greeted with clear and sunny weather for acclimating. It was Glenn's first time climbing in the Himalaya and he likened the conditions to high alpine summer: Tengkangpoche's freezing level hovered at 5,500 meters, providing reasonable free climbing conditions with just enough snow to travel along the two major ledge systems which provide key passage up the pillar.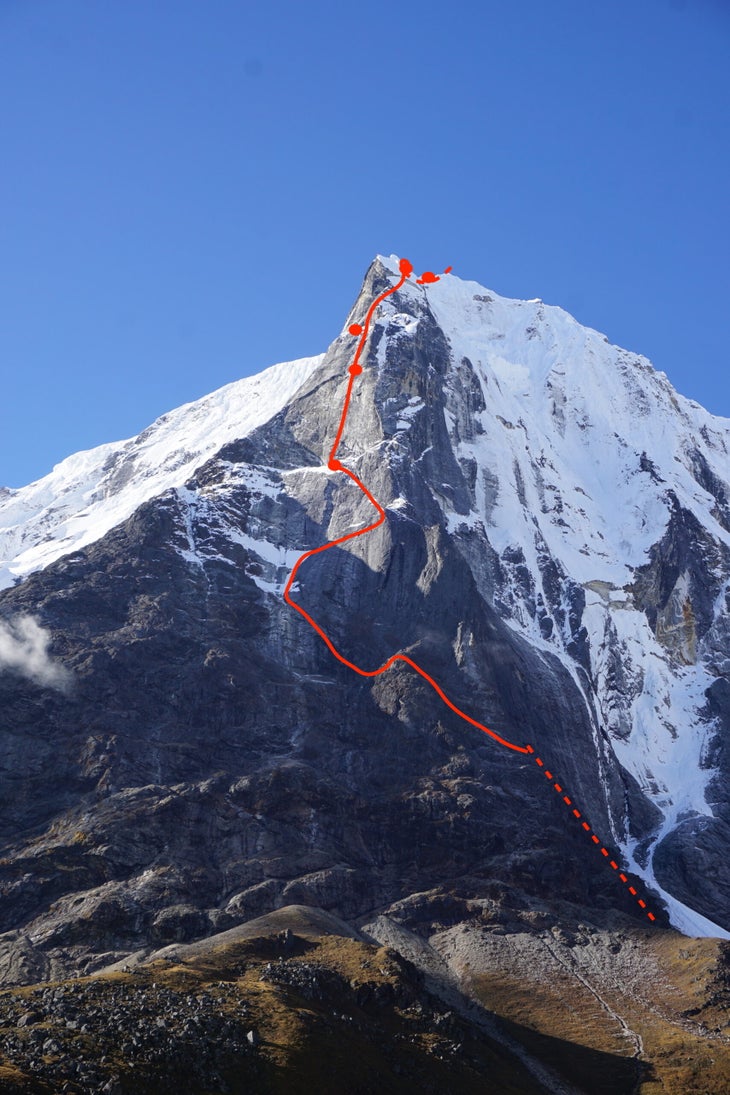 The weather remained stable for their first attempt, a two-day effort partway up the first headwall at around 5,700 meters, but Livingstone took a whipper while aiding, ripping a fixed copperhead and slicing open his little finger as he fell.
They fixed their ropes and rappelled to their bivy ledge to dress Livingstone's wound. Returning to their highpoint, with Livingstone firmly out of leading, Glenn said the route had become doubly intimidating. "We knew that the climbing would continue to be challenging and I would be forced to lead most of it," Glenn said. "Which [we weren't] super keen for. Starting up this massive headwall [and] knowing that I would have to lead all of the aid."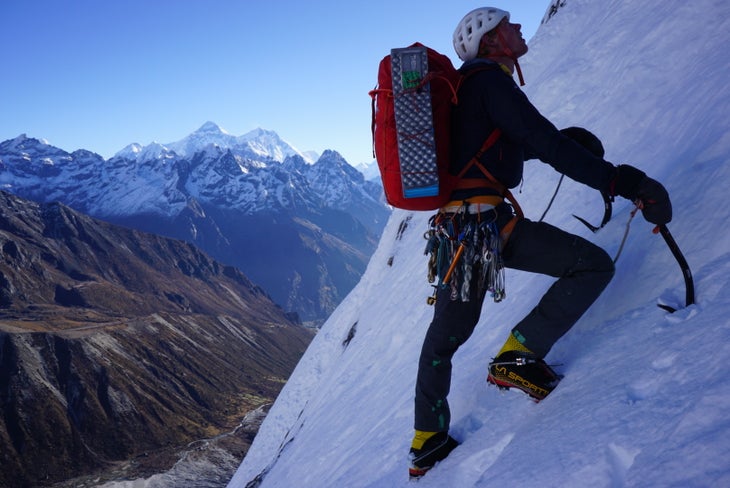 The pair spent the night on the ledge and decided to head down in the morning, taking all of their equipment and ropes with them. Glenn felt that there was little chance of them succeeding on a second attempt. They returned to the valley for a week and watched as their glorious weather window came to an end. The mercury dipped, and with it came an increase in wind and heavy snow. Temperatures fell as low as -13°F. But as they sat in the village, their psyche returned. Glenn said their solid first attempt, and a retreat without incident, took away some of the Pillar's mystique and provided more answers than questions. And after some debate of other appropriate objectives, the pair felt that the Northeast Pillar was their best option. 
While packing, they discussed using a gear cache they had noticed at the first bivy ledge. The gear was left by Quentin Roberts and Jesse Huey, who had tried the route that spring. Despite several attempts of the route, a foul forecast repelled their attempts and they made plans to return the following year. Though Livingstone and Glenn had brought all of the requisite gear to Nepal, they decided to use a pair of jumars, a daisy chain, an aider, 10 protein bars, and three gas canisters from the cache to slightly lighten their load over the first 3,000 feet of climbing. Glenn said they intended to take the cached gear as high as they could, and then return it if they bailed. When news hit the internet a week later, their decision prompted a widespread debate around the ethics of using gear cached in the mountains. 
They climbed back to their high point and continued up the headwall, utilizing a mixed bag of free, mixed, and aid techniques. Glenn and Livingstone are self-professed inexperienced aid climbers—Livingstone said he is opposed to bringing jumars on alpine climbs, as a matter of principle and aesthetics—but they both admit that Massive Attack required them to face their inexperience head on.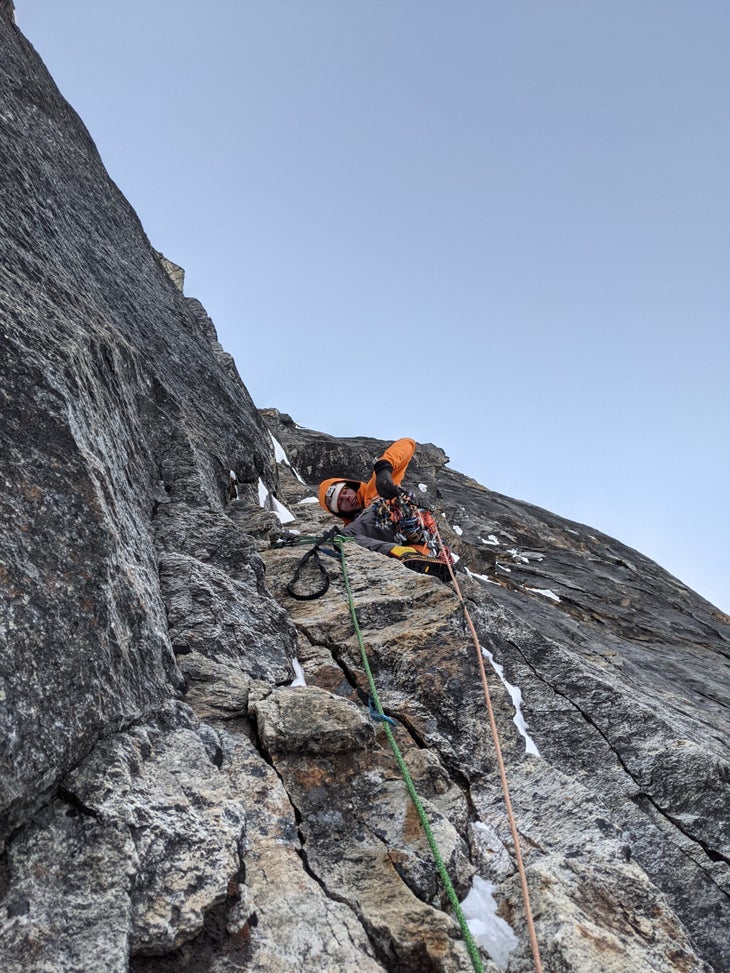 The frosty conditions encouraged them to do as little bare-handed free climbing as possible, often torquing on the thin, vertical cracks while standing in their aiders. Glenn said the aid climbing was hard for them but he would stop short of calling it "hard aid." "There weren't a ton of body weight placements in a row, or pitches where you'd rip a load of gear out," he said. "Just lots of small gear that you weren't too excited about." The cold snap had formed several sustained sections of iced-up corners, causing Glenn to slow his pace even further, chiselling ice out of the crack, then aiding off of his axes. "We were dead slow, compared to what I would imagine a fluid aid climber is like," he recalled.
Livingstone described Massive Attack as a 50/50 split of high quality mixed climbing and slow, tricky aid. "Above the alcove bivy [the second marked bivy, on their fourth day of climbing] there were two super nice steep ice and mixed pitches which were great fun to climb," he said. "We followed thin runnels of ice, occasionally only about 20 centimeters wide, with great cams for protection. I had to be delicate. It was a nice change after all the aid climbing on the previous day." Higher on the route, Livingstone gave his thanks to Quentin Roberts' first attempt, with Juho Knuuttila, where they faced a featureless slab on the final headwall. Roberts' beta, which he shared with Livingstone over text, was to follow right trending cracks to avoid their dead-end high point. Livingstone said he had previously considered this route finding tip, and Roberts' message confirmed it.
The duo topped out the pillar after five days on the mountain and faced an exposed snow ridge leading towards the summit. "Matt did a great job [of] leading the snow ridge, which was very Himalayan—sugar snow, no gear, no belays, lots of tricky steps—in the morning," Livingstone said. The ridge was admittedly more exciting for Glenn, because somehow, in the middle of the previous night—and in two separate incidents—he had lost both of his crampons' heel bales. One had broken free while he aided with it clipped to his harness, the other came off while unpacking his bag at the bivy. Glenn said he realized how committed they were while balancing on the snow ridge with cordelette connecting him to his crampons. On day seven, Livingstone led them to the summit, stopping briefly, before descending the east ridge and then back into Thame Valley in one long day.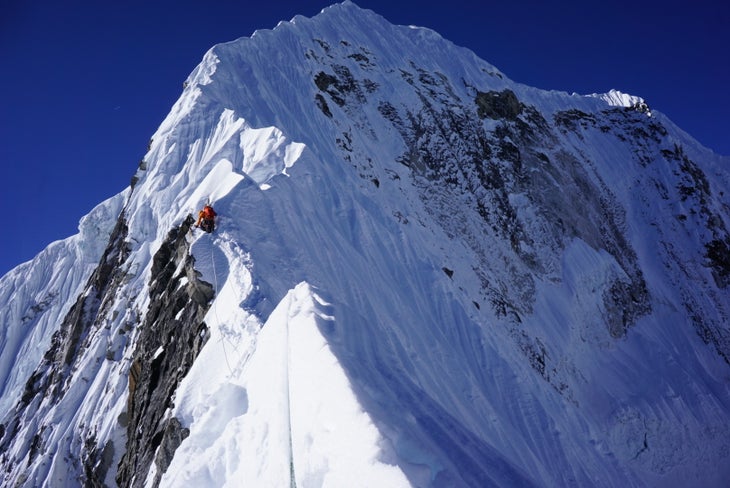 In the days following their ascent, Livingstone and Glenn received criticism for taking from Roberts' gear cache without permission and for omitting the fact from an Instagram post. Livingstone said he planned to publish a full account of the climb in a subsequent post, with due credit, and "underestimated how necessary it would be to immediately and specifically mention each aspect of gear we had borrowed or used from Quentin and Jesse to the public."
Vitriolic online stories were published in quick succession, adding fuel to the debate, until Roberts made a post to soothe the noise (quoted with permission). "Tom, Matt, and I have spoken, and realized that so much of this [controversy] came down to poor communication between us," he wrote. "When passion is added to the mix, it is especially important to be clear with one another. We were obviously not clear enough, and that has created two angles of the same story."
*
Of his partnership with Glenn, Livingstone said he is "a great partner, headstrong, and keen to progress." The pair met through the U.K.'s Young Alpinist Group (YAG), a non profit that pairs upcoming alpinists with mentors to share their breadth of knowledge. Livingstone, most widely-known for his Piolets d'Or-winning ascent of Latok I in 2018, created the YAG in 2020 to "improve the safety and knowledge of young alpine climbers, giving them the skills to climb in the Greater Ranges around the world." Livingstone and Glenn look forward to their next big route together.
---
This article is free. Sign up with a Climbing membership, now just $2 a month for a limited time, and you get unlimited access to thousands of stories and articles by world-class authors on climbing.com plus a print subscription to Climbing and our annual coffee-table edition of Ascent. Please join the Climbing team today.