First Ascent Team Summits Everest!
Heading out the door? Read this article on the new Outside+ app available now on iOS devices for members! Download the app.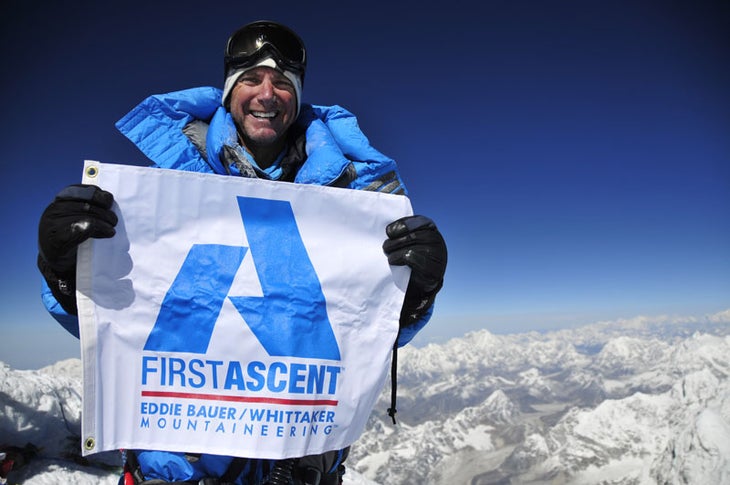 Viesturs and Whittaker Return Eddie Bauer to the Top of the World
SEATTLE, WA – On the morning of May 19, two legendary mountaineers on the First Ascent "Return to Everest" expedition reached the highest point on Earth. Ed Viesturs and Peter Whittaker stood on the summit with members of their production crew before descending to High Camp at 26,000 feet. Forced to spend an extra 24 hours in the "death zone" while waiting for high winds and whiteout conditions to improve, the team began their final summit push around 11:00 p.m. on the evening of May 18. Their successful summit comes 46 years and 18 days after Whittaker's uncle, Jim, became the first American to do so, on May 1, 1963.
The common thread between the two expeditions besides the Whittaker name: Eddie Bauer was the outfitter, then and now. First Ascent marks Eddie Bauer's return to its heritage as America's original expedition outfitter.
The Return to Everest expedition includes several of the world's most celebrated mountain guides and has introduced breakthrough video and audio production techniques to make the extreme challenge of climbing Mt. Everest accessible in ways never before possible. The unprecedented, virtually live coverage of the dramatic climb to the top, including the First Ascent blog with daily posts from the climbers, has created an avid online following.
As Viesturs and Whittaker return to Base Camp, the other team members are moving up for their own summit push. Led by another renowned First Ascent guide, Dave Hahn, the second team includes Seth Waterfall, Melissa Arnot and a client. Dave Hahn has more Everest summits than any other non-Sherpa. If successful, this campaign will mark his eleventh summit.
With Whittaker and Viestur's triumph, Eddie Bauer returns to its roots. In addition to outfitting the 1963 American Mt. Everest Expedition, Eddie Bauer outfitted many other historical first ascents in the 1950s, 1960s, 1970s and 1980s. For the past 18 months, Eddie Bauer has been working with their First Ascent guide team in developing the new First Ascent mountaineering gear. The "Return to Everest" expedition marks the expeditionary launch of the new line.
"This is a milestone for us," Eddie Bauer President and CEO Neil Fiske says. "It puts us literally back on top of the world. We outfitted some of America's most famous expeditions. And now with First Ascent and this team of climbers, we're bridging our past with our future."
Positioned as "guide built gear," First Ascent takes a new approach to designing and developing gear. Fiske, along with Peter Whittaker, assembled a "dream team" of world-class mountain guides to lead every step of the development process. "Our goal was simple," said Whittaker, "build the best gear in the world." Every component of every First Ascent piece was signed-off on by the First Ascent guide team. Because in their words, "We live in the mountains. Our clothes are our life support."
Five of the six First Ascent guides are participating in the Return to Everest climb. Those five include:
Ed Viesturs The only American to summit all fourteen 8,000-meter peaks without supplemental oxygen, Ed is recognized the world over as a mountaineering legend. This is his seventh Everest summit.

Peter Whittaker Co-owner of Rainier Mountaineering, Inc. (RMI), the largest guide service in the U.S., Peter has been a professional mountain guide for 25 years. This is his third Everest expedition and his first summit. Peter has said that part of his motivation on this 2009 climb was to restore some balance to the bragging rights at Whittaker family reunions. By mid-June, more than 50 RMI guides around the world (and many of their clients) will be outfitted in First Ascent gear.

Dave Hahn Acknowledged as America's leading Himalayan guide, Dave has summited Everest more times (10) than any non-Sherpa in history. This year, he's guiding a client, and many of his blog posts from the mountain outline the strategies for successfully climbing in the Himalaya.

Melissa Arnot This is Melissa's second Everest expedition. In 2008, she reached the top as part of EVEREST TEAM INSPI(RED) to help raise awareness for the organization (RED) and its work for people in Africa suffering from HIV/AIDS.

Seth Waterfall While this is his first trip to the Himalaya, Seth has guided on Rainier, Kilimanjaro and Denali; and he has multiple first ski descents to his credit. He'll be assisting Dave in guiding their client up the mountain.
The continuing drama is unfolding daily on the Born Out There blog: blog.firstascent.com. Groundbreaking video, still photography and written personal accounts by the climbers create a stunning, enthralling experience.
Peter Whittaker's Dispatch from the Top of the World on YouTubeEverest Dispatch #70 05-20-2009
Eddie Bauer's mountaineering history:
1953 – K2, Pakistan/China

1953 – Logan & Cook, Yukon

1953 – Inca Highway Expedition, South America

1954 – Makalu, Nepal/Tibet

1955 – Lhotse, Nepal/Tibet

1958 – Gasherbrum I, Pakistan/China

1958 – Antarctica

1958 – Slick-Johnson Snowman Expedition, Nepal

1959 – Eastern Kanjroba Himal, Nepal

1960 – Andes, South America

1960 – Masherbrum, Pakistan/India

1960 – McKinley/Denali, Alaska

1963 – Everest (South Col), Nepal/Tibet

1963 – Everest (West Ridge), Nepal/Tibet

1964 – McKinley/Denali, Alaska

1965 – Kennedy, Yukon

1965 – Antarctica

1966 – McKinley/Denali, Alaska

1966 – Vinson Massif, Antarctica

1967 – Andes, Peru

1967 – McKinley/Denali, Alaska

1971 – Everest, Nepal/Tibet

1973 – Dhaulagiri, Nepal

1974 – Peak Lenin, Russian Pamirs

1974 – Coppermine River, Northwest Territories

1975 – Mt. Logan, Yukon

1976 – Nanda Devi (North Ridge), India

1976 – Brooks Range, Alaska

1976 – Thule-Grise Fjord, Canadian Arctic

1977 – Great Trango Tower, Pakistan

1978 – Baffin Island, Canadian Arctic

1979 – Vatnajökull Glacier, Iceland

1980 – Makalu, Nepal/Tibet

1980 – Dhaulagiri, Nepal

1980 – Ellesmere Island, Canadian Arctic

1981 – Spitsbergen Island, Norway

1981 – Rainier (Pelion Project), Washington State

1981 – Everest, Nepal/Tibet (2)

1982 – Ama Dablam, Nepal

1982 – Ellesmere Island, Canadian Arctic

1983 – Everest (East Face), Tibet

1983 – Northwest Passage, Canadian Arctic

2008 – Cotopaxi, Ecuador

2009 – Aconcagua, Argentina
Visit:blog.firstascent.com for more updates