First Down Syndrome Summit of the Grand Teton
Heading out the door? Read this article on the new Outside+ app available now on iOS devices for members! Download the app.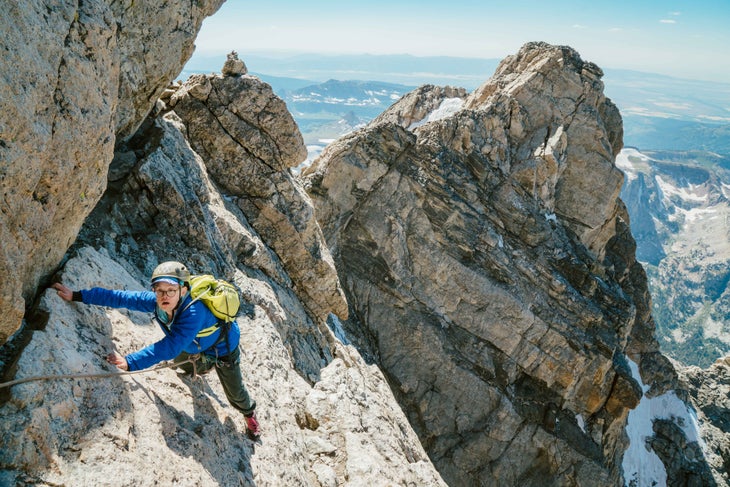 On Friday, August 18, Andrew "Bob/Ducky" Harris became the first person with Down Syndrome to summit the Grand Teton. The ascent via the Owen-Spalding route took just under 12 hours from the Lupine Meadows trailhead (elev. 6,732 feet) to the summit at 13,776 feet. Led by his sister Amy Harris and his future brother-in-law Max Hammer, Bob reached the summit at 5:15 p.m. MST.
Climbing the Grand Teton was the brainchild of Amy, Max, and Bob. (He has two nicknames: Bob and Ducky. Ducky is a childhood nickname given to him by his family, but he prefers to go by Bob, which is the shortened version of the alter ego he gave himself, "Bob Hammer.") As Bob's caretakers, Amy, a nurse, and Max, a professional skier, had seen firsthand the positive effect that a healthy lifestyle had on Bob, and they wanted an objective that would reflect their goals to learn, grow, and improve Bob's life.
"With Bob, limits are arbitrary, and athletic goals get to skip the self-consciousness, seriousness, and self-interest that are a big part of the outdoor pursuit-driven lifestyle," Amy says. "When you hang out with Bob, whether you're climbing the Grand Teton, or watching Gilmore Girls on Netflix, there is a constant level of irreverence and goofy joy that is one of the most freeing feelings on earth." They picked the Grand because it's symbolic and beautiful, but it also fits Bob's favorite style of climbing: exposed slab.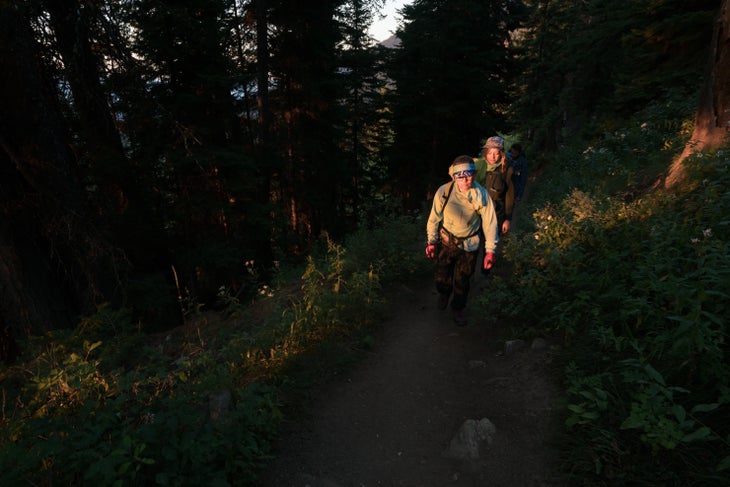 Bob, now 32, had spent years in group homes, where his diet was poor, and he was given a lot of fast food. Although his entire family had always encouraged him to be active by taking him running hiking, riding horses, sledding, and skiing, his time in the group homes was spent mostly in front of the television. After being hospitalized for various digestive issues, he was given a feeding tube, which he had for three years.
As a climber, skier, gardener, and cook, Amy knew that a proper diet could have a huge impact on Bob's life, so she took steps to get him back on solid food and off the feeding tube. That process revealed several food allergies, including dairy, gluten, onion, and garlic. He went back to living with his family full-time, and it became clear that proper diet and regular exercise made Bob happier and more engaged with the world.
"There's a disconnect for Bob, where running makes him feel good, but he doesn't understand that running is what makes him feel good," Max says. He needs someone else telling him to eat properly and exercise, and his parents, Max and Amy, and his older brother Nick and his wife Mari all support him in those endeavors.
"Between everyone in my family, Bob has a pretty solid decathlete fun-adventure activity training regimen and lifestyle that includes skiing, snowshoeing, and extreme sledding in the winter, and swimming, hiking, running, dancing, horseback riding, climbing, bike riding, skateboarding, paddleboarding, gardening, stacking wood, and so much more."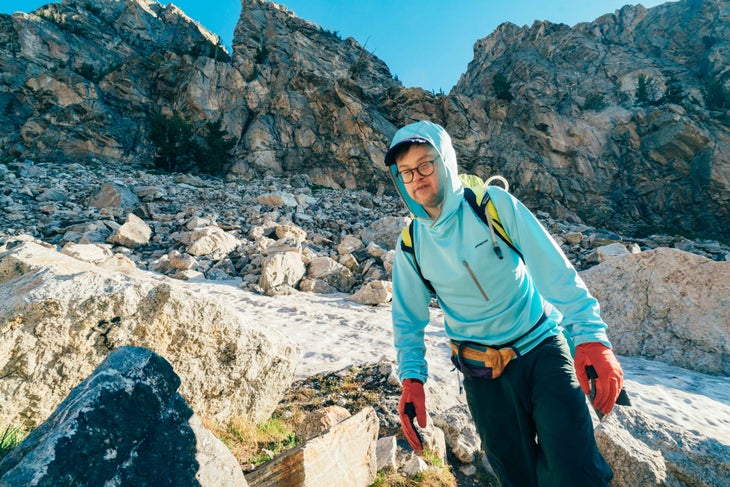 Last fall, they ramped up training, climbing multi-pitch routes at Donner Summit, climbing in the gym, and hiking near their home in Reno, Nevada. They also practiced short-roping and rappelling, where Bob sits in Max's lap. "It's like a rollercoaster ride for him," Max says, "and he gets really excited any time we do it." They went to City of Rocks, Idaho, where Bob did his longest climb yet, a 60-meter 5.8. Amy climbed right next to him, pointing out holds and shouting encouragement, which, Max says, "isn't really your standard climbing motivation."
"Do it for Batman! Do it for the Ninja Turtles!" she would yell, using his favorite characters for inspiration.
At 5:30 a.m. on the morning of August 18, the seven-person team, which included Exum guide Zahan Billimoria and filmmakers Mark Fisher and Eric Daft, left the trailhead in the dark. Just after noon, the team reached the Lower Saddle at 11,600 feet, with plans to head to the Upper Exum Ridge (5.5). After a lunch break, they started hiking up to the route and got past the Briggs Slab, the first technical section. Throughout the hike from the Lower Saddle, Bob was so awestruck by his surroundings that he spent more time looking up at the mountains than down at his feet, which slowed the pace. The decision was made to switch to the Owen-Spalding (5.4), which has less technical climbing.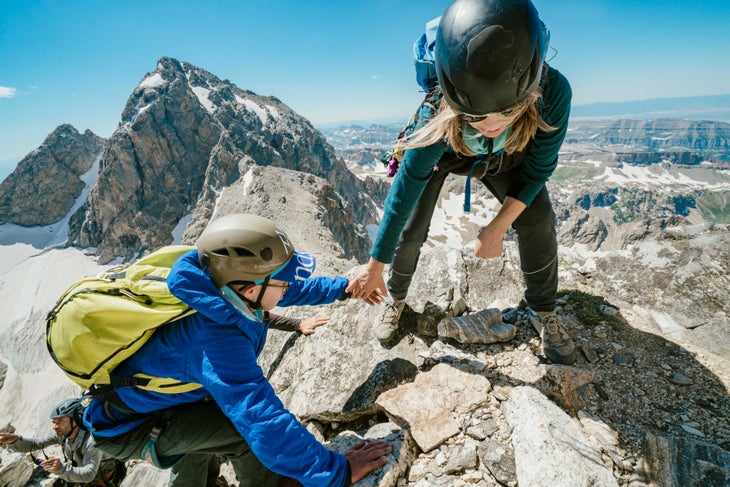 Amy climbed in front of Bob, while Max short-roped him from behind, and they both showed Bob where to put his hands and feet throughout the climb. "It looks like he might fall over with every step," Amy explained earlier that morning on the approach trail. "But somehow it works out 90% of the time."
Every few minutes, Max and Amy would shout encouragement, and Bob would respond enthusiastically.
"Bob, you're a champion!" Max said.
"Champion!" Bob said.
"Bob, sing the Little Mermaid song!" Amy said.
"Little Mermaid, under the sea!" Bob said, before humming and singing his unique version of the song.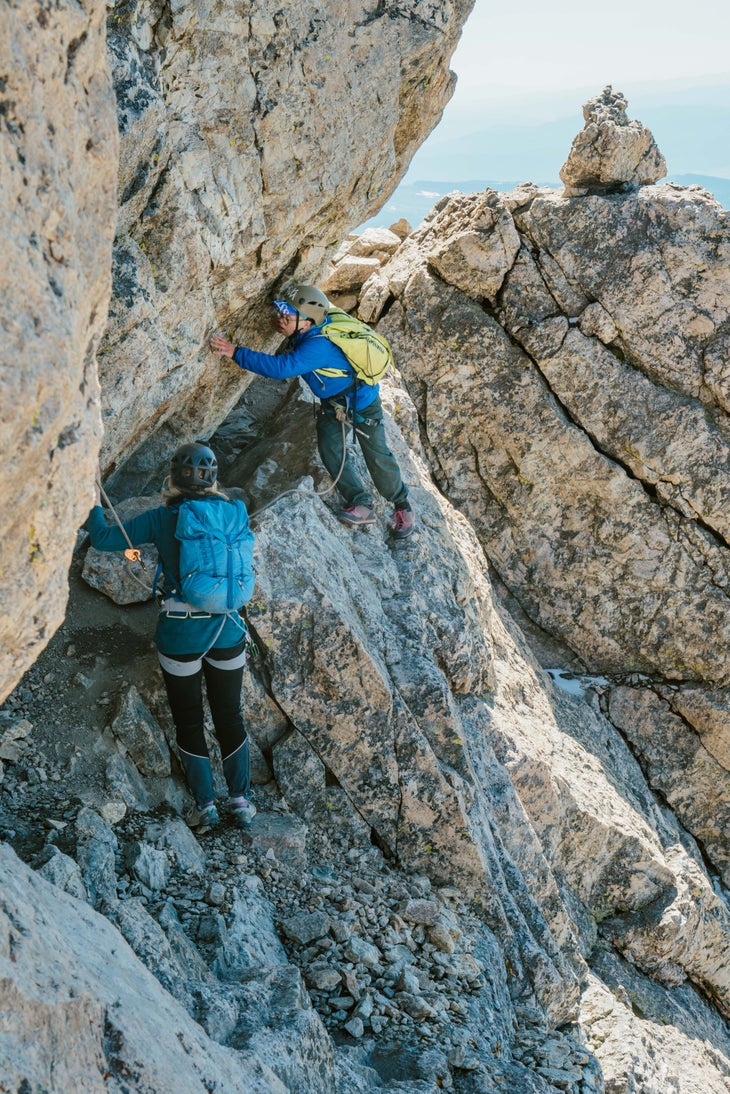 When he came to the infamous Belly Roll and Belly Crawl sections, Bob got really excited. It was time for his favorite part—exposure. Amy climbed a few feet ahead, and Bob moved through the sections with no trouble, until the last move. With a few thousand feet of air below him, his feet slipped off the smeary holds, and he caught himself with his hands. When he started to make noises indicating he was nervous, Amy stepped in.
"You're OK, Bob, you've got this," Amy said firmly.
"OK, got this," he repeated and scrambled up to her on the ledge above.
He climbed through the Owen Chimney, and then Sarg's Chimney before reaching a platform just below the summit. Max and Amy led him around a final pinnacle on the ridge, and as they scrambled toward the top, Amy ran ahead. She sat on the summit block to take pictures as Bob took the last few steps. When he reached her, she showed him the USGS summit marker.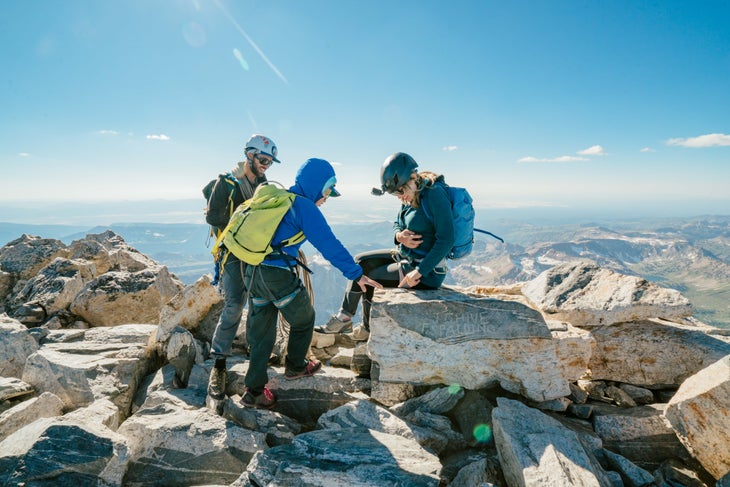 "You made it, Bob! You're at the top!" she said. Amidst a flurry of hugs and tears and congratulations, Bob, Amy, and Max sat triumphantly, having completed the first Down Syndrome summit of the Grand Teton. It wasn't until they reached the actual summit that Max and Amy realized the significance of what they had accomplished.
"We were so focused on keeping him going, keeping him safe, and keeping the energy high that the real, actual big-deal meaning of the whole climb didn't really hit me until we got to the top," Amy says. "I got teary-eyed and just thought, 'Holy shit! Bob is up here?! This is a huge deal!"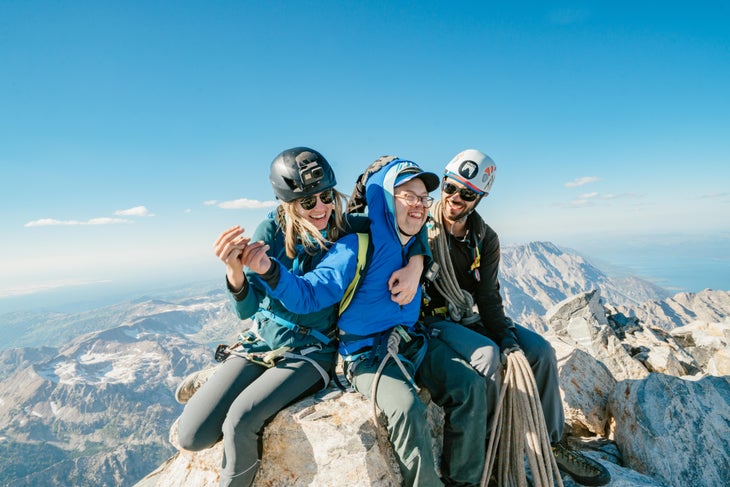 "Being at the summit with Bob was one of the happiest moments of my life," Max says. "He was buzzing with excitement and exuding such happiness, and I think bewilderment, it was impossible not to feed off his energy."
More than 16 hours after leaving the trailhead, Bob returned to the Lower Saddle at 9:45 p.m., where he promptly asked if he could spend the next day watching movies on Netflix.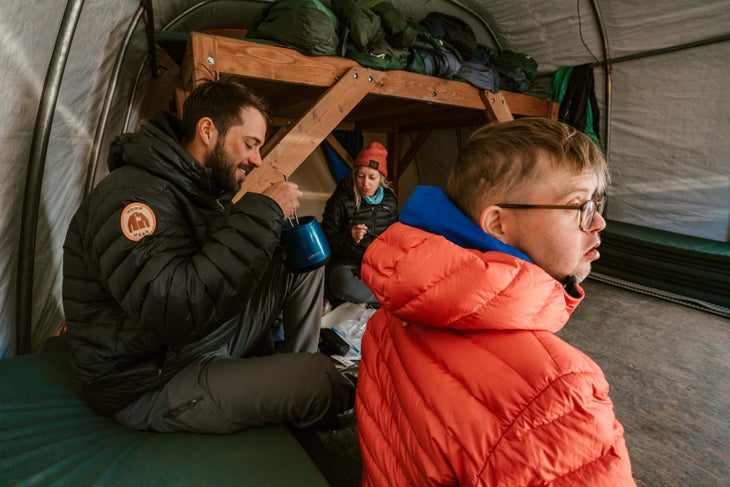 "I hope this inspires people in general to see possibility instead of limitation, and approach their goals with humility and humor," Amy says.
Special thanks to the National Down Syndrome Society for supporting this adventure, and to Eric Henderson for his energy and outreach to the community.