Five Bugaboo Routes in a Day
Heading out the door? Read this article on the new Outside+ app available now on iOS devices for members! Download the app.
Route 1. McTech Arête (III 5.10a) takes the prominent arete between the two corner systems, Crescent Spire.Photo by Luke Laeser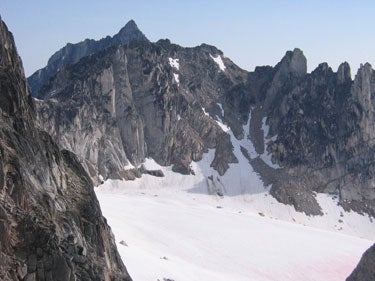 Canadian Matt Maddaloni has completed likely the biggest link-up yet in the Bugaboos of British Columbia: five multipitch routes to five different summits, all free and all solo.
Leaving the Applebee Campground at 4:30 a.m., Maddaloni first onsighted the McTech Arête (III 5.10a) by headlamp. Sunrise hit him as he raced up his next route, the classic Northeast Ridge (IV 5.7) of Bugaboo Spire. After descending the Kain Route, he cramponed across the glacier and then climbed up and down Pigeon Spire's West Ridge (II 5.4). By mid-morning, he had traversed around to the west side of the Howser Towers, where he soloed the classic Beckey-Chouinard Route (V 5.10a) of South Howser Tower and then rappelled the Northeast Face. At 5 p.m., he started up the Kraus-McCarthy Route (IV 5.8+) on the West Face of Snowpatch Spire. Rapping off the tower at dusk, he was back at the campground by 8 p.m., fifteen and a half hours after starting. In all, the Bugaboos link-up totaled approximately 50 pitches.
Route 2. The Northeast Ridge (IV 5.7) of Bugaboo Spire follows the right hand skyline then descends the Kain Route on the left side.Photo by Luke Laeser
Peter Croft had previously linked the four hardest of these routes (all except Pigeon Spire) in about 14 hours. And, in 2001, Aaron Martin linked Bugaboo, Pigeon, South Howser, and Snowpatch spires in about 12 hours, skipping the McTech Arête.
Four days earlier, Maddaloni and Paul Cordy linked three full-length free routes at Squamish, B.C., plus two shorter routes, with Maddaloni leading every pitch without falls. See Massive Squamish Link-Up for details.
Date of Ascents: August 15, 2007
Source: Matt Maddaloni, gripped.com, climblife.blogspot.com
Route 3. Pigeon Spire's West Ridge (II 5.4) climbs a ridge on opposite side of the formation on the left. On the right, the Howser Towers: South, Center and North. (Photo taken from the West Face of Snowpatch)Photo by Luke Laeser
Route 4. The Beckey-Chouinard Route (V 5.10a) of South Howser Tower climbs the buttress on the right.Photo by Luke Laeser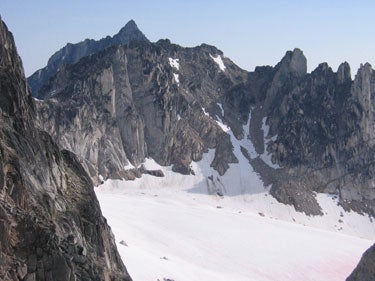 Route 5. The Kraus-McCarthy Route (IV 5.8+) on the West Face of Snowpatch Spire climbs a corner system in the center of the face.Photo by Luke Laeser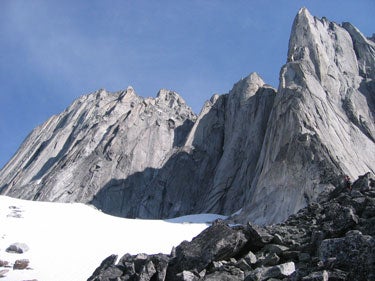 The North face of Snowpatch Spire, as seen from the Applebee Campground, Bugaboos, British Columbia.Photo by Luke Laeser