Former Olympian Carl Swenson Wins First Annual Kismet Cliff Run
Heading out the door? Read this article on the new Outside+ app available now on iOS devices for members! Download the app.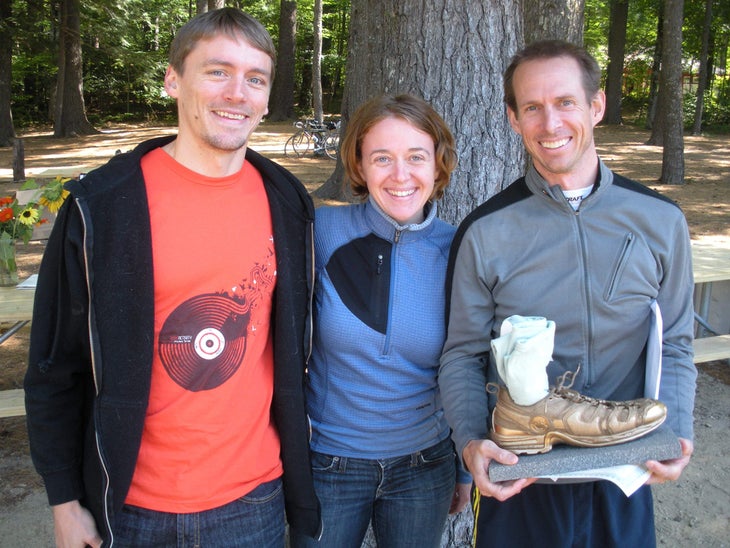 North Conway native Carl Swenson, a nordic ski Olympian, made it a memorable first ever Kismet Cliff Run as the winner of what more than one competitor commented is destined to become a classic race in northern New England. Karl's time of 48:18 was the sole sub-fifty minute finish, ahead of the dead-heat second and third place finishers Eric Marshall (Rumney, NH) (51:58) and Jeff Arsenault (Rumford, ME)(51:58.3). In the women's division, first place finisher was Lynne Zummo (Norwich, VT) (52:33), second Erica LaBella (Sugar Hill, NH) (60:03) and third Dawn Heinrich (Wolfboro, NH) (61:48). The youngest finisher was twelve-year-old Eva Bates (Intervale, NH) (73:04).
For the fifty Kismet Cliff Run participants, Sunday, September 20th was a perfect early fall day in the White Mountains of New Hampshire. With the first signs of fall foliage dotting the surreally beautiful landscape, clear skies and temperatures hovering in the 50's, the conditions were a runner's dream-come-true. The five mile trail race included a grueling Cathedral Ledge uphill (complete with rock climbers on the cliffs below) and some down hills which proved rather treacherous, judging from a few of the bloodied arms and legs that crossed the finish-line.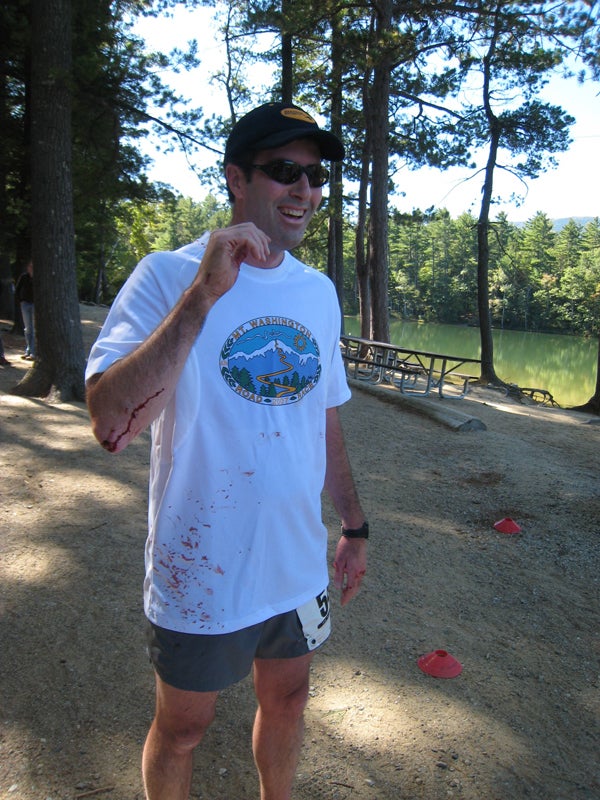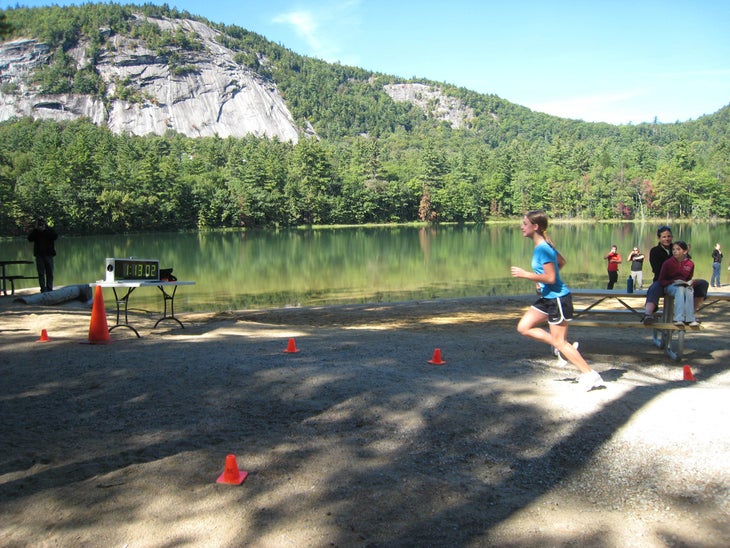 Delicious post-race burritos were provided by Kearsarge Cafe, followed by a raffle and award presentations. The raffle included gift certificates from race sponsor La Sportiva, a beautiful Cathedral Ledge photo panorama by Brian Post and items from Zimmermans and Eastern Mountain Sports. The creative Kismet Cliff Run trophies were once-beloved trail running shoes painted gold, silver and bronze and mounted on granite bases–destined to become another tradition along with the Kismet Cliff Run? Time will tell.
The Kismet Cliff Run was organized and conducted by volunteer Race Director Gabe Flanders as a fundraiser for Kismet Rock Foundation, a nonprofit organization based in North Conway, NH that provides educational rock climbing programs for disadvantaged youth. Special thanks to Paul Kirsch, the Livingstons, Dave McDermott and more than a dozen other race volunteers.
Full race results are available at www.kismetrockfoundation.org