North American Climbing Legend Fred Beckey Passes Away
Fred Beckey: January 14, 1923–October 30, 2017
Heading out the door? Read this article on the new Outside+ app available now on iOS devices for members! Download the app.
If you ever told Fred Beckey that he was the most accomplished climber who ever lived, he'd wrinkle his furroughed face, squint, and say—with something of a sour look—that he'd "barely scratched the surface…. Barely touched it." And by surface he did mean of the earth.
That might sound odd coming from a man many considered the greatest and possibly most prolific first ascentionist on the planet—and without doubt within the bounds of North America—but Fred Beckey saw far too much untapped climbing potential on his journeys around the world to say otherwise, and Beckey never minced words. He also never minced purpose, and set out at an early age to climb the most striking mountain formations—towers, walls, and crags—by setting aside the distractions that most of us consider essential to a "normal" existence.
Today, Beckey is regarded as the nation's foremost exploratory climber. There are "Beckey routes" at crags in nearly every state west of the Mississippi and they're not only often the best routes at the crags, they're generally the most aesthetic, following natural lines and natural features. Beckey's books have guided tens of thousands of climbers on routes all over the Cascades, and his name is synonymous with enduring mountaineering achievement. With his passing, we have lost one of our sport's true pioneers and legends.
Fred Beckey died October 30, 2017, at the Seattle home of and in the arms of his best friend, biographer Megan Bond, who during the past few years helped him manage his affairs. In recent years, Beckey had suffered from congestive heart failure—he'd had heart problems for decades—and by early this fall his heart could no longer keep up with the even limited day-to-day activities of his body. Beckey was 94 at the time of his passing.
"He had a good death," Bond said, "and a great life."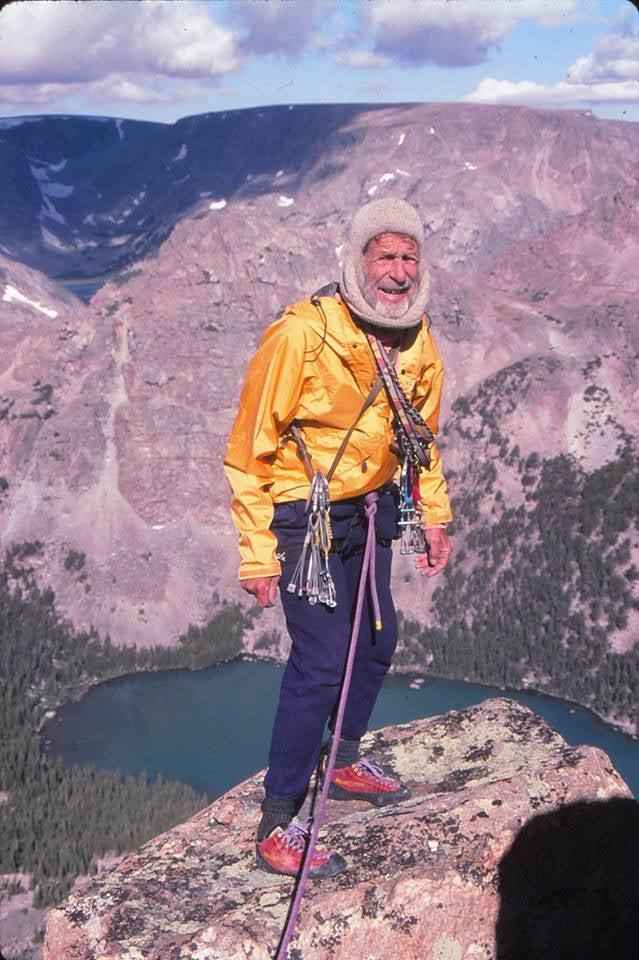 Though the term "dirtbag" was often associated with his name in the context of his being "the original dirtbag," Beckey hated the highly clichéd term. But he embodied everything that that term engulfs in a way that few climbers even understand. His very existence was climbing, and he eschewed accepted notions of a standard life by pressing his body forward at a blistering pace and crafting an astonishing record in the 80-plus years he was active in the mountains.
His record of first ascents is probably not the biggest list tendered by a climber—just look at Harvey Carter with the 5,000-plus he's reputed to have established. Rather, it's the caliber of Beckey's climbs that stands out. Big, long, steep, tough—and often remarkably enjoyable. And, more often than not, Beckey's climbs—at least when he did them—came with a devilish barrel of logistical demons like complicated access, and finding reliable (and sometimes willing) partners, time, and money.
Fred Beckey was born Wolfgang Gottfried Beckey in 1923 in Dusseldorf, in a post–World War I Germany that was reeling from the Treaty of Versailles and its economic pressures. The Beckey family—father, mother, brother Helmy, and Fred—emigrated to the United States in 1925. On a 1936 car-camping trip with his family, a 12-year-old Beckey wandered off by himself and climbed Boulder Peak in the Cascades, prompting his parents to stick him in the local chapter of the Boy Scouts. In 1939, he joined Seattle's Mountaineers, and learned the craft of roped climbing. That same summer Beckey, Clint Kelley, and Lloyd Anderson (the founder of REI), made the first ascent of Mt. Despair in the Cascades. Beckey and a variety of friends made ascents of an astonishing 35 summits in a region where 20 ascents of peaks is a major achievement. Beckey was hooked. 
 In the following two years—when he was just 17–18—Beckey and several friends romped through the Cascades in a sort of all-out ongoing binge that had never been seen by local mountaineers. Uncertain they could even access some of the peaks that were their goals, Beckey and his crew made ascents of 50 peaks, half of them firsts. Of the achievement, longtime Beckey friend Harvey Manning observed, "Most were done on a half-dozen semi-expeditions lasting a week or more, bent under monstrous packs, busting through valley brush to glaciers poorly shown on maps, if at all—trips that established Beckey as a leading explorer of the continent's most alpine range south of the 49 parallel."
In summer 1940, Beckey and Helmy ventured into the Luna Cirque of the Northern Picket Range ("that awful place" one subsequent visitor said, quoting Scott when he reached the South Pole), which has only visited by humans twice before, bagging peaks and exploring as much as humanly possible.
"That trip Helmy and I made into the Pickets in 1940 was one of roughest," Beckey told Chris Jones in a 1973 Mountain magazine interview. "We traversed the Pickets, just the two of us. I think we were very bold doing our first major climbs in such desolate country. We were taking chances on really bad rock, with broken 'streetcars' of ice hanging above us, and the glaciers were heavily crevassed. I gained a lot of confidence on that trip … I tend to think at the time we had an aura of braveness, or maybe we just lacked fear, but in any case we didn't think about it as much as we would now … we became good at making our own preparations and fending for ourselves. If it stormed for three days, you got soaking wet, but you knew you could survive."
Nineteen forty-two, however, was the most important year of Beckey's early climbing life when he, then 19, and Helmy made the second ascent of Mt. Waddington (13,186 feet) in British Columbia. Waddington's first ascent had seen 16 attempts spread over two decades. Fritz Wiessner—who nearly made the first ascent of K2 in 1939—and partner Bill House conquered the "Mystery Peak" in 1936. The second ascent was a huge prize for the Beckey brothers.
Waddington was also the early culmination of a dual-pronged philosophy the Beckeys adopted during their extensive 1939–41 Cascades period: first, really exploring—seeing mountains and walls other people wouldn't really know about until years later. Second, and perhaps why Beckey would remain such a force in the climbing world, is that the brothers were delving into the limits of physical endurance, traveling huge distances in impossible scrub and across maddening mountain terrain to apply their advanced climbing skills on outlandish-looking peaks no one had ever heard of.
By the mid-1940s, Helmy had "retired" from mountaineering, but Fred was just starting on a renewed version of his climbing career that involved much bigger trips, striking out for climbing objectives that were often hundreds, even thousands, of miles away. In 1946, he made his second expedition to Alaska and climbed Kate's Needle and the Devil's Thumb, both firsts. The late 1940s and 50s saw Beckey continue on a heavy diet of alpine goals, mostly in Alaska and Canada, where he made first ascent of peaks like Mt. Hunter and Mt. Deborah, and opened new routes like the Northwest Buttress on Denali, the third route on the peak.
In the mid-1950s, Beckey tried his hand at the expedition game when he was invited to join an international team headed to 27,939-foot Lhotse. High on the mountain, a storm turned Beckey and his Swiss climbing partner, Bruno Spirig, around, and later Beckey was accused of abandoning Spirig. Stories circulated—many unfounded rumors—and Beckey was less than enamored by the expedition experience. It was one reason Beckey's climbing never again strayed far from the metrics he'd established in adolescence: a small team, reliable people, hard objective, fight like hell.
Interestingly, those metrics also matched Beckey's development as a climber. By the early 1960s, Beckey's sheer technical ability—on rock and ice—put him in a realm that included only a handful of climbers, most of whom were either vastly experienced rock technicians (like Yosemite's climbers) or talented alpinists (such as the Teton climbers of the day)—but not both. At the time, few other climbers were as well-rounded as Beckey.
And then there were the road trips. Early in his career, Beckey began to think little of the vast distances that separated him and the climbs he wanted to do. He would regularly drive 1,000 miles to attempt something. If thwarted by unmanageable personalities, the weather, or just a bug up his ass, he might then turn around and drive 1,000 miles to another objective, always on the move, always reaching for the next great climb.
This video below was shot in April 2000, on a trip to Zion with Cameron Burns. Here Fred is coiling a rope after an aborted attempt at Touchstone Wall.
As he moved beyond the Cascades, and Alaska, and Canada (all of which he returned to sporadically anyway), his first ascents began to include towers in the desert Southwest, walls in the Wind Rivers, clean white Sierra faces, and facets of just about every other mountain range in the Lower 48. His name can be found hundreds of times in guidebooks of all ilks, mostly attached to classic climbs.
Early on, Beckey's keen intelligence fomented a literary career that, like his climbing, would span generations. His publishing activities started nearly 70 years ago when he wrote a climbing guide to the Cascades and Olympic Mountains for the American Alpine Club. His iconic, three-volume Cascade Alpine Guide has been in print for decades, and his other books—ranging from coffee-table readers like The Mountains of North America and Mount McKinley: Icy Crown of North America to the dizzyingly researched 527-page Range of Glaciers about the history of the North Cascades—are masterworks. Starting in 1942, Beckey wrote 22 feature articles and hundreds of firsthand reports for the American Alpine Journal. As AAJ editor Dougald MacDonald noted in 2014, "No climber in the 88-year history of the AAJ has written more reports or had more climbs cited in these pages than Fred Beckey."
Beckey never sought recognition for his climbs. In a 1994 interview, Don Liska, Beckey's late, legendary climbing partner, told me he'd written a letter to President Jimmy Carter in an attempt to get Beckey a medal or some sort of Presidential decree. When I told Beckey about that, his reaction was: "But who cares about that stuff?"
Beckey struggled in his later decades to keep up with his own desire for more rock, new places, and vivid experiences, and although the 1980s were reasonable in terms of his new-route output and travel, by the 1990s he was really starting to slow down. I did five big trips (and a handful of smaller ones) with Beckey between 1991 and 2000, and the frustration on his face at not being able to get into a peak in a timely fashion and his own reticence and the risks involved were evident after each failure. Still, it was also obvious that he enjoyed living out of his car, not washing for days or weeks, and stealing Fed-Ex envelopes to use as a makeshift filing cabinet as well as condiments from fast-food restaurants to fashion his own versions of MREs. As he always had, he still loved generally living without rules.
In the 2000s, he continued making trips across the globe, notably several to China, but his aging body couldn't do what his brain was hoping, and most of the time he came away empty-handed.
Beckey also enjoyed his own version of "shock factor" until late in his adventuring days. His term "horsecock," for large sausages, was pervasive and in effect well into his late 80s, but there were many other ways he liked to shock even his climbing partners. In supermarkets, he'd pick up tabloids and make wonderfully juvenile comments about the people and articles therein. In restaurants, he'd complain about other customers at a volume just outside their auditory ranges. At a restaurant in Central Mexico in 1991, he surprised the late Mike Baker and me by asking loudly of the entire cantina, "Why don't these fucking people learn English?" And if Beckey ever called you, what he said about you after he hung up was infinitely more telling than what he said to you on the phone: "Guy's kind of an idiot, but he knows some good places." "He's tough to be around, but I'm willing to try it." "Can't stand the guy, but he knows the way." Etc., etc., etc. 
In the clip below, Fred Beckey is in Basalt, Colorado, where he'd been staying with the author, Cameron M. Burns, and his wife, Ann, for about 10 days before Burns and Beckey jetted off to Zion in April 2000. On the Zion trip, they attempted to climb Touchstone Wall and Prodigal Son but were unsuccessful.
Yet, although he presented himself as something of a base and foul character, his was a keen intellect. In 1997, he stayed at my home for 10 days, and grunted out something that sounded like: "I need to send an email to Lindsay Griffin [a British editor]." I set him up with my computer, and after an hour and a half, came back into my office to read some of the most commanding and interesting language ever written about mountains and geology anywhere. It was, literally, unbelievable. "Send it, will ya?" he grunted. "I'm hungry."
When Fred climbed, he was methodical and careful, yet not necessarily slow. He could see the placements coming up, and he found stances where he could rest while quickly wiggling in whatever piece of gear was required. He never asked for anything, except perhaps the rack, as he'd sized up whatever we were doing long before we got there and knew the program, page by page. He was, in short, a climbing machine.
On October 30, the world lost a man who was, is, and will always be a true climbing icon. He consistently proved during his 94 years that the best life is a life of action. Climbing partners and friends have often wondered about the perfect storm of factors surrounding Beckey —about his drive, his upbringing, his route tally, his gear, his next goal, his "secret sauce," and even if all the bonks on his head affected his judgment. But one outcome is undeniable: Fred Beckey's mountaineering career has never and will never be surpassed by any American mountaineer.
Beckey is survived by his brother Helmy, who returned to Germany more than a decade ago, and who was his first and closest partner. Beckey will be buried in a private service within the coming week, and a public memorial for Beckey will be held in November. More details to come.
Fred Beckey: A Timeline of Ascents
The timeline below lists some of Fred Beckey's legendary routes. It would be impossible to select Fred's "best" climbs. These fantastic ascents highlight the special places that Fred loved so dearly. Thank you for inspiring us to explore these magnificent landscapes!