From Climbing Partners to Bitter Enemies: In the Trenches of the Pikes Peak Bolt War
On one Colorado Fourteener, bolt cutters and saws have become the weapons of choice in a battle pitting the future of climbing against its past.
Heading out the door? Read this article on the new Outside+ app available now on iOS devices for members! Download the app.

In August, 2020, after six years of effort, Phil Wortmann completed his magnum opus: the first ascent of the alpine trad line Samasara (5.13a) on Colorado's iconic Pikes Peak. That same year, another local, Noah McKelvin successfully opened Friction Loss (5.13b) one of the peak's hardest line yet, just beside it. Within a year, both routes had systematically been stripped of all fixed gear.
Samsara and Friction Loss are both among the casualties of what's been called the Pikes Peak Bolt War, a year-long dispute between some of the most respected alpine rock  climbers in Colorado Springs that has resulted in the erasing of about a dozen routes on the 14,115-foot peak, and the removal of at least 50 pins and bolts, many of which were placed precariously on lead. The bolts and pins were on difficult-to-protect sections 5.12 or harder on otherwise traditionally protected routes, Wortmann says. His detractors argue that that's not a good enough reason to defy a longstanding traditional ethic.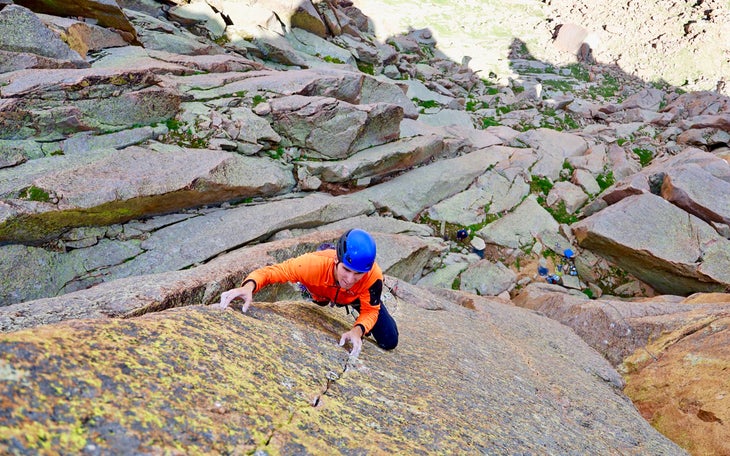 A Battle Between Past and Future
"Detractors," refers to two climbers: All the chopping  has been at the hands of Bo Parsons and Brad Saren, two longtime Colorado Springs climbers. Like Wortmann and McKelvin, both are prominent members of the local community; Parsons helped found local advocacy group Pikes Peak Climbers Alliance in 2015 and served as its president for years.
"I climbed with Brad a few times. There had never been any conflict," says McKelvin. But over the past few years their relationship soured as they drifted apart on matters of climbing ethics. In July, 2021, McKelvin was climbing on Pikes Peak with a friend, and found himself hanging on a rope just a few feet away from Saren as he chopped the pins and single bolt on McKelvin's Friction Loss.
"I yelled over to him. We had about an hour and a half argument," McKelvin says, but the destruction continued. "I felt helpless to stop them."
Over the past few weeks, the Pikes Peak Bolt War has attracted the interest of land managers and mainstream local news outlets, and has driven the Colorado Springs climbing community into a collective uproar. So far, neither side is willing to budge. After all, it's not just about a few bolts, they say. It's a high-stakes tug-of-war between the past and future of climbing on Pikes Peak—and perhaps the past and future of American climbing at large.
The Last Straw

Like many iconic climbing zones in the United States, Pikes was originally developed with a strong, ground-up traditional ethic, says Dan McClure, who's been climbing there since 1971 and was the first to author lines on classic features like the Pericle and the Sphynx.
"We felt it was really cool to do these climbs so that the next ascent felt just like a first ascent," McClure says. They took their cues from free-climbing pioneers like Yvon Chouinard. That meant no tat, no pin scars, and no bolts.
But over the past decade or so, climbing in Colorado and beyond has exploded in popularity. And though correlation doesn't prove causation, things on Pikes have started to change. As harder routes go up on the peak, more permanent gear—from fixed wires and peckers to pitons and bolts—has appeared, though other scattered bolts and pins have been fixed on the peak for decades. For years, Saren and Parsons didn't touch any of it. Then last year Wortmann announced that he was publishing Pikes Peak's first-ever climbing guidebook: Alpine Adventures on America's Mountain. For Parsons and Saren, it was the last straw.
In the early days of Pikes Peak climbing, the mountain's trad routes were regarded as local secrets, and newcomers were expected to seek out a local mentor to show them around. That's how Parsons, Saren, McKelvin, and Wortmann all got introduced to the area. (In fact, Parsons was the first one to take Wortmann out to the peak when Wortmann moved to Colorado Springs in the 1990s.)
"A guidebook is only going to bring more people," says Saren. "It's going to bring more crowds, more chalk, more social trails, and more trash. And there's something to be said for not giving out information and just letting climbers go out and cut their own teeth." Wild, guideless zones like Pikes, he adds, are few and far between these days. As such, he believes they should be protected as arenas where burgeoning trad climbers can test their skills on routes that simulate first ascent, adventure-style climbing. Where else are aspiring first-ascensionists supposed to prepare for the real deal? And if a place as rugged as Pikes Peak were to lose its runouts and precarious walk-offs, what would that mean for the future of American adventure climbing elsewhere?
Fighting Fire with Fire 
"By writing the guidebook, Phil is inviting more individuals to come develop in the manner that he thinks the area should develop," Saren says. (Saren expects to see more "excessive" use of bolts and pins.) "And in the meantime, [Phil] is not even developing a trail infrastructure," he adds.
Saren and Parsons condemned the guidebook on three counts: They felt it was an insult to the history of the area, a possible impetus for a slippery slope of increasingly lax bolting ethics, and an invitation for droves of new climbers to trample the delicate alpine tundra at a time when there was no infrastructure to support them.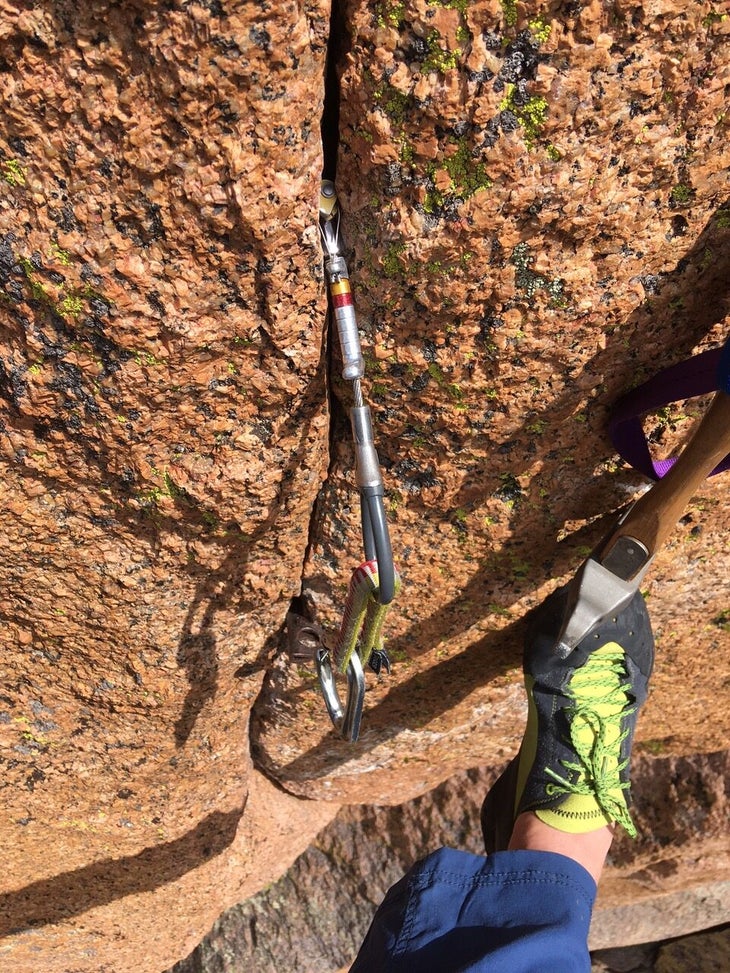 About a year ago, over beers with Wortmann, Parsons and Saren made their position clear: If Wortmann didn't pull the guidebook, they were going to start chopping routes.
"If Phil has the right to change the characteristic or the ethics or the tradition of Pikes Peak, an area that's steeped in tradition…If he feels like he wants to do that, then I have every right to say that I'm going to protect it and establish a new ethic up there and say no fixed hardware," Saren says. Parsons said something similar in a written statement:
"New ethics of climbing on Pikes Peak will not be tolerated by me or others, and I will continue to defend the wild, adventurous and minimalistic venue that Pikes Peak has been for 50 years before Phil and others have come along. If you want to sport climb or develop a sport climbing area, you should go elsewhere," he writes.
In other words, Saren and Parsons would fight fire with fire.
An Unkept Secret
"I listened to their concerns. I took notes," Wortmann says. "The common ground was that the place is special to both of us and we all have special memories up there. But after that, people fall into two groups: People who see the mountain as a time capsule for their glory days, and people like me who see it as a living, breathing mountain."
McKelvin, the young author of Friction Loss, admits that he enjoyed feeling like a part of that tight-knit club when he was 18 and climbing his first routes on Pikes. But the more he explored, the more he wanted to share the area beyond the in-crowd.
"It's definitely been a transition for me," McKelvin says. "In Colorado there are plenty of places that are hush-hush, which is cool, but morally I don't think it's the right thing to do." Instead, he hopes a guidebook will both welcome new climbers to enjoy the mountain's beauty, and attract more skilled developers who can really push the limits of the area; Pikes Peak is behind the curve in terms of hard alpine route development, he says.
Besides, Wortmann adds, the secret is out. Crowding and social trails are already a reality around the peak's more popular routes. His goal with the guidebook is to keep the existing crowds on-route and help climbers limit their environmental impact.
"I think a guidebook is a great idea," agrees Jimmie Dunn, another of the luminaries responsible for many of the peak's first routes. "This is a half-century since we were up there [developing in the 1970s]. It's different now. It's not a secret place. I could look up 'Pikes Peak climbing' and get information on The Flame in three minutes. I feel bad for these guys thinking they want to keep it a secret from everybody."
The guidebook might bring more crowds, Dunn says, though he finds it unlikely. The hassle of the toll-road fee, the strict operating hours of the Pikes Peak Highway, and the rough alpine terrain—which lends itself more to slab and crack climbing than anything a sport climber would drool over—are all likely to keep crowds at bay.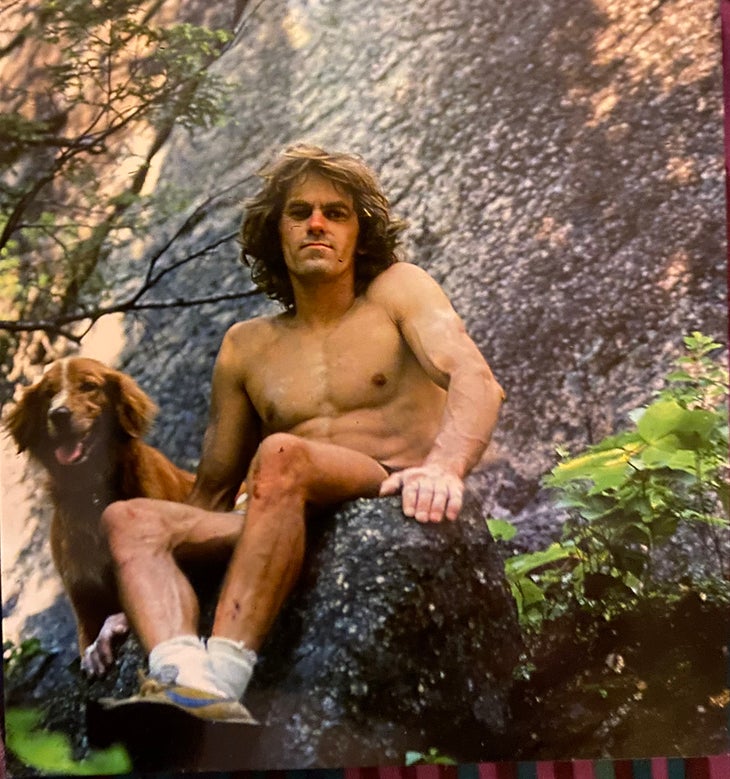 It's time for the war to end, the old guard says; it's already gone on too long."I thought we'd gotten past all these issues in the 1980s when we had the big bolt wars. But here it is all revisited again on Pikes Peak," says Stewart Green, a local author and another prominent 1970's-era first ascensionist. "Climbing ethics evolve. They've been evolving the whole time I've been a climber."
If the local community can't accept that and come to a compromise—perhaps designating some zones as fixed hardware-free and others as mixed—Green says, the US Forest Service, which owns the land, is likely to get involved. The USFS might put restrictions in place that would leave everyone unhappy, he suspects. Or worse, the USFS could save themselves the trouble of mediating and close the area entirely.  "Brad and Bo, they're good guys. They're good climbers, and I consider them my friends." Dunn says. "But I think it was a mistake to chop the bolts."
Green adds that Wortmann and McKelvin's placement of bolts on these kinds of routes has, by his estimation, been "fairly judicious."
McClure adds that the fixed pro is necessary because, "There are climbs that are so difficult that it's really hard to stop and protect them—they're that strenuous."
McKelvin says that breaking with tradition minimizes impacts. "Last year, Mike Anderson put up a 5.13c on Pikes Peak … . With something like that, there's no going ground-up—you'd be placing a bolt every three feet [drilling a bolt ladder on lead] because there's no" handholds to hook on. So with rap bolting, he actually did less damage to the rock by placing a bolt every six or seven feet."
Finding Compromise
The Colorado Springs climbing community stands at a crossroads. Parsons and Saren say they firmly believe that the community's most respected climbers are on their side. Wortmann believes the opposite.
In an effort to discover the truth, the Pikes Peak Climbers Alliance sent a survey to Colorado Springs climbers a few weeks ago. The majority of respondents were in favor of replacing the fixed gear that had been chopped. But Saren says he doesn't believe the survey is an accurate representation of what the community wants—plenty of Colorado Springs climbers, he says, are behind him and Parsons and are just too afraid to speak up. As of writing, Saren says he's not sure if he'll respect the PPCA's replacement gear or if he'll go right back to chopping.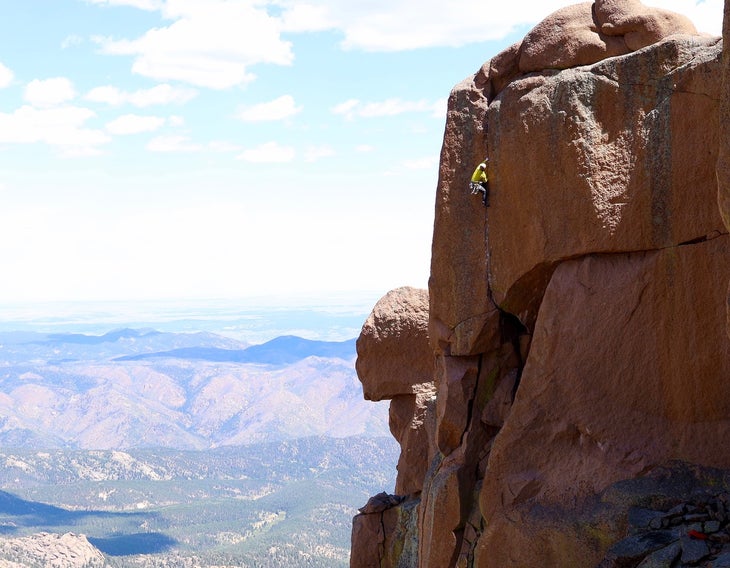 The old guard remains uncertain about whether  groups like the Forest Service or PPCA should be getting involved to mediate at all. Climbing access, say Dunn and McClure, is best protected when the community self-polices. And on a more personal level, all this boils down to a dispute between a few men that should be settled man to man, they say—just like any other argument between climbing partners.
About 15 years ago, Jimmie Dunn tried to open a promising new 5.12 on Pikes Peak. He eventually abandoned it and told himself he'd come back to it when he was stronger. Now, he says, maybe it's time to pass the torch.
"I was talking to Brad and I said, 'Brad there's this killer route on Pikes Peak and it's going to go 100 percent, and it's really good. Maybe I could show you and Phil and you guys can climb it together,'" Dunn says. "Then maybe they could shake hands at the top, and put all this behind them."
This article is free. Get a $2 a month Climbing membership and you can access all of climbing.com, and receive a print subscription to Climbing, which includes our annual edition of Ascent, the leading climbing journal published since 1967.