Front Range Development: Eldorado Canyon and Boulder Canyon See Their Hardest First Ascents
Heading out the door? Read this article on the new Outside+ app available now on iOS devices for members! Download the app.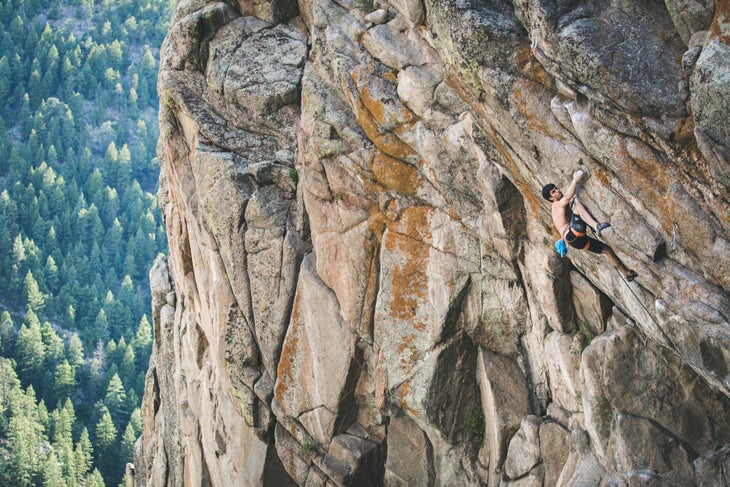 Eldorado Canyon and Boulder Canyon have long been home to hard climbing.  The proximity to Boulder, Colorado, make them prime locations for the plethora of climbers in the Front Range region. Despite the significant amount of traffic these areas have seen, new lines remain. This spring, both the sandstone of Eldorado Canyon and the granite of Boulder Canyon saw their hardest first ascents to date.
Slice of Time (5.14b), Eldorado Canyon
"We rarely climb (hard) together because we both have our own agendas that send us different directions…" 42-year-old Mark Anderson wrote on the Trango blog, of climbing with his twin brother Mike. Mark currently resides in Evergreen, Colorado, as a professional engineer while his brother Mike lives in Colorado Springs as a recently retired US Air Force officer and current professor at the Air Force Academy, teaching mechanical engineering. The brothers, who authored The Rock Climber's Training Manual, came together this spring to establish one of Eldorado Canyon's hardest sport routes, Slice of Time (5.14b).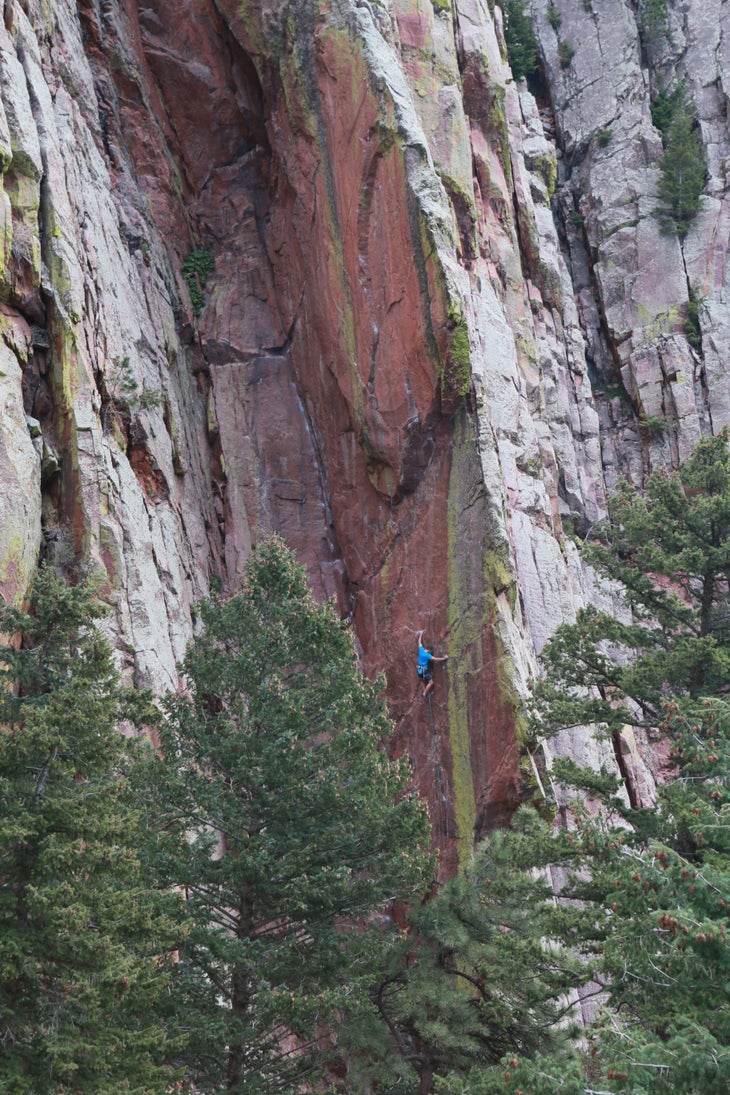 In the 1980s Chris Hill bolted a five-degree overhanging panel of sheer sandstone at the far northwest corner of Redgarden Wall. Despite numerous efforts by Hill and Christian Griffith, the route remained an open project. "The idea originally was not to create this bolted bowling lane to get from point a to point b. The bolts were more just a necessity to do the difficult climbing," Griffith said of the large runouts on the sharp climbing. "For the easy climbing, you would bear down and use what the rock provided." Originally, the route lacked an anchor and was the second pitch of Darkness 'til Dawn (5.10a). Then, a few years ago, Matt Reeser added a lower anchor to create, Sayat Nova (5.12d). Slice of Time starts on the 5.11 jugs to 5.12 moves of Sayat Nova and then, after a rest, hits a "1980s-esque" headwall. "It's thin, super-technical face climbing, going back to the era of the '80s—a style people don't climb as much anymore. There's small crimps, super tiny footholds, and a tweaker pocket at the crux," said Mark. The crux of the route, an estimated V11 boulder problem near the end of the 40-meter line, took the brothers three or four days to link.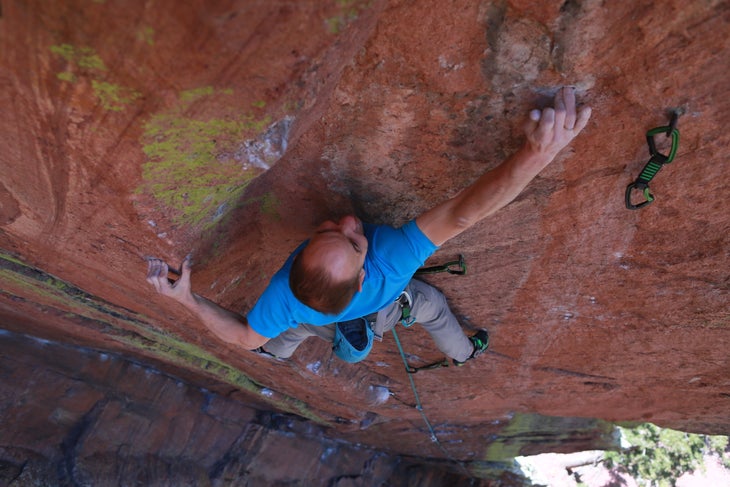 The twins put a total of ten days into the project, averaging two attempts a day. Out of those ten days, there was only one day that Mark went up without Mike. "It's really helpful having an engaged partner to work these things out with—especially one who is pretty much the exact same size and shape, has the same climbing style, and similar strengths and weaknesses!" Mark wrote in his blog post. Throughout the whole process, the brothers coached each other both mentally and physically, battling through any lingering skepticism. Mike sent the route on April 28, then Mark sent the route on their collective birthday, May 5. "When Mike sent, I felt joy, and when I sent, I felt relief," Mark said. It was a collaborative process for the two brothers. While the Andersons have around 300 first ascents under their belts, this one was particularly important to the two. Mike said, "Eldo is a world class climbing area and to add to that history, we feel we're adding to the history of the sport."
Speak for the Trees (5.14c), Boulder Canyon
While the Anderson brothers plugged away at their 40-meter Eldo beast, Jimmie Redo and Jon Cardwell eyed their own line in Boulder Canyon. Twenty years ago, Redo, who now works as the head coach at Movement Climbing and Fitness, bolted and climbed The Lorax (5.13b/c) located at Bitty Buttress, a small crag with good features and colorful lichen, in Boulder Canyon. When he explored the wall, he intended to bolt what is now Speak For the Trees (5.14c). The two climbs share an anchor, and Redo placed the last bolt of Speak before he decided to shift his focus to The Lorax, a 90-foot, continuously steep line.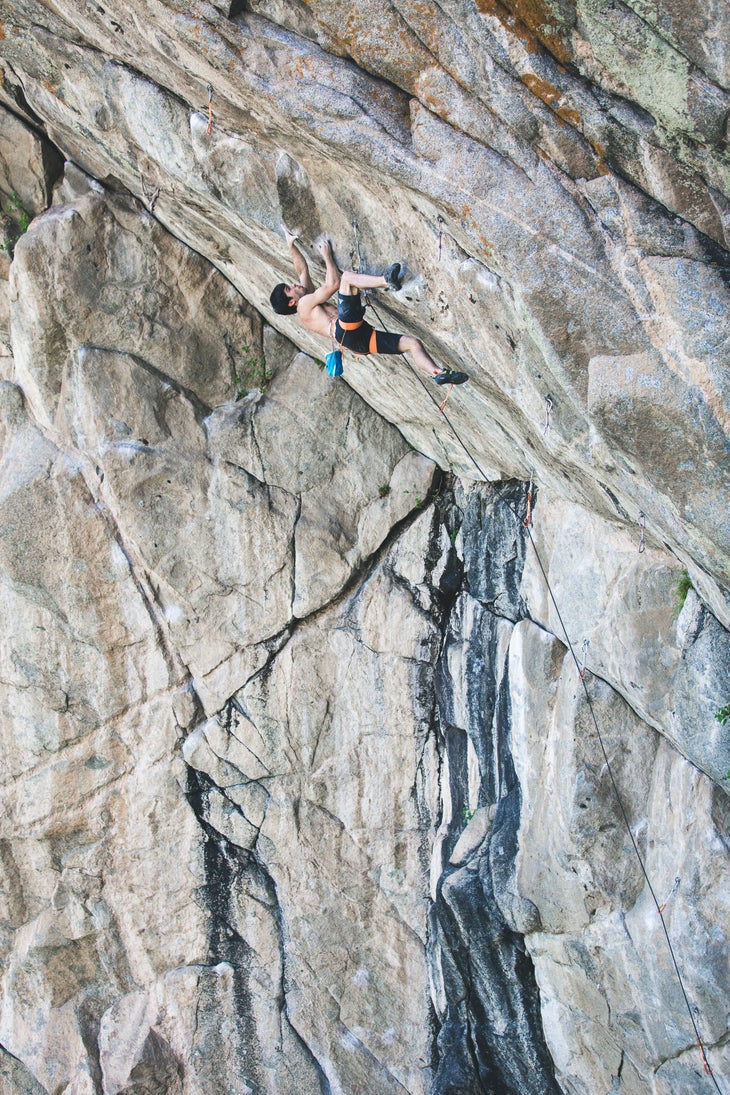 This past December, Redo brought professional routesetter, coach, and climber, Jon Cardwell, up to The Lorax for an onsight attempt. When weather thwarted Cardwell's onsight, the two explored the direct line up an 80-foot overhang of granite features, Speak for the Trees. After the annual raptor closure had been lifted, the pair bolted and cleaned the route over the course of two days. However, a few sections of the route remained wet after a damp Colorado spring.
A few months later, when the rock had dried, Cardwell started making attempts. "I started to realize that it might be harder than we first imagined," he wrote. "He made a 'noise' on the crux move so I thought it was most likely out of my league," the 52-year-old Redo said. The first few bolts of the route are a V8/9 boulder problem up shallow crack holds and slopers, leading into a no-hands rest on a small ledge. Next comes the crux, a steep crack section into a granite "mohawk" feature, finishing off with a V8 outro boulder problem. Cardwell put another session into it a couple of weeks later. This time, he was able to solve the most difficult moves, which he described as "a bizarre combination of crack climbing and bouldering on a steep wall, some sort of hybrid climb." After a bit of effort, Cardwell worked out the crux, linking the crack section into the mohawk, which he presumed to be around V11 or V12. "One move was solved by jamming your right foot near the same level as your left hand, and then dropping your knee down as far as it can go. Every time trying that move, I was nervous for my knee. Thankfully I never felt any pain," Cardwell wrote.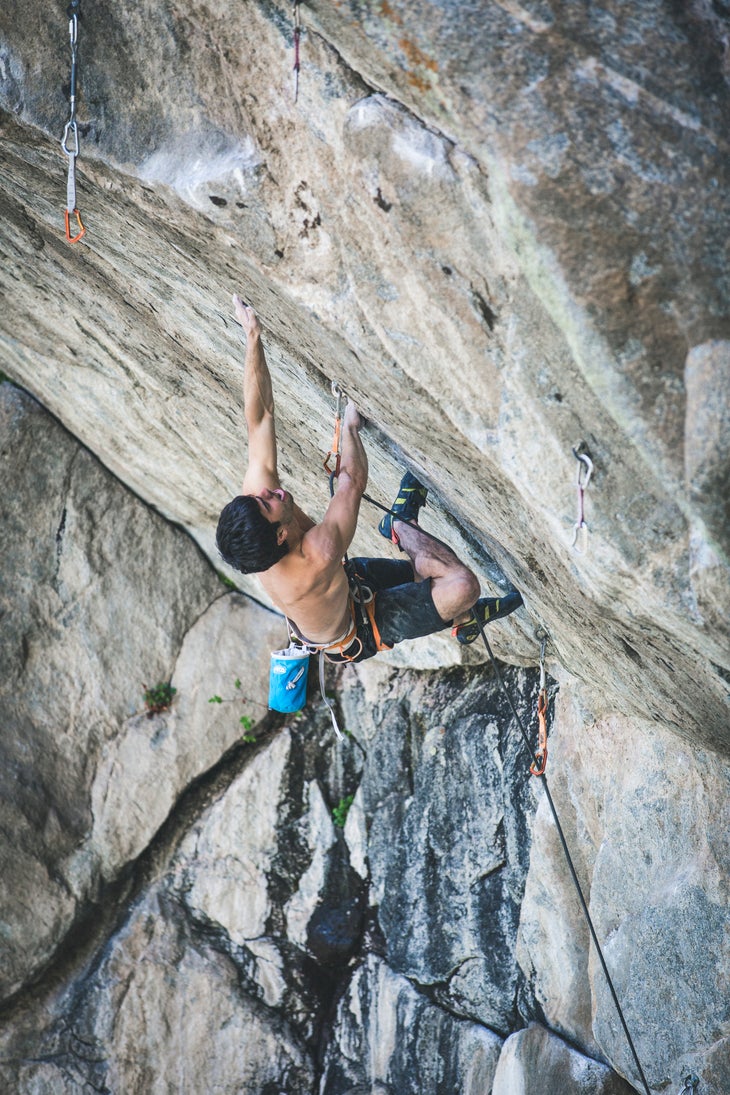 After a dry spell lasting about two weeks in mid June, Cardwell returned with Carlo Traversi and Ethan Pringle. Cardwell notes, "It was super fun and rewarding watching my friends try a route I put effort into developing." On Thursday, June 20th, Cardwell sent Speak for the Trees on his second attempt of the day.
"Suddenly, I didn't think about whipping out of the crux, only moving through the moves as we imagined them. I pulled hard, switched into redpoint mode, and found myself clipping the chains," explained Cardwell. Though Pringle and Traversi failed to repeat the route, the grade was confirmed. The three likened the difficulty to Pringle's FA in Bishop, Everything is Karate (5.14 c/d).