Full Slate of AAC's 2009 Grants Announced
Heading out the door? Read this article on the new Outside+ app available now on iOS devices for members! Download the app.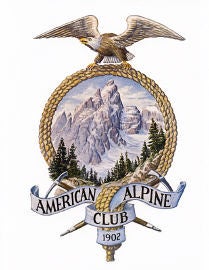 Golden, Colorado; May 20, 2009: The American Alpine Club experienced a 32% increase in applications for its fiscal 2009 grants program, and responded by awarding 11% more funding to climbers than in fiscal 2008. The AAC provides more grants to climbers than any other U.S. organization; this year the club awarded $43,900 to climbers and to those who research and conserve climbing environments. The increase in funding comes at a time when AAC membership also continues to grow, up 9% for the fiscal year to date (October-April), compared to the same period last year. Growing corporate support for the AAC, including its grants program, contributed to the organization's ability to step up its commitment to the climbing community. A full list of 2009 recipients can be found on the final page; project snapshots follow.
Lyman Spitzer Cutting Edge AwardSix teams were selected to receive the 2009 Spitzer Award from a record pool of 23 applications. This year, a total of $12,000 in Spitzer grants will back expeditions focused on the northern Tien Shan range, Qonglai Mountains, and Siguniang (all in China), Lunag Ri in Nepal, Pumari Chhish East in the Karakoram, and Broad Peak on Baffin Island.
McNeill-Nott Award, Supported by Mountain HardwareFive teams were chosen to receive grants, ranging from $1,000 to $1,500, to support amateur climbers exploring new routes and unclimbed peaks with small teams. Climbs include an attempt on the unclimbed central couloir on the east face of 19,750-foot Caraz II in Peru's Cordillera Blanca, a proposed new route on the north face of 19,740-foot Pharilapche in Nepal, the unclimbed east ridge of Desire Mountain in the Coast Range of British Columbia, the "Forgotten Wall" on Denali's northwest side, and an attempted single-push new route on the east face of Kichatna Spire in Alaska.
Mountain Fellowship Grants, Partially Supported by the REI Challenge FundSeven young climbers received grant funding in the spring round of Mountain Fellowship awards, which encourage American climbers, age 25 years and under, to seek out climbs that might otherwise be out of reach. These include an attempted first free ascent on Cerro Catedral, Chile; as well as attempted first ascents on Chambe Peak, Malawi; Desire Mountain, British Columbia; North Taku Tower, Alaska; Wild Cat Point, Tuolumne, California; and new routes on Jebel Shams, Oman.
Research GrantsThe AAC supports investigations in vertical landscapes through this series of dedicated grants worldwide. This year's recipients are: testing of the effects of hypoxia on the mental cognition of climbers; investigating crowding and climber induced hazards in Denali National Park; measuring high elevation alpine meadows to determine vertical migration potential; studying regeneration patterns of quaking aspen trees; investigating relic ice layers to determine paleoclimate records; assessing avalanche conditions and backcountry risk taking decisions; using "re-photography" approaches to determine K2's glacial changes in the past 100 years; investigating the socio-economic impact of glacial retreat on village water supplies in Kyrgyzstan; and conducting interviews of local mountain guides in the Garhwal Himalayas to assist their communications with western trekkers and climbers.
Nikwax Alpine Bellwether GrantThis new award provides funding to document the effects of climate change on high alpine environments. Inaugural recipients will study the socio-economic impacts of glacial retreat in the Tien Shan region of China and study global warming's impact on the migratory patterns of the world's highest amphibian population, found in southern Peru.
Zach Martin Breaking Barriers Grant, partially supported by Black DiamondThis year's award is for a humanitarian/climbing trip to Pakistan. The recipients will provide instruction, building plans, and supplies for constructing earthquake-resistant shelters with affordable local materials. They will also seek out new alpine rock routes in the Kondus Valley in the eastern Karakoram, near the Pakistan-India border.
Scott Fischer Memorial Conservation GrantThis year's recipient seeks to continue his work with the AAC Patagonia Sustainable Trails Project, which began in October 2008 with funding from Patagonia Inc. This project seeks to restore a series of local trails that lead from two main climbers camps (Rio Blanco and De Agostini) and travel through sub-alpine ecosystems to the glaciers and mountains above. Due to the increasing use of these trails and camps by both climbers and hikers heavy erosion has taken place, threatening access to both user groups. The goal is to establish better trail and camping structures in key areas to maintain access while mitigating further environmental degradation.
In addition to the table on the next page, grant coverage and program information can be found on the AAC's news/grants pages: www.americanalpineclub.org/allnews, www.americanalpineclub.org/grants. Grant recipients will be posting about their trips on the AAC's forthcoming blog, Inclined, which will go online this summer.
About the American Alpine ClubThe American Alpine Club inspires and supports and the climbing community and protects its playgrounds around the world. The AAC is perhaps best know for publishing the world's most sought after annual climbing publication, the American Alpine Journal, caring for the world's leading mountaineering library and offering annual climbing, conservation and research grants to budding adventurers. Learn about AAC programs and become a member at www.AmericanAlpineClub.org.