Got Lights On Heads Flickr Photo Contest by Princeton Tec
Heading out the door? Read this article on the new Outside+ app available now on iOS devices for members! Download the app.
Image courtesy of livingonthedash from the princetontecgotlightsonheadsphotocontest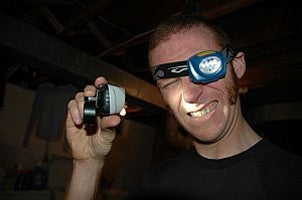 Wanna Win A New Tent? Some Free Gear? Click Those Shutters And Send Us What You Got!
OK, we've all been on a hike before, backpacked and probably scaled a peak or two. Chances are you probably snapped a few photos of your adventures too. Why not cash in on your images?
Well, here's your chance to take your creative photographic mastery (or not) and win some gear – maybe even a new Mountain Safety Research (MSR) tent. C'mon, all you have to do is enter.
Starting July 8, Princeton Tec's"Got Lights On Heads" photo contest gives you – the amateur/semi-pro outdoors-loving photog – the opportunity to put your skills to work. The catch: send us your best digital shots of anything involving lights on your head in the outdoors. On the trail, in a cave, on the water, cooking at the campsite, cranking at your local crag, running on singletrack, stargazing, map-checking … it doesn't matter, you choose the medium – just make sure there are lights attached to a noggin!
Finger twitching on the shutter button already?
With support and extra punch from media partners Climbing, Urban Climber and Mountain Gazette magazines, there will be SIX categories that will be judged by the best outdoor manufacturers, climbers and dirt bag peeps in the outdoor industry biz.
The categories are: Best Overall Outdoor image, Best Action, Best Cooking, Best Climbing, Most Dramatic and Most Creative.
The top three photogs will be chosen from each category and rewarded with killer gear from Ibex, Outdoor Research, Gregory, Leki, SCARPA and Princeton Tec. The lensperson with the Best Overall image will take home a new MSR Mo Room 2 tent.
To get in, you need a Flickr account. If you don't have one, setting one up takes less time than putting on your underwear – faster if you don't wear any!
Then, upload your pics, drop them in our Group Pool on our Flickr page "Princeton Tec: Got Lights On Heads Photo Contest,"and write the location of your shot(s). Each image must also be accompanied by photogs email address and tagged with the category you want the image entered in (can be multiple) and Princeton Tec: Got Lights On Heads Photo Contest.
Enter as many photos in the contest as you'd like in as many categories.
The contest runs through August 14 and winners will be contacted via email shortly after.
So slap your light on your dome and get shootin!!
For more info check: www.princetontec.com/gotlights.