Scottish Winter Kicks Off With Bold and Overhanging New Route On Beinn Eighe
Heading out the door? Read this article on the new Outside+ app available now on iOS devices for members! Download the app.
On December 5, Greg Boswell, Graham McGrath, and Hamish Frost made the first ascent of Take Me Back to the Desert (IX, 9) on the Eastern Ramparts Buttress of Beinn Eighe in Scotland.
"I'd say it was a stiff M8+ on uncharted terrain and fully trad protection," Boswell told Climbing in an email.
The adventurous three-pitch route was Boswell's back-up plan after his original objective, on the Far East Wall, proved to be out of condition. "We didn't have a guidebook with us to choose something else. So we wandered over to the wintriest part of the crag and the looming steep headwall and arching roof below really drew me in," Boswell said. The trio didn't know the name of the overhanging wall, or if it had seen previous attempts, but Boswell said there was "just enough" features to warrant tying in.
"Just enough" features for Boswell was an intimidating prospect for his partner Frost. Frost wrote on Instagram that it had been a slow start to the winter for him, and that he was reluctant to "get back into the total sufferfest that is Scottish winter climbing." Boswell had initially lured him out with the promise of a new route that "wasn't totally nails," but, with their Plan A out of the running, "Greg was showing a particular interest in the steepest, most overhanging section of the wall. It appeared that the prospect of doing something 'not nails' was going out of the window fast!"
The first pitch was technical, in-your-face climbing straight off the deck. Steep and positive hooks deposited Boswell below the impressive, arching overhang. "It got a bit awkward and committing to pass the roof," he said. "The gear was always good, but strenuous to place and your ankles wouldn't thank you if you pumped out and couldn't hang about to fiddle in protection."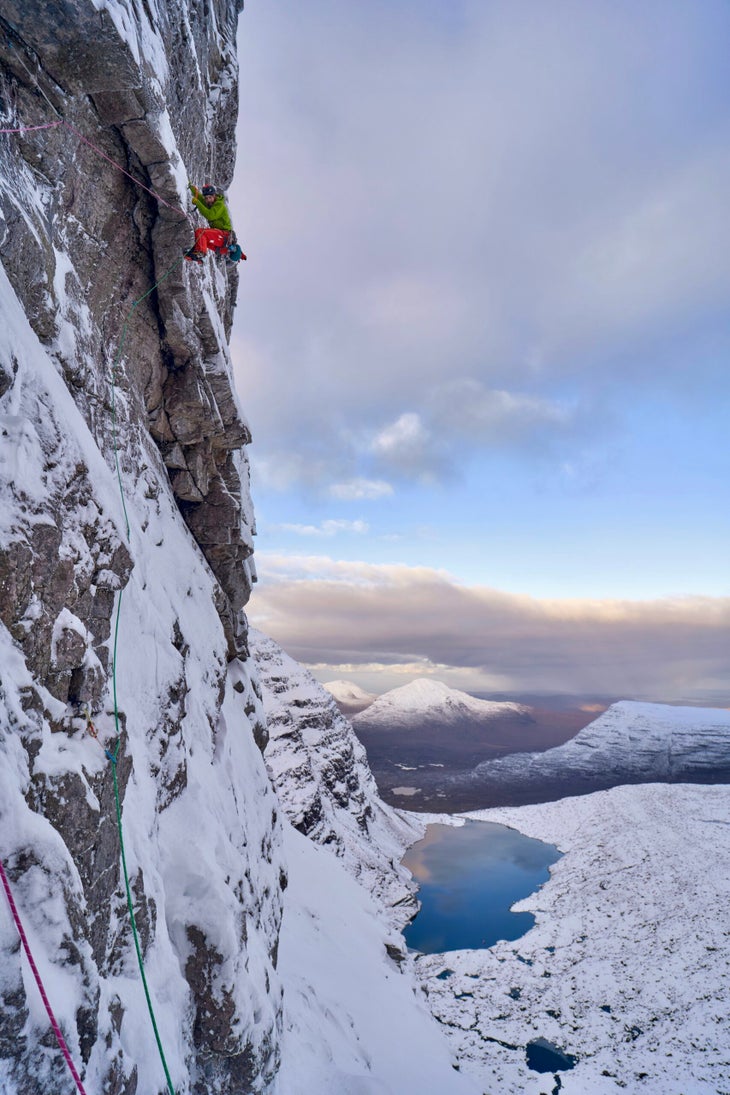 The climbing eased off, thankfully, providing Boswell the opportunity to place several ankle-saving pieces before revving back up with "techy and sustained" climbing to the pitch's very end. It was an odd balance of difficulties, he remembered, where good feet and positive hooks were found throughout the rope length, but never at the same time.
With the perceived crux behind them, Boswell led out on the steep second pitch with hopes of bomber torques and plentiful feet. The sequences revealed themselves eventually, but not until he had become terminally pumped—he had found the crux pitch. "The headwall was much steeper than it looked and it was a race to figure out the secrets needed to unlock this mega line before my arms exploded," he later wrote on Instagram.
Boswell scraped through the sequence onsight and followed a final lead by McGrath through "techy steps interspersed with easier terrain," he described. "[It] was a nice way to reach the summit!"
*
Boswell said he didn't know why the route's arching roof had remained unclimbed until now. Certainly not for a lack of aesthetics. "That area has a lot of potential, but it also has a lot of existing summer routes that have been getting done in winter," he explained. Perhaps winter climbers who had ventured out to the Eastern Ramparts were not interested in completely virgin rock—only terrain that remained untrodden in crampons.
"I'd always choose a winter-only line over doing a summer rock route in winter if I had the choice," Boswell said, "but to each their own."
This article is free. Sign up with a Climbing membership, now just $2 a month for a limited time, and you get unlimited access to thousands of stories and articles by world-class authors on climbing.com plus a print subscription to Climbing and our annual coffee-table edition of Ascent. Please join the Climbing team today.