Heart Route on El Cap Goes Free
Heading out the door? Read this article on the new Outside+ app available now on iOS devices for members! Download the app.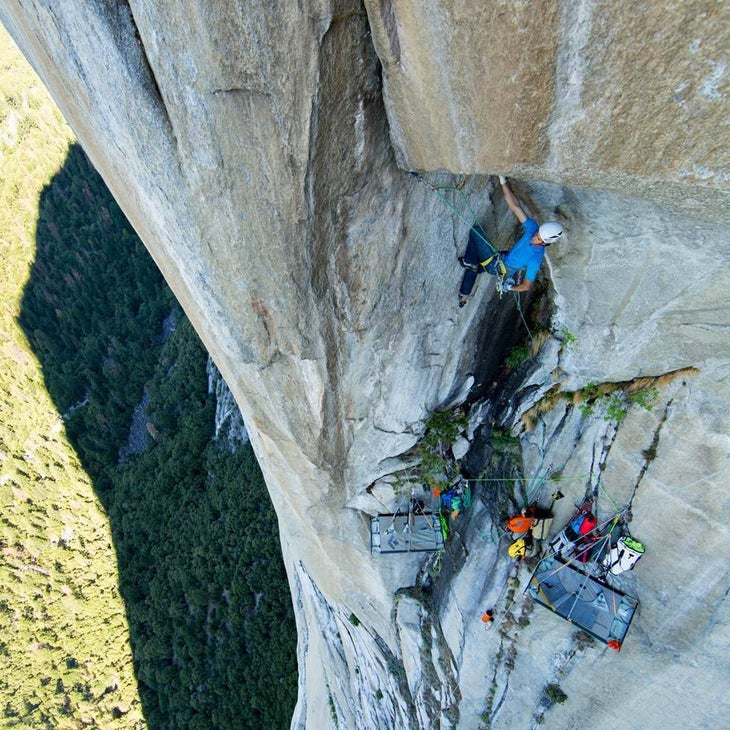 June 19, 2015 – Mason Earle and Brad Gobright have wrapped up a five-year project to free the Heart Route, a full-length route up the southwest face of El Capitan. Earle freed the entire route, and Gobright managed all but about 10 feet of climbing on a huge sideways dyno.
The Heart Route, first climbed in 1970 by Chuck Kroger and Scott Davis, was one of El Capitan's earlier big-wall routes. It follows a groove up the left side of the enormous heart-shaped formation that dominates the southwest face, exiting by a huge roof. The free version starts left of the Salathé Wall on the pillar called the Slack (the same formation climbed by the classic Sacherer Cracker), then breaks right after four pitches for several 5.13 pitches leading to Heart Ledge. Above, the climbers followed the Salathé for a few pitches, then traversed back right to follow the Heart Route all the way to the summit. Near the top of the route, the climbers followed several pitches (including two 5.13 leads) previously freed as part of the first ascent of Golden Gate, the free link-up of the Salathé and Heart Route by Alexander and Thomas Huber in 2000.
Gobright said the free Heart Route had nine 5.13 pitches, 12 pitches of 5.11, and a few easier leads.
The crux came on the relatively low-angle sixth pitch, with a huge downward and sideways dyno. "Unfortunately, I was a bit short to reach the foothold mandatory to make the dyno move go without breaking my arms," Gobright said. "Mason successfully stuck the move after tweaking his shoulder on a previous try." Earle graded the move V10, or roughly 5.13+.
The two started working on the project five years ago. "We gave up two years ago because the climbing felt impossible," Gobright said, "but we got inspired this year to try it again. We both felt a lot stronger this past year, and I think the Dawn Wall ascent may have inspired us just a little. We spent six days on the wall [during the final push], spending most of the time working the sustained and steep pitches in the center of the route." The two topped out on June 17.
Earle, 26, was last in the news on Climbing.com for completing a desperate, multi-year crack-climbing project outside of Moab, Utah, in March. Gobright, who just turned 27,  made news last fall for doing a round-trip, car-to-car ascent of Colorado's famed Naked Edge in under 25 minutes, partnered with Scott Bennett.