HERA Climb4Life Metro D.C. Raises Over $60,000 for Ovarian Cancer Research
Heading out the door? Read this article on the new Outside+ app available now on iOS devices for members! Download the app.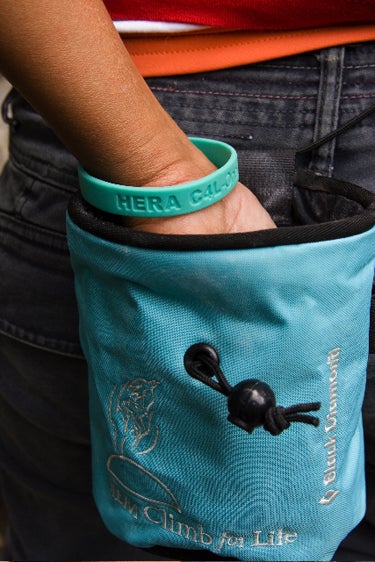 Over 450 rock climbers help HERA surpass 2008 fundraising levels CARBONDALE, COLO. (April 16, 2009) In a challenging economy, the HERA Foundation continues to gain momentum in its fight against ovarian cancer. The non-profit's Fourth Annual Climb4Life Metro D.C., held February 27 to March 28, 2009, raised just over $60,000 for its ovarian cancer research and community grant programs and awareness initiatives. Presented by REI and Black Diamond Climbing Equipment, the month-long indoor rock climbing event was hosted by Sportrock and Earth Treks gyms and included climbing clinics and instruction by professional athletes; raffles and kick-off and closing event celebrations. Funds were raised through corporate sponsorship and the individual fundraising efforts of 468 participants. This year's top fundraisers include Amanda Lee, Christine Harrison and Lisa O'Connor. Last year's event raised just over $58,000 and because of the softening economy, event organizers were conservative in their fundraising projections. "We were pleasantly surprised to miss the mark in our estimate," says Lisa Carmichael, HERA's interim executive director. "The fundraising results of this event illustrate how the entire outdoor community, from our sponsors to event participants, remains committed to helping HERA find a solution for ovarian cancer. Their efforts are both commendable and inspiring." One in 71 women will be diagnosed with ovarian cancer this year. With early detection, more than 90% will survive. Currently, only 24% of ovarian cancer is caught early. 1 Funds raised support HERA's cause, including the OSB1 Grant that's awarded annually to Ph.D. and M.D. fellows at Johns Hopkins University in Baltimore, Md and M.D. Anderson Cancer Center at the University of Texas in Houston. Recipients of the 2009 HERA OSB1 Research Grant attended the kick-off ceremony, which enabled event participants to understand how their fundraising efforts are impacting science related to ovarian cancer research. This year's recipients are: Dr. Marie-France Penet, Dr. Dan Lu and Dr. Yuan Tian, ovarian cancer researchers at Johns Hopkins University. Dr. Richard Roden, also from Johns Hopkins, spoke about the importance of funding ovarian cancer research. A tribute was held for the late founder of the HERA Foundation, Sean Patrick, who passed away in January due to complications related to ovarian cancer. Upcoming Climb4Life events include Boulder, Colo., from June 26-27, 2009 and Salt Lake City, Utah from September 17-20, 2009. For more information, please visit www.herafoundation.org. HERA Climb4Life Seven Summit Sponsors: Arc'teryx, Black Diamond Climbing Equipment, BlueWater Ropes, Boulder Rock Club, Climbing Magazine, Colorado Mountain School, Evolv, FoxRiver, Guyot Designs, Liberty Heights Fresh, MadRock Climbing, Montrail (Visionary Sponsor), Mountain Hardwear, Omega Pacific, Patagonia, Petzl, prAna, REI, Rock & Ice, Sea to Summit, SMC, Stonewear Designs, Trail Runner Magazine, The North Face, Utah Mountain Adventures and Women's Adventure Magazine. About the HERA Foundation:The HERA Foundation is a registered 501 (c) 3, whose mission is to stop the loss of women and girls ovarian cancer by empowering women to take control of their health, empowering the medical community to find new directions in ovarian cancer research and empowering communities to provide support. HERA is an acronym for Health, Empowerment, Research and Awareness. For more information, visit www.herafoundation.org.