HERA Ovarian Cancer Climb for Life
Heading out the door? Read this article on the new Outside+ app available now on iOS devices for members! Download the app.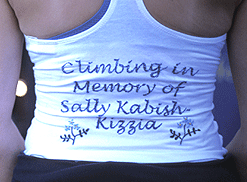 2006 HERA Ovarian Cancer Climb for Life, Smith Rock Oregon with First Ascent and Red Point – May 12-14, 2006 CLICK HERE TO REGISTER
Looking for a Challenge? Help fight ovarian cancer by registering for the HERA (Health, Empowerment, Research, and Awareness) Climb For Life Celebration and enjoy a weekend of climbing fun! Whether you're a beginner or just returned from Mount Everest, everyone is welcome to participate. For a $50 donation, you'll get a weekend of climbing, parties,giveaways, live music and our thanks because your gift goes directly to fund ovarian cancer research and to help womenNeed more reasons to come? It's Mother's Day Weekend. Do it for your mom. It is time we stopped the loss of mothers, daughters, sisters, wives and girlfriends from this disease. You can do your part and help save women's lives.Step 1: Register OnlineStep 2: Receive and customize your FREE Personal Donation WebpageStep 3: Invite others to visit your Personal Donation Webpage!
Photo Credits: Ben Moon, Michael Clark, Nicole Morganthau

Climb for Life Las Vegas Hits Record Numbers
The fourth annual HERA Climb for Life Las Vegas held February 25 – 26, more than doubled last year's fundraising effort. The two-day climbing event raised $22,000 for the HERA Women's Cancer Foundation. A portion of the funds will remain in Las Vegas to support the Ovarian Cancer Alliance of Nevada.
A total of 125 participants gathered at the Red Rock Climbing Center on West Charleston Blvd. on Saturday for clinics, yoga, free messages and non-stop climbing. Athletes included Alli Rainey, Stephanie Forte, Tiffany Campbell, Lisa Hathaway and Joe Kinder. Because it's Las Vegas — where anything can happen, it was not surprising when Chris Sharma and Elvis showed up at the gym.
On Saturday night, nearly 150 people were on hand for the Climb for Life party, hosted by the Road Runner Restaurant & Salon. Misty Murphy, a climber and well-known musician in Salt Lake City, performed. On Sunday, a group of 19 climbers climbed for life in Red Rock with Jackson Hole Mountain Guides.
Funds were raised through sponsors, registrations fees, and climbers that secured personal sponsorships. Those who raised over $250.00 for HERA were entered into a gear raffle.
The top fundraisers were:Stephanie Forte $1,750Lori Corona $1,650Allison Bananno $1,250Erin Sawhill $800
During Saturday's event, participants climbed indoor routes that were assigned a point value in feet. Each climber tried to earn enough points to summit Red Rock's Mt. Wilson (7068 feet.)
The top climbers were:
Advanced Category Lisa Harrison Las Vegas 30,083 feetJohn Sprey San Diego 17,418 feet
Intermediate Mike McGlynn Las Vegas 11,493 feet Noelani Onsaga Las Vegas 17,543 feet
Beginner Jesus Martin Gozmdez Las Vegas 3,693 feet Megan Harper Las Vegas 11,918 feet
First-time ClimberJ. Michael Chen Las Vegas 5,068 feet Jenny Cline Las Vegas 4,368 feet
HERA Climb for Life Washington DC Raises Over $30,000
The second annual HERA Climb for Life Washington DC raised $33,146 for the HERA Women's Cancer Foundation. For a $25 donation to the HERA Foundation, participants took part in a month long climbing celebration, from March 3 – April 1, that was presented by REI and Black Diamond with Earth Treks and Sportrock gyms. Events included the Kick-off Party on March 3 at REI Fairfax, VA, the Climber's Festival on March 4 at Sportrock, located in Sterling, VA and a month of clinics with pro-athletes Roxanna Brock, Will Gadd, Nate Gold, and Anna Gonzalez, REI's self-rescue clinic, Eric Horst's training workshop at REI Timonium, and Earth Trek's Chris Warner's presented three slideshows.
Participants who raised over $100 were eligible to compete for the title of Top Climber by climbing designated routes in the participating Earth Trek and Sportrock gyms. Points earned for routes and boulder problems were tracked on scorecards. But the race for the title of Top Fundraiser is what really heated up between local climbers. For the first time in Climb for Life history, groups of climbers teamed up to raise money for HERA and the competition was fierce.
During the Wrap Party on Saturday, April 1 at Earth Treks in Rockville, MD, kudos went out to the top fundraisers, which included in the individual category:
Angie SeckingerTeam: Sportrock Team $2,625.00Luis CalderonTeam: Gang Green $1,600.00Alyce SmithTeam: Powered by Pizza $1,390.00
In the team fundraising category, Sportrock's 35 members snagged first place, raising a total of $7,295.00, Try the Meatloaf's 17 person climber team raised $6,750 for second place and in third place was Powered by Pizza, whose 22 climbers raised $3,751.00.