Hidden Branches of Joshua Tree
Heading out the door? Read this article on the new Outside+ app available now on iOS devices for members! Download the app.
Way out west, far from any big cities, there exists an enchanted rock forest surrounded by lanky trees that look like cheerleaders with outstretched arms, holding pom-poms. Coyotes run around at their feet, howling in unison at twinkling stars. The rocks appear like giant cracked robin's eggs, potatoes, and even tombstones, glittering by the morning's sun, as the quartz reflects its light. Fifty years ago, men stared in wonder at this captivating creation; a few did the most natural thing they could think of — climb!
The rock forest still exists, though it is actually a desert, now protected for everyone to enjoy. This is Joshua Tree National Park (elevated in 1994 from national monument-status), an 800,000-acre attraction in the Southern California desert; a quartz monzonite playground, where the subterranean, crystal-covered granite domes have been unearthed by years of erosion, exposing their perfect, albeit sharp cracks, and rock grippy enough to allow hands-free 5.9 smears.
I was fortunate to grow up in a little town called Calimesa, where people only stop for gas or McDonalds. Its proximity to Joshua Tree (60 miles), helped introduce me to climbing. It didn't take long for me to tick off a number of climbs around Hidden Valley Campground, the Real Hidden Valley, and Echo Cove. These are the core climbing areas, near the historic campground, where more than three decades of climbers have convened with the same passion: to free climb the beautiful faces of J-Tree. In fact, the majority of people start out on The Old Woman, The Blob, and Outhouse Rock, which surround Hidden Valley Campground.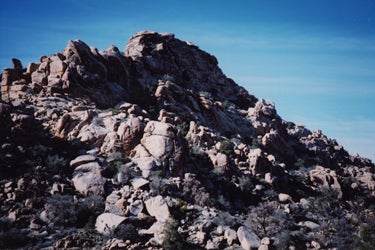 While this may be the standard scene near the campground climbing areas, there is always a guaranteed getaway from the crowds, and it may not be that far. J-Tree offers a pleasant surprise for those willing to do some hiking and exploration. Here are some good, less-traveled starting places, that, like the popular areas, are in Randy Vogel's Rock Climbing Joshua Tree. These routes remind you that you are in the desert, with all its beauty and magic and possibilities. And since you won't have to wait for other parties (or drown out the noise of yelling children or arguing couples), you can focus on your climbing and just have fun.
Quail Springs
The first stop on our journey will be Quail Springs, the first climbing area in the guidebook as you enter from the town of Joshua Tree. Six miles up the road, on your left, you'll find the Quail Springs Picnic Area. Park here. A wealth of climbs lurks in these parts. I cannot list all of them, but come prepared to spend some time here; the more you find, the more you'll want to stay.
Hound Rocks From Trashcan Rock (the formation nearest the parking lot), follow a trail to the southwest, for a half-mile.
Baskerville Rock The first rock encountered at Hound Rocks. The following routes are east facing, making for good morning climbs in the winter.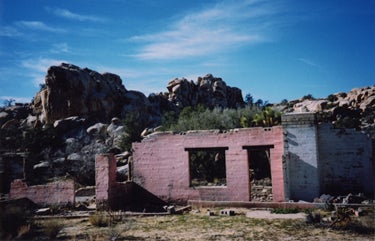 Gravity Waves (5.11a)*****
Gravity Works (5.11c)*** Both of the Gravity climbs were put up by Tony Yaniro, who in 1979, led Grand Illusion (5.13b/c), then the world's first 5.13 and hardest crack climb. Yaniro put up Gravity Works in 1983, with his partner, Toivo Kodas.
The Ivory Tower Northeast of Timbuktu Towers, the north face of this pillar features several difficult Randy Leavitt face climbs with adequate protection. If you're looking to climb supreme 5.13s in J. Tree, you've come to the right place.
Chain of Addiction (5.13c)***** In the middle of the face, follow a shallow seam, clipping nine bolts to the top.
Ocean of Doubt (5.13b/c)***** A Randy Leavitt vision. Negotiate the technical moves past five or six bolts.
The Super Dome From Ivory Tower, head southeast to the nearest huge dome; you can't miss it. A handful of excellent paths (from 5.10 to 5.12c) lead you to the summit.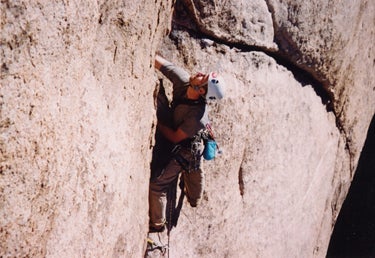 Lost Horse
Our next destination is Lost Horse. The rocks here tend to be very featured and have many cracks, so there's a bigger concentration of climbs on each crag. And, because the majority of crags are less than vertical, they include easy to moderate climbing. I, however, have chosen to list harder classics. To get there, enter from Quail Springs Road, heading east, to 29 Palms. Park at the Lost Horse ranger station.
Jimmy Cliff Unfortunately, the dirt road that passes this crag is off-limits to the public. You'll have to walk, about two-thirds of a mile from the Lost Horse Ranger Station Road. and Quail Springs Road. junction. It may be quicker to approach from the Real Hidden Valley.
East Face: Friendly Hands (5.10b)*** What an inviting name! Actually, there are little to no hand jams, but you can get off-fingers. Pro up to 2.5 inches.
TheBronto's Or Us (5.11a)** This fun mixed route takes quickdraws up to 2-inch cams.
West Face: A Peanut Gallery (5.11a)*** It's the obvious steep face climb.
Arid Piles Just south of Jimmy Cliff, you're looking for a large formation of wedged rocks that may require scrambling through corridors and over boulders to find your route.
North Face: Quickstone (5.12c R)*** Try this one if you like hard face climbing and want to test your smearing skills. Bolted.
29 Palms (5.11d)**** A super-sweet dihedral that will love your gear. Small up to 1.5 inches. Expect hard laybacking, jamming, palming, and smearing.
Southwest Face: The Acid Crack (5.12d)**** A TR route first led in 1982 by California climber John Bachar.
The Taming of the Shoe (5.10d R)*** Another Bachar route, with Mari Gingery and Randy Vogel, together nabbing the FA in 1981; it takes thin pro, from RP's up to 1 inch.
Lost Horse Ranger Station Wall On your way back to the car, check out this wall for the following route and a few nice cool-downs.
Hercules (5.11c)*** Layback the flake, preferably on towrope — it has been known to flex.
Split Rocks
Next along our tour: Split Rocks, the last major climbing area before you head north, out of the park, toward 29 Palms. The parking lot is accessed via the road going north 1.2 miles from Jumbo Rocks Campground. The Split Rocks are characterized by vertical, smooth faces, and, therefore, have several hard bolted climbs.
Isles In the Sky Isles has lots of good crack climbs. They range from 5.4 to 5.11d. The harder ones have the better climbing. Walk a mile southwest from the parking lot.
White Mamba (5.12b)*** On the wall right of Isles in the Sky, climb the left-traversing quartzite dike. Be ready to lock off and smear your way past five bolts to the anchors.
Isles Corridor Just behind Isles in the Sky, the corridor offers crack climbing on both sides.
Crack #5 (5.9+)*** The fifth crack from the left; this is a nice splitter hand crack.
Crack #6 (5.10a)*** Just to the right of Crack #5, it features some offwidth, and you can even use an armbar pulling the bulge at the roof.
Mettle Detector (5.12b)*** A short face climb between Cracks 5 and 6.
Loveland
A one-mile walk northeast from the Split Rocks parking area brings you to the boulder valley called Loveland.
Tiger Rocks As you walk northeast from Split Rocks, you'll notice the south-facing Tiger Rocks, just behind the Bond Boulders.
Bush Blows Chips (5.10c)*** Mixed climbing, on steep friction, with four bolts at the top and rap anchors.
Vector Rock Heading north a bit farther, on the left, find this prominent east-facing corner.
Vector (5.11c)**** The ultra-classic crack climb, on the left side of the dihedral. Hands to finger jamming leads you to the thin crux, culminated by an exciting mantle to the summit. FA: Tony Yaniro and Randy Leavitt.
Crocodile Rock Just west of Vector Rock and South of Lost Rock.
B-Movie (5.10b)*** This hand crack pulls a bulge.
Claim Jumper (5.10d)*** Follow a crack up and to the right, and then clip a few bolts on the face.
Lost Rock About 150 feet northeast of Crocodile Rock
Missing Persons (5.11c)**** Probably one of the least runout face climbs in J. Tree, M.P. sports seven bolts.
Cottonwood Campground
Finally, if you want to be adventurous, go to Cottonwood Campground, on the east side of the park, ditch your car, put on your hiking shoes, and head east for about three miles and you will run into a wealth of rock (and probably not a single soul). This area used to be climbed at more often, but rangers limited activity after someone started manufacturing holds. You may find some routes that haven't been sent before, but be careful of claiming an FA —these gems have been in the locals' stash for years!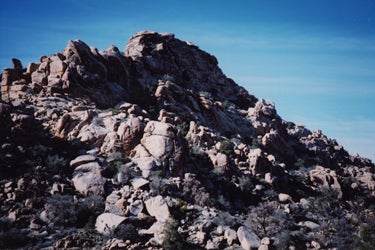 Logistics
Getting There
There are two ways to get to Joshua Tree. The more straightforward is from LA. Go east on I-10, merge onto CA-62E (there's a small sign for Joshua Tree National Park). After 28 miles, hang a right onto Park Blvd., which turns into Quail Springs Road. upon entering the park.
The other way to get there is from the east, through Las Vegas. Here you will take US-95S to I-40W. After 17 miles, take the Mountain Springs Road. exit, then turn left onto Mountain Springs Rd., which turns into National Trails Highway. Stay on this road for 46 miles, turn left onto Amboy Road; follow it for another 46 miles, turn left onto Utah Trail, right onto National Park Drive, and you're there.
Sending Season
Joshua Tree is a premier winter climbing destination. Think So Cal desert —- warmmmmm! December through February still require cold-weather gear, like down parkas and firewood. Temps range from the 40s to the 60s in the day and tend to get down to the teens at night. Spring and fall are good as well. You can get away with climbing until May sometimes (in the shade), but after that, your rubber begins to peel and your skin melts until about October.
Fees
Like all National Parks, you must pay. J-Tree requires a $15-per-car entrance fee, good for one week. If you'll be staying for more than two weeks, go with the J-Tree-only annual pass ($30). Better yet, if national parks are your thing, get the national parks annual pass for $50, allowing you to visit J-Tree, Yosemite, Rocky Mountain, and all the national parks, for a whole year.
The main climbers' campgrounds are Hidden Valley (45 sites) and Jumbo Rocks (125 sites). These two are $5 a night, on a first-come, first-serve basis, and have a two-car, three-tent, six-person limit. Other campsites range from $5 to $10. Some allow groups, but need reservations, which can be made up to five months in advance by calling (800) 365-2267.
Camping is limited to two weeks at a time in the park between October and May.
The Bureau of Land Management does allow free "dry camping" in designated areas, but they're not real close to the climbing. Call (760) 251-4800 if you're interested. There are hotels and motels in town, as well.
Gear Shop
The main entrance for the campground is from the west, through the town of Joshua Tree. If you come in this way, you'll pass the climbing shop, Nomad Ventures ([760] 366-4684), at the turn onto Park Boulevard. The folks there are friendly and helpful. Also in this center, find the new Joshua Tree Visitors Center, where you can get info and passes.
Food and Spirits
The booming town of Joshua Tree has a Stater Bros. grocery store (58060 29 Palms Hwy), and Joshua Tree Health Foods (61693 29 Palms Hwy). Royal Siam has super-tasty Thai food (61599 29 Palms Hwy). Crossroads Café is the climber hangout. It has a nice, casual ambiance and killer sandwiches, salads, and burgers, plus a sizable beer selection. They also do breakfast, and have coffee and smoothies (61715 29 Palms Hwy).