Highs and Lows: 2018 Bouldering Nationals
Commentary and analysis from the weekend's Open National Championship in Salt Lake City, Utah.
Heading out the door? Read this article on the new Outside+ app available now on iOS devices for members! Download the app.
The year's biggest and most important comp for American boulderers went down Saturday. Expectations were heightened like never before thanks to a highly publicized National Cup series, which pit-stopped at several gyms across the country. Through social media hype and a noticeable emphasis on video production for livestreams, USA Climbing did a respectable job of making the Cup events feel like big deals (and the $10,000 cash purse helped raise the stakes). In the process, the series became an extended, viewable precursor to Open Nationals. Storylines from all the previous comps lingered into the big dance at the Salt Palace Convention Center this past weekend. (Watch the full comp here.)
Here's a rundown of all that was good and not-so-good from the weekend's festivities:
Highs
Nathaniel Coleman's Dominance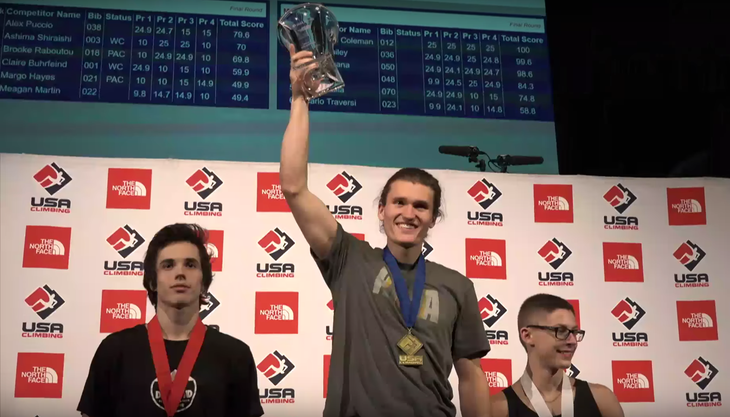 Because Coleman looked so strong in the National Cup comps leading up to the championship, it would be easy to think of his victory here as anti-climactic, even a foregone conclusion. He has now won Nationals for three years in a row, and he hasn't even fallen in the final round since 2016—a feat that might never be duplicated. But the ease with which he cruised up almost every problem this season jolted some electricity into American men's bouldering that we haven't felt since the early days of Daniel Wood's comp-scene ascendancy. Unlike Woods, Coleman doesn't yet have a ridiculous resume of famous outdoor sends, but he does have everything else on his side—he's young, he's charismatic, and he's still improving. If he continues to crush—and plays the PR game right—this victory could be a key step in ushering in The Coleman Era of American bouldering.
Ashima Shiraishi's Consistency
There are people, particularly those who haven't been following the comp scene, who might consider anything lower than a first place finish for Shiraishi to be a letdown. After all, two years ago Youtube videos were already asking if she was the best female rock climber ever. But Shiraishi is still young (16), so it's fine to watch her comp career progress methodically rather than blazingly. (She placed second here, second in the Open Nationals last year, and second in this year's Violet Crown portion of the Cup series.) She climbed extremely well throughout Qualifiers and Semi-Finals, and Finals came down to the last problem. She has also done a fine job of establishing her own brand, and this second place finish does nothing to diminish her marketability.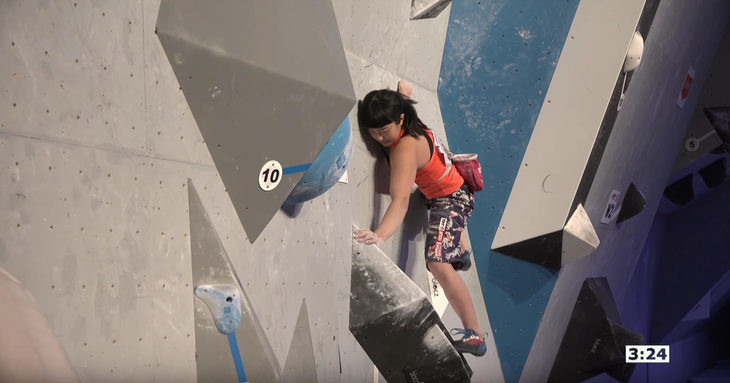 Alex Puccio's Gutsy Victory
Puccio has claimed her eleventh National Championship. Pause and think about that—11 years of being the best female boulderer in America. It wasn't a flawless victory—Puccio admitted to climbing with four finger injuries, and her unsuccessful attempts at topping the last Finals problems left the door open for Shiraishi to snag the win; however, 2018 turned out to be Puccio's year…again. Narrow victories like this one highlight Puccio's tenacity—where she reveals herself to be human rather than otherworldly. Also of note was her post-show interview. She pointed out that Nationals are the only selection vehicle American climbers have for making the World Cup and World Championship squads (one reason she competed through injury). She admitted that changing that reality will take time, but if it's an issue that she is passionate about improving, it could add to her already legendary legacy. She's well-spoken and highly experienced—there's nobody better suited to be an advocate for change and betterment to the current system. She also announced plans to train lead and speed, suggesting Olympic aspirations.
The Multi-Zone Scoring System
Competition bouldering has always had an interesting conundrum: The object for the climbers is to reach the top of the boulders, but when they don't reach the top, should any points be awarded for where each climber falls? In outdoor bouldering, certainly not—e.g., nobody cares if Daniel Woods almost makes it to the top of Creature from the Black Lagoon—or where he fails, or if Jimmy Webb almost repeats Defying Gravity. But as a spectator sport, competition bouldering should fill that vast middle space of a boulder with… drama, somehow. The IFSC has long awarded extra points to climbers who reach a bonus hold, located somewhere between the starting and finishing holds of a problem. But USA Climbing's new Multi-Zone Scoring system takes that idea to the Nth degree. The holds of each problem are divided into separate point categories, and points are awarded successively as the climber progresses upwards—5 points for the first holds, then 10 points, then 15 points, and finally 25 points for reaching the finish. This scoring concept gives each hold its own importance, rather than the holds being merely part of a greater sequence. While it is a little weird that USA Climbing's scoring  is now so different from the IFSC's model, this Multi-Zone Scoring system is more spectator-friendly, especially for newbie viewers.
The Commentary
Chris Weidner and Brian Runnells were back for another year at the microphones, and they again alternated between appealing to the hardcore viewership and making the sport extra easy to understand. Considering that each round was a couple of hours long, Weidner and Runnels had to converse for about 8 hours in total. They deserve props for not repeating themselves too often, let alone keeping their dialogue interesting. It was refreshing not to have the Olympics mentioned in nearly every other sentence, and Runnells and Weidner have developed a solid rapport. Weidner brings a lot of experience to the table, and Runnells' periodic self-deprecation is fun. The two also managed to sprinkle in some puns and quips (Example: "Palmer trying to palm his way up this start move," or, "I think that's Charlie Barron down there—bearin' down.") Cheesy? Sure. But there's room for such amusement in a sport where the play-by-play could easily be dry and, dare I say, plastic.
Lows
Margo Hayes' Off-Night
A victory at 2018 Nationals would have been the storybook ending to the 2017 that Margo Hayes had; it would have felt appropriate after she ticked those famed 5.15s and starred in the Reel Rock featurette, don't you think? Alas, it was not meant to be. Hayes never found her rhythm at Nationals. She was the leader heading into Semi-Finals, but barely made Finals—and didn't make much headway once there. A few moments that come to mind are her attempts to angle out the beta on the humongous volume of the second problem in Finals, and then her slips midway up the third problem. In a way, those two boulders encapsulated her night—really gutsy efforts, but unsuccessful. It is worth pointing out that she did have a few exciting moments, like her last-minute frog-squat to top the first problem in Semi-Finals. Plus, she always appeared to be upbeat and composed, even when the sends weren't coming. But in the end, there's nothing more to say than: This wasn't her night. We've all been there—sometimes the tops are frequent, and other times things just aren't clicking. Yet, her struggles on La Rambla (captured in Reel Rock) had a way of making her even more inspiring and likeable, so there's no reason that her struggles here won't do the same.
Kai Lightner's Struggles
In some ways, Lightner's weekend paralleled that of Margo Hayes. Like Hayes, Lightner went into Nationals after one heckuva 2017—after all, he is the reigning sport climbing national champion, and he has consistently ticked off high-profile outdoor sends. Also like Hayes, the stars didn't align for him at this comp. Lightner has had some injuries recently, and the commentators noted that his great height was perhaps a hindrance on some problems—such as the first in Semi-Finals. Lightner also struggled on the third and fourth problems in that round, so even before it was official, there was a weird feeling in the air that he wouldn't make the cut to Finals. His position at the end of Semi-Finals was certainly not bad—tenth in a beastly field where only the top six advanced to Finals. But as a fan, I would have enjoyed seeing what Lightner could have done on the problems in Finals. The silver lining is that he is still young, and with his proven prowess on both hard boulders and sport routes, he is quickly becoming one of America's most likely Olympic candidates. One rough weekend in Salt Lake City does nothing to change that.
The Routesetting of Men's Finals
Anyone who has ever played add-on at the gym knows how difficult it can be to make a good route, so kudos to Dave Wetmore and his crew for doing a fine job with the setting. A few standouts included the blue foot-chip traverse of the first women's problem in Qualifiers, the volume vomit (I don't know how else to describe it) of the second women's problem in Qualifiers, and the enormous "spike volume" of the second women's problem in Finals. I was ready to list the routesetting as a "High" of the event heading into Finals, but then the men started getting tops…and tops…and tops. The fact that Nathaniel Coleman, Sean Bailey, and Drew Ruana each topped all four problems means that the podium wasn't as separated as it should have been. Perhaps one YouTube commentator said it best (albeit, a tad harshly) in the Livechat: "It's not a good show when everyone tops everything." Even Brian Runnells had to point out that the men's problems seemed "easy." The converse to this was that the women's problems were a lot more effective at breaking up the leaders in the field. Still, the overabundance of men's tops was impossible to ignore.
Certain Aspects of the Production
Like previous years, Louder Than Eleven's presentation of the event was well done. However, there is always room for improvement. There were several instances of perplexing camera cutaways right as a climber was attempting an exciting move. For example, watch Keenan Takahashi going for the top of the first men's problem in Semi-Finals, or Meagan Martin going for the top of the fourth women's problem in Semi-Finals—both cutaway at their respective climactic moments. There were also several times when Weidner and Runnells noted vaguely that a climber had committed some sort of foul ("there must have been a technical issue"), but no further information was given—and there was no replay, no slow motion analysis, and no expert follow-up as to what the infraction might have been. Having an analyst with a microphone on the floor could help get to the bottom of such issues expeditiously. To that point, interspersing the broadcast with brief floor interviews with coaches, judges, doctors, and trainers would keep the show chugging along without Weidner and Runnells having to carry the narrative by themselves. Also, it would be nice to have cards throughout the show that provide details about the climbers—not just stats like age and hometown, but also interesting flourishes like ape index, climbing style, and, say, preferred training methods. Little touches like that go a long way with viewers who are glued to the livestream for hours on end.
Neither
Daniel Woods
I'm putting him in this gray area because it's hard to get a read on Woods's performance. He didn't make it out of Semi-Finals, and for a guy who was the reigning national champion for nearly a decade, that's surprising. People might go to the old refrain that Woods is "aging out" of competition, but, sheesh, he's only 28 (the same age as Alex Puccio), so I'm not so sure if age is to blame. At the end of December, he admitted on his Instagram page that 2017 was his "worst year" because of a DUI, a divorce, and an MCL injury. In light of all those challenging life circumstances, it's understandable that he might have had trouble getting his head back into the Nationals mentality, but one can only speculate. It's too early to count him out—he's still among the best boulderers ever. Years ago, I had a poster of Woods on my dingy apartment wall, so I'll always feel a swell of happy nostalgia when watching him climb on plastic. But it's also noteworthy that we don't see Woods at the top of podiums with the frequency that we used to, and that's a real bummer.  
John Burgman is the author of Why We Climb: A Dirtbag's Quest for Vertical Reason.