Honnold Frees the Salathé Wall in 8.5 Hours: Q&A
From the Climbing.com archives
Heading out the door? Read this article on the new Outside+ app available now on iOS devices for members! Download the app.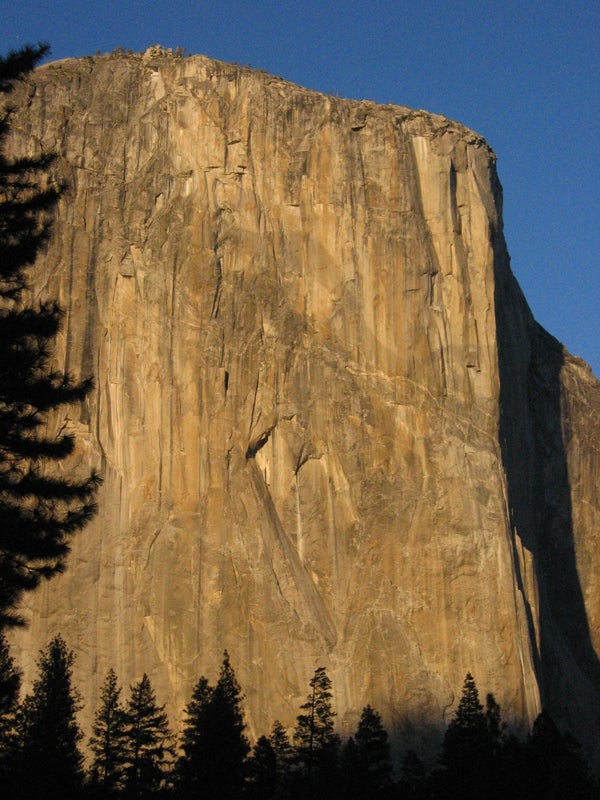 On May 27th, 2009, Alex Honnold redpointed Yosemite's Salathé Wall (VI 5.13c) in the blazing fast time of 8 and a half hours. Honnold was supported by partner Sean Leary, who did not redpoint the route, but was still a crucial part of their speedy success. This all-free speed ascent cuts Tommy Caldwell's previous 16-hour record in half.
Honnold and Leary hoped to continue the push onto Half Dome's Regular Northwest Face (VI 5.12a, 23 pitches), but, due to poor weather, the team called it a day after the Salathé.
Honnold, 24, who's been in the headlines a lot over the last few years has free-soloed the Regular Northwest Face taking only 2 hours and 50 minutes to complete the route. He's also free-soloed Moonlight Buttress (5.12d, 9 pitches) in Zion National Park, Utah, and in September 2007, he free-soloed Yosemite's Astroman (5.11c, 10 pitches) and the Rostrum (5.11c, 8 pitches) in a single day.
Alex Honnold agreed to answer some questions about his recent speedy ascent of the Salathé Wall for Climbing.com. Below are his responses:
I heard that you had planned to combine that with a link of Half Dome too? Will you try again?
Alex Honnold: Maybe. I'd like to link the whole headwall, it's disappointing to take one fall on the last move. And, it'd be nice to do the link up. I've never climbed El Cap and Half Dome in a day.
So, you took a fall on the Salathé headwall?
Yeah, one fall, on literally the last hold of the headwall. Super lame. I botched. I fell all the way to the mid-anchor [lots of stretch on a 9.1 on a 200-foot pitch] so I just did it again from there.
How many times have you done the Salathé?
I've done Freerider [VI 5.12d] three times (two free, one as support) and done the Salathé twice (one free, one failed attempt). But I've also gone up to the top and toproped a bit. I've spent a fair amount of time on that part of the wall.
How's that monster crux pitch on the headwall?
The link-up is exactly 200 feet. I lead it on a 60-meter rope once and had to untie just to walk across to Long Ledge (the top of the headwall). I have no idea about the grade. If it were on the ground at a sport crag I might have a better idea, but it's hard for me to judge since I'm all tired when I get there. But I'd say linking the pitches has to be 5.13c and it feels pretty hard.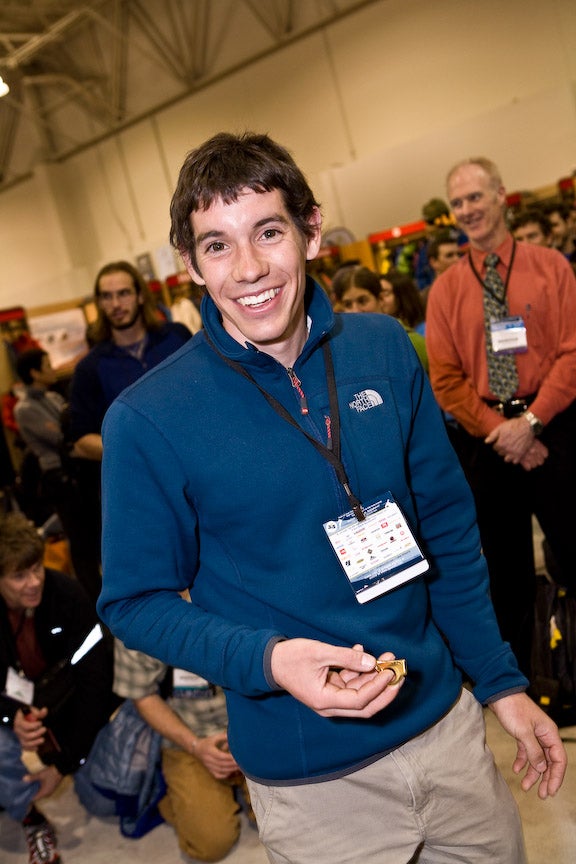 How long did it take you to redpoint that pitch?
Not really sure, but probably about 30 minutes. It has rest stances that I milked as long as I could. So it took a long time.
Anything you can compare that headwall pitch to?
It's hard to compare it to anything because it's all flared and very unique. It seems like it should be easy since it takes good feet the whole way but for whatever reason it's just super pumpy. It's amazing!
What time did you arrive at the headwall?
Freeblast took about an hour. The Alcove in 3, Sous le Toit in 6 I think? We started the headwall right as the sun was starting to hit it, probably about maybe noon.
Are you, or would you ever considering soloing something like that? Freerider maybe?
Ha! You go up on the Salathé headwall and talk about soloing. That shit's just too hard. And just the position is scary.
With any speed ascent it's super-important to have a good partner. You and Sean "Stanley" Leary make a great team, yeah?
Sean is a good dude and he's an amazing wall partner. He runs up stuff. He's solid and fast, a perfect simul-climbing partner. You never have to worry about a thing. You just lead and lead and he takes care of everything else.
Do you have any other projects you can mention in the valley or elsewhere?
I always have a list of random routes I want to get on. But nothing too exciting. Just little things to check out.
How was the trip to Borneo? Maybe a bit wet? Mount Kinabalu looks like a beautiful place. I enjoyed following that trip with the live, in the field posts by Renan Ozturk at Borneo Dispatches.
The trip was awesome and a good intro expedition for me. I learned how to hook, drill and put up routes—all that good stuff. It did rain a lot, but in retrospect I think that was one of the good things about the trip. I'm not as intimidated by weather now. I sort of realized just how useful rain pants and rain jackets are.
Did you like hanging with the other North Face team members?
Yeah, that was one of the best parts. Dinner every night would include all kinds of stories like "In Tibet in '96 we …" Or, "This one time in the Pakistani Ministry of Tourism …" It was fun just listening to everyone's crazy adventures. Plus everyone is super chill and they are all really solid climbers. Makes for a fun trip.
If you're not climbing, what do you like to do on rest days, for fun, besides sitting around emailing people like me about climbing… haha
I read a lot, loiter around in my van. Email, etc. Basically, not much. I would normally run or hike or something on my rest days, but the Valley is so exhausting that I need to rest my legs too.
Where are emailing this from?
The Ahwahnee in Yosemite. The super plush hotel. I'm in an amazingly comfortable chair. I love this hotel.
Who are your sponsors?
The North Face, Black Diamond, La Sportiva, New England Ropes
Anyone else you'd like to shout out too?
All the folks who've climbed with me this season. I'm always happy to have good partners.
Anything else you'd like to add?
That's probably more than anyone would want to read anyhow.
Date of Ascent: May 27th, 2009