Hot Summer in the Bugaboos
Heading out the door? Read this article on the new Outside+ app available now on iOS devices for members! Download the app.
Maneul Quiroga following a pitch on the first free ascent of Seventh Rifle (VI 5.11b), North Howser Tower, Bugaboos.Photo courtesy of Ulysse Richard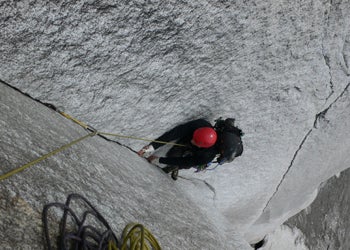 The enormous West Face of North Howser Tower in the Bugaboos got its third free route this summer, as Ulysse Richard and Manuel Quiroga free-climbed the Seventh Rifle, the 34-pitch original full-length line on the face, established in 1971 by Chris Jones, Tony Qamar, and Galen Rowell. The two men free-climbed the 3,600-foot route in two days at a surprisingly moderate 5.11b. However, numerous chimneys and loose rock make the route unlikely to become popular as a free climb. Toward the end of the first day, Quiroga was hit by a block knocked loose by the rope. "The rock struck him in the arm quite hard, and we both taught that it was broken," Richard said. "Half an hour later, once the pain subsided, he was able to continue and come up to our sloping bivy site, where I had been waiting. I was quite relieved, as retreat from this point would have been quite unsavory, to say the least."
Last summer, the same two climbers made a one-day ascent of All Along the Watchtower on North Howser Tower, using a bit of aid. That route was free-climbed in a day this year by Bean Bowers and Dave Nettle (http://climbing.com/news/hotflashes/bugaboos06/).
Also spending time on the Watchtower this summer was Janez Ales, who rope-soloed the climb with three bivies. Ales, who dislocated his hip while stemming at the end of June, spent many summer weekends in the Bugaboos as "physical therapy," soloing eight different routes, including rope solos of Sunshine (IV 5.11-) and the Beckey-Chouinard (V 5.10a) on South Howser Tower, all free except for a rappel on the latter route. "To put things into perspective," Ales said modestly, "Peter [Croft] climbed Beckey-Chouinard as part of a one-day link-up with the McTech Arete, Northeast Ridge of Bugaboo Spire, and West Ridge of Pigeon Spire, ropeless of course."
Sunset on South Howser Tower, Bugaboos.Photo by George Bell – www.camp4.com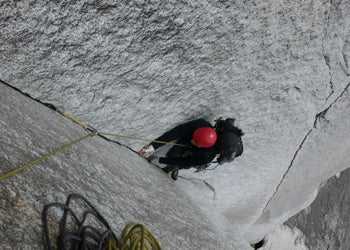 On the free-climbing front, Chris Brazeau and Colin Moorhead established two new routes and a first free ascent in the Bugaboos. The two climbed Divine Intervention (9 pitches, 5.11b) on the East Face of Bugaboo Spire. The route "offers sustained climbing on excellent rock; its close proximity to camp and sunny exposure will hopefully make it a popular classic," Moorhead said. They also put up Bugaburl (6 "big pitches", 5.11d) on the West Face of Snowpatch Spire. Both routes were onsighted in a day.
Finally, Brazeau and Moorhead free-climbed Cleopatra's Alley at 5.12a; the route climbs a six-pitch headwall with "splitter finger cracks linked by the occasional face crux," above a 1,000-foot slab with "some of the best moderate climbing either of us had ever done." The first aid pitch was onsighted, but the second required some cleaning from aid and then a redpoint, Moorhead said, adding, "This route is certainly one of the classics of the range."Comment on this story