How Much Political Influence Do Climbers Have?
Heading out the door? Read this article on the new Outside+ app available now on iOS devices for members! Download the app.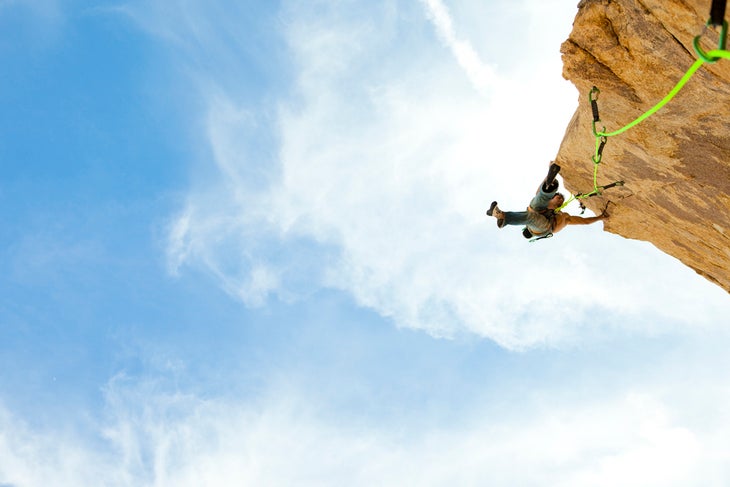 Alex Honnold wants you to vote:
"Climbers should actually vote, it's the bare minimum for making the world a better place."
He's not alone. Over the past few months outdoor advocacy groups, athletes and companies have been rolling out campaigns and get out the vote efforts in the lead up to the 2016 presidential election. One of the most ambitious is Patagonia's #VoteOurPlanet campaign, the largest political effort the company has ever launched in twelve years of electoral work.
"We've ramped it up this year, we're really doubling down," Hans Cole, Patagonia's Director of Environmental Activism explains. "We've already put $1 million in investment into this campaign in grants, to community groups that are getting out the vote, in videos and images to tell stories about environmental issues that people should care about, and into resources on our website so people can really get informed and learn what it means to vote our planet."
Patagonia also announced plans to close down their operations, retail stories, head office and their distribution operations on election day to let their staff not only vote, but help efforts to get out the vote. It's a big and bold campaign connected to other local and national campaigns, like Protect Our Winters' "Drop in and Vote," which has dubbed 2016 "the most important election in a generation." With all this effort to get climbers and the outdoor community to make a larger political stand, it begs the question—do climbers really have a political impact?
According to the Outdoor Foundation, six million adults will climb in the Unites States this year. That's a lot of people, especially while you're waiting to get on a classic route. But how does it translate politically? In 2012, 129.1 million people voted in the United States. If every climber voted, we'd make up 4.5% of all voter turnout, which is nothing to scoff at. The AFL-CIO, one of the major labor unions courted by politicians—and a powerful political entity—is twice that size, at 12 million members. But, the number from the Outdoor Foundation includes everyone, including any person tying in for the first time at the gym today and, unlike groups like the AFL-CIO, there's no climbers union organizing climbers politically.
Knowing this, you might dismiss the idea that climbers hold political power, but according to Brady Robinson, Executive Director at the Access Fund, you would be wrong.
"We have quite a bit of pull, and I think the reason for that is people acknowledge that climbing participation is on the rise and that we represent a vocal and passionate constituency. We're people that know the land well, for the most part we're good users and stewards of the land, and there's a significant economic activity that's associated with our sport."
Robinson points to a study released earlier this year by Eastern Kentucky University examining the economic impact, what he calls the "climbing economy," in counties near the Red River Gorge, including three of the poorest counties in the United States. According to the research, climbers pumped $3.6 million dollars directly into the local economy and created $2.7 million in revenue for local businesses. While this might not seem like much, imagine that number multiplied across hundreds of climbing areas in the United States.
Much of this economic impact is just starting to be understood, and though it's sizable, it pales in comparison to the financial scale and power of the forces that threaten climbing areas and wild spaces.
"While some individual companies and CEO's can make political contributions that register, we [the outdoor community] don't hold a candle to the kind of money that the oil and gas industry, the gun industry, and other industries are spending this election," Robinson explains.
Without the financial resources of the fossil fuel industry or other similar players, climbers, climbing advocacy groups, and the outdoor community have to play a different game. Right now, an iconic example is the ongoing battle over an area in southeastern Utah known as the Bears Ears.
Two visions of land use have emerged for Bears Ears, which is home to iconic climbing areas like Indian Creek, pristine wilderness, and countless sites that are sacred to local Native American tribes. On one side, Republican lawmakers have put forward a plan that would see much of the land privatized and handed over to oil and gas development. On the other, the Bears Ears Inter-Tribal coalition has proposed a plan to make the area a National Monument, a plan that has been supported by a broad coalition that includes a lot of climbers and climbing advocacy groups like the Access fund.
"It seems like a lot of the people who are stepping forward to get involved are either climbers or people interested in climbing," said Robinson. "There is a sense that the climbers show up, they are putting in the time and the trail days, going to public meetings, waiting in line in the blistering sun for hours…for whatever reason [climbers] keep showing up."
One of those reasons, and perhaps the reason this campaign has become so important to the Robinson and the Access Fund, is what lies within the Bears Ears; Indian Creek.
"There just isn't another place like Indian Creek and the Bears Ears region in the world…if we're not going to fight to protect this, what are we ever going to fight for?"
It's not just the Access Fund. In 2015, Patagonia released a film called Defined by the Line and launched their own campaign fighting to protect the region. The film tells the story of climbing in the Bears Ears, and profiles the work of Friends of Cedar Mesa, a local organization helping to lead the campaign on the ground.
"What we got really excited about with the Bears Ears was the opportunity to introduce the topic of protecting public lands to our climber audience and to find ways for climbers to really take action around something they should care about," says Cole.
While working on the Bears Ears campaign, Cole discovered that climbers "have a really authentic voice and ability to speak out on behalf of the places they get out and climb." He argues that it can go a long way in not just motivating climbers, but the wider outdoor community— and even broader society—to care about these places.
"While not all climbers think of themselves as activists or politically engaged, there's a huge opportunity for that group to get more involved and to use their voices to protect some of these places that are really at risk."
Alex Honnold believes in the climbing community's ability to affect change. While most of the work of the Honnold Foundation is in providing support to environmental non-profits, it's his work bringing renewable energy to low-income communities featured in Sufferfest 2 and the Vice Media documentary about his trip to Angola to climb and install solar projects that most of the world knows about.
"Those trips were sort of attempts to bridge the environmental work with climbing in a more direct way," Honnold explains. "They're both sort of experiments because it's hard to make the environmental projects look sexy. I think we did an alright job of it, but I don't know the best way to make those go together."
The challenge lies in one question: How do we increase our political impact? While both Robinson and Cole are optimistic that Bears Ears could be granted protection by the Obama administration before he leaves office in 2017, this fight is still a single skirmish in the unfolding battle over public lands. Add climate change to that, and you have a mix that presents a new kind of challenge to climbers, one that is about far more than ensuring access or protecting a wild space.
So, do climbers have political influence? The answer is almost definitely yes. Obama did tweet about the Dawn Wall, after all. But, at a time when one major political party is determined to sell off our public lands, that power needs to grow.