Hueco Rock Rodeo 2017 Preview
Heading out the door? Read this article on the new Outside+ app available now on iOS devices for members! Download the app.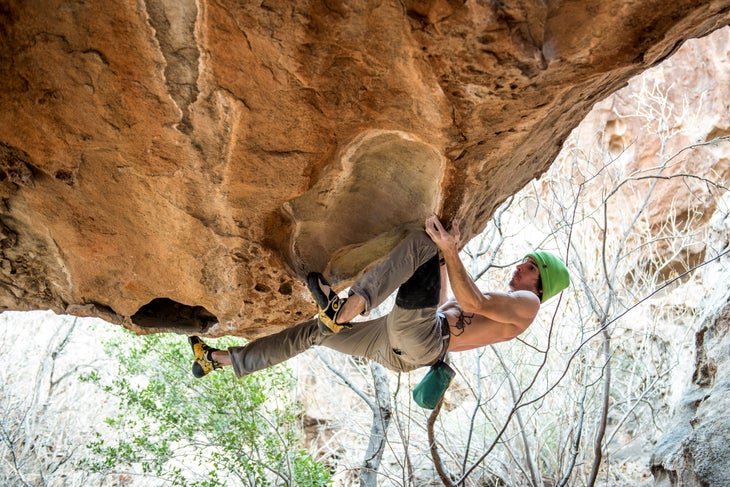 With the gym competition scene rapidly expanding, it's nice to step away from the plastic and experience another way to compete: outdoors. Along with a handful of other events, like the Holy Boulders Competition and the Triple Crown Series, the Hueco Rock Rodeo is one of the  longest standing outdoor bouldering competitions in the U.S., and is as much a climbing festival as it is about performance.
This year's Hueco Rock Rodeo is just around the corner and it's shaping up to be a wild ride. The Rodeo has a true backyard competition origin story: spearheaded by the infamous John Sherman, it started in the early 1980s as a way for a gang of dirtbaggers hanging out at Pete's (an iconic dirtbag climber campground) to have a fun and get rowdy. Through word of mouth, it grew slowly over the years and is now a nationally anticipated event that has in recent years drawn international competitors to the dusty steps of the Ranch. The Rodeo is about to embark on its 24th year and doesn't show signs of pulling up the reigns anytime soon. Since 2011 when the American Alpine Club took over rodeo operations and rebuilt the Hueco Rock Ranch, the competition has exploded into a full fledged climbing festival packed with vendors and climbers coming down for a full weekend of events.
One of the best things about the Rodeo is that it is open to all climbers—mutants and mortals alike. The competition categories include all levels: Recreational, Intermediate, Advanced and Open, as well as offering a separate pass for those who just want to see the show. Hueco is divided into four sections: North Mountain, East Mountain, East Spur, and West Mountain, with all but the first requiring tour guides. Most of the park will be reserved for the competition but the final announcement revealing the designated locations for each category won't be announced until Friday night (although the Recreational category will compete on Friday). On the eve before the Rodeo showdown, climbers can also look forward to a slideshow from Jason Kehl, a former resident of Hueco and iconic first ascensionist.
Then it's early rising Saturday for a full day of sending and screaming at the boulders, where competitors will have all day to tally up their six hardest climbs. It can be hard to tell if more climbers flock to the ranch during rodeo weekend for the comp, or the late night festivities that follow—along with the awards ceremony, this year's post comp shindig will include a raffle, dyno comp, pinata filled with recovery goodies, brews from Boulder's Avery Brewing, a circus of El Paso food trucks, a huge bonfire, and of course DJ Cletus spinning records into the wee night hours under the stars. (Pro tip: A cold pint glass serves as a great way to ice your bleeding tips at the end of the day.)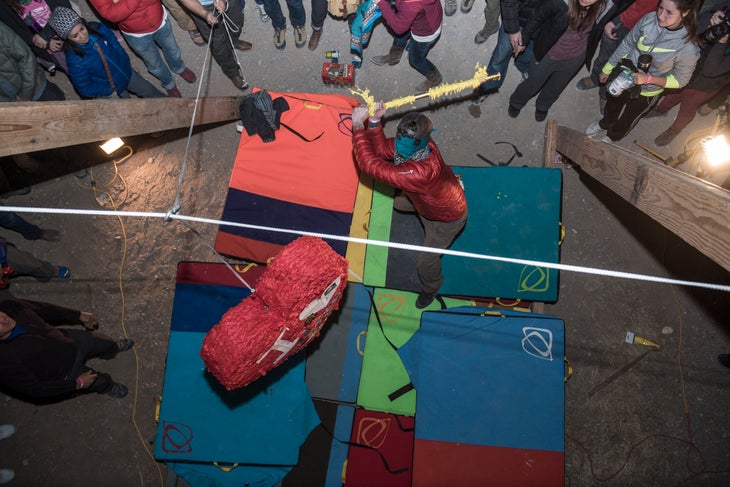 The competition for the Open category is always fierce. Each year the Rodeo seems to attract more elite climbers from near and far. Last year's first and second place in Men's Open went to euro crushers Jakob Schubert of Austria and Jon Hojer of Germany, respectively. Sam Davis, a former local and Hueco veteran took third. That said, Daniel Woods who has won Men's Open at the Rodeo more times in the last decade than anyone else, wasn't in attendance. This year he'll return, naming Hueco Tanks his favorite climbing destination in the U.S. and said the outdoor competition experience is unmatched.
"You get to go and session on problems that already exist, unaltered," said Woods. "I also like to see it as a giant training day, and see how many V-points I can rack up in a day."
Some of the Open Male competitors rumored to roll out to the competition this year along with Daniel Woods, are crushers Paul Robinson, Ben Hanna, Will Anglin, Martin Mobraten, and recently crowned Bouldering National Champion Nathaniel Coleman.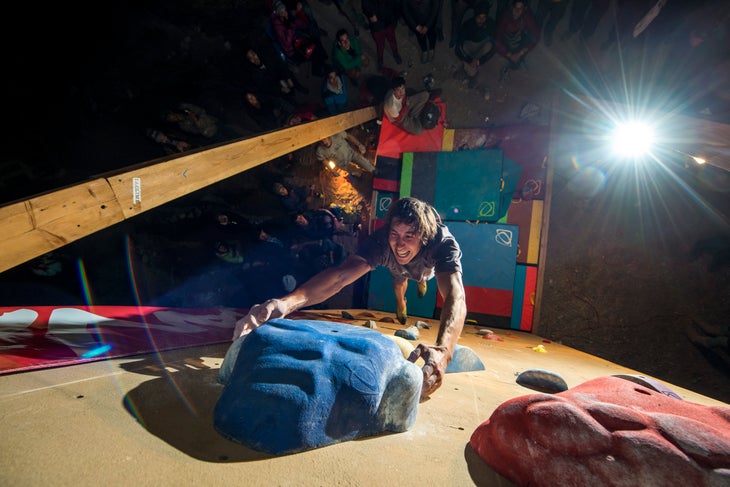 Last year's Women's Open category was just as stacked, with Alex Puccio taking first and again, two international competitors Juliane Wurm of Germany and Akiyo Noguchi of Japan taking second and third respectively. News of this year's female roster is still vague, leaving room for possible dark horse action.
Keep an eye out for Mind Frame Cinema's highlight reel to come following the Rodeo. Climbing will also be on site, posting Instagram updates throughout the Rodeo weekend. We'll see you there—don't forget your knee pad.
For more information, visit the official Hueco Rock Rodeo site.