Hueco Tanks Sending Spree
Heading out the door? Read this article on the new Outside+ app available now on iOS devices for members! Download the app.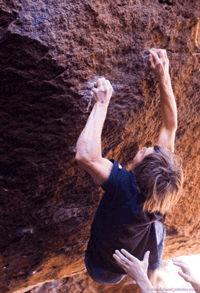 It's mid-season at Hueco Tanks again, and stuff's getting done. Like last year, the park has seen droves of visitors in 2006/7 — some of the sport's leading climbers, like Daniel Woods, Paul Robinson, Jon Cardwell, and Sean McColl. These four young men have spared no problem in their quest to bag the plum repeats. Here are some notable ticks:
Daniel Woods and Paul Robinson made an ascent of Fred Nicole's Terre de Sienne (V14), with Woods completing the line in less than an hour (eight attempts) for the third ascent. Daniel's father, Steve Woods, has said that after completing this line, Daniel now feels his September 2006 Mount Evans, Colorado, first ascent (Ode to the Modern Man) is V15, by comparison.
Jon Cardwell made the first repeat of Slashface since the ending jug broke. He feels it's justified to call the line V14 now because of the missing hold. Dave Graham nearly flashed the line last season, and then eventually downgraded it. Cardwell's ascent re-elevates the East Mountain testpiece to its original grading. "It's harder than Crown of Aragorn, Luther, and El Techo de los Tres B," says Cardwell. " … it was rated V14 before the hold broke, and that hold was a jug. It's gone now. I just felt that perhaps since it broke and it involves another move at the end, instead of a heel hook then a knee bar, that it should just be V14 … back to the original rating."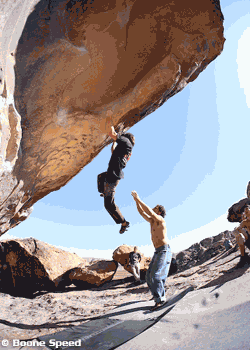 A crucial hold on the North Mountain crimpfest Diaphanous Sea (V12) snapped. Since its break, Paul Robinson has made the first repeat of the line and feels it's now solid at V12. This will undoubtedly affect the sit-down start to Terre de Sienne, likely making the line significantly harder (if not impossible).
Jon Cardwell, Paul Robinson, and Daniel Woods agreed in the downgrading El Techo de los Tres B (V13), another Fred Nicole roof line, on the Coffee Achiever boulder on North Mountain. Woods nearly flashed the crimpy line, eventually sending in less than 30 minutes.
Cardwell, Robinson, and McColl made short work of another Fred Nicole line, Crown of Aragorn (V13) in the East Spur Maze, with Robinson sending it his first go of the year (he tried it briefly last season). Crown of Aragorn makes a crimpy traverse into Better Eat Your Wheaties (V8).
On the same day Robinson sent Terre de Sienne, he also completed Luther (V13), a alternate sit down to Chblanke (V11/12) on North Mountain, bringing his season total to four V12s, five V13s, and one V14.
Daniel Woods has an equally impressive tick list from Hueco, snagging a rare ascent of Algerita (V13) near the New Laguna Prieta, the second ascent of Sharma's Full Throttle (V13; a link-up of Full Service to Dry Dock in the Dragon's Den), and Alma Blanca (a V13 next Daily Dick Dose). His grand total? Three V12s, five V13s, and one V14.
Cardwell also accrued an impressive number of ascents. He climbed nine problems graded V12 or harder. These include the power-endurance gauntlet, Right Martini (aka Shaken Not Stirred), and the fourth ascent of Flamignon (V13).
But most impressively, Sean McColl flashed a stunning two V12s and three V11s: Retour de Goupil (V12), The Flame (V12), Power of Langjager (V11), Une Pointe de Bleau Dans un Hueco (V11), and El Chupacabra (V11). Overall, McColl completed 14 boulder problems graded V10 or harder.
Look for more updates on Hueco Tanks ascents here on climbing.com.
Source: Jon Cardwell, Paul Robinson, Steve Woods, 8a.nu