Hueco Tanks – Winter Dispatches
Heading out the door? Read this article on the new Outside+ app available now on iOS devices for members! Download the app.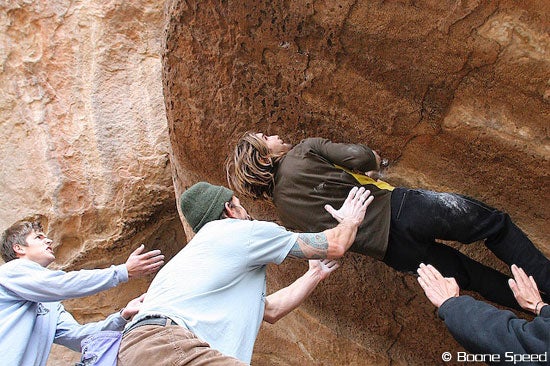 As May approaches, hot temperatures and quiet days are replacing the winter's forearm-pumping sessions and raucous nights, which typify yet another stellar season at the country's premier bouldering venue, Hueco Tanks.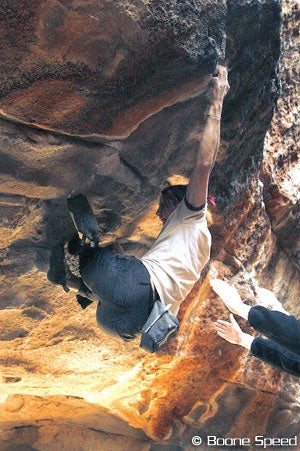 The 2005/2006 season witnessed everything from standard-setting first ascents and widespread development of new boulders to repeats of proud and stout established problems, as climbers settled into Hueco Tanks' guided tour policies and North Mountain user limitations.
Some of the world's strongest climbers made the pilgrimage to Hueco with eyes for new lines. Fred Nicole finished off his beautiful iron-rock crimp show Terremer (V15) early in the season, while Dave Graham, Chris Sharma, Matt Wilder, and Jason Kehl embraced the tour system to establish new lines in the backcountry.
More photos by Boone Speed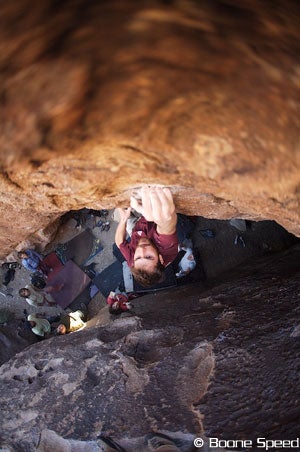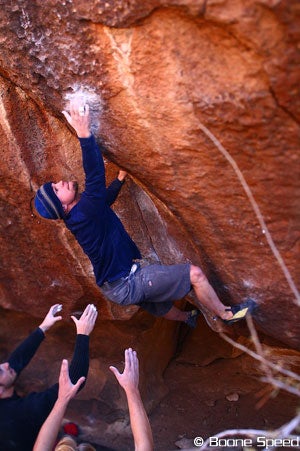 Dave Graham's TheLand Before Time (V13) is on the backside of East Mountain, in a cluster of house-sized boulders northwest of the popular Uncut Yogi. Matt Wilder's Phantom Limb (V11) climbs the obvious suspended roof directly to the left of The Birth Simulator, and his King Kong (V10) slaps and scums out a refrigerator-like feature around the corner from Winged Victory. It tops out the massive boulder perched on top of East Mountain via a hair raising, stomach-in-mouth swing over a 30-foot crevasse, followed by 5.8 climbing for 30 feet with end-of-season fall potential.
Jason Kehl and Dave Graham created new direct and proud lines up boulders where previously only traverses existed — Graham completing a straight-up from the start of Slashface, The Evangalion, which clocks in at V13, and Kehl creating excitement by punching straight up the Bomb Boulder via Rules of Chaos (V10). Chris Sharma lit up the Dark Room (V12) on North Mountain and powered through a long-standing project, linking the classics Full Service (V10) and Dry Dock (V7) to create Full Throttle (V13), with its long, powerful reaches and strenuous body tension. All in all, about 20 new lines at V9 or harder went down in fine fashion this winter.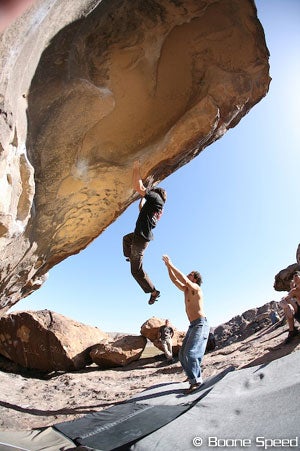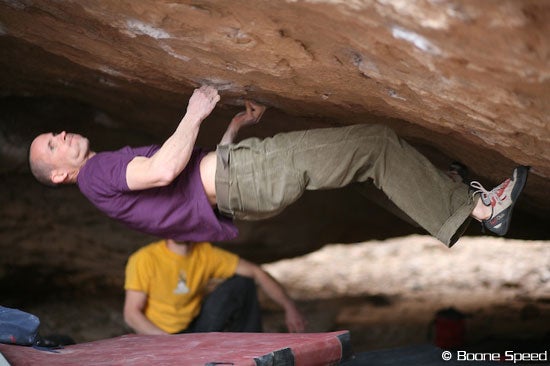 More photos by Boone Speed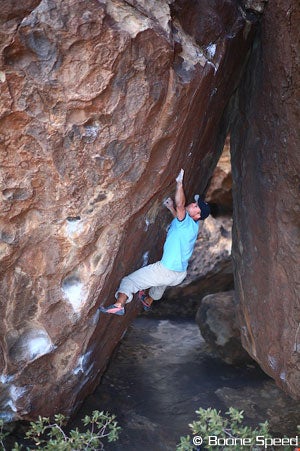 British ace Ben Moon bounded through Hueco, flashing Diaphanous Sea (V12), Free Willy (V10), and Woman with a Hueco in her Head (V10). He found some extra time to send The Full Monty (V12). Las Cruces engineering student Sam Davis continued his Hueco assault on The Flame (V12), Rumble in the Jungle (V12), and Slashface (V14). Angie Payne gave Loaded with Power (V10) its first female ascent, while Jody Hansen quickly dispatched Eckstein, Swiss Crisp Mix, and Purple Flowers, all V10.
Little-known international climbers and national travelers alike stormed through the park, too, throwing down on seminal classics such as The Scream (V11), Barefoot on Sacred Ground (V12), The Feather (V11), and Shaken Not Stirred (V12). The incredible numbers of inspiring climbers and climbing in Hueco Tanks incite wonder about the seemingly endless horizon of double-digit bouldering.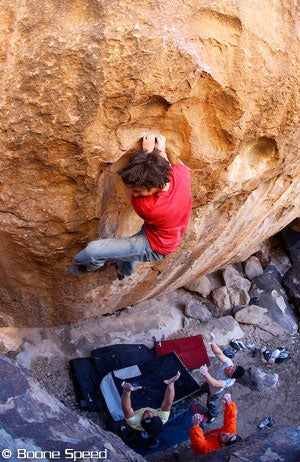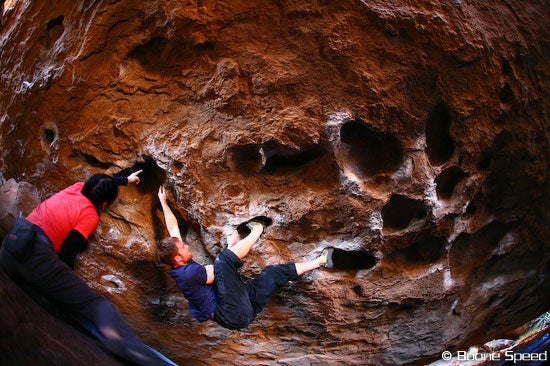 More photos by Boone Speed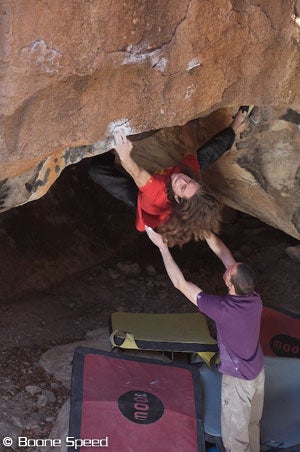 Hueco Rock Ranch owner, Rob Rice, provided the huge climber turn-out with entertainment and hospitality throughout the season. From the release of the DVD Thrutch by J-Bone Productions to the all-night New Year's debauchery and 2006 Rock Rodeo, the Rock Ranch was clearly the place to be. Where were you, G?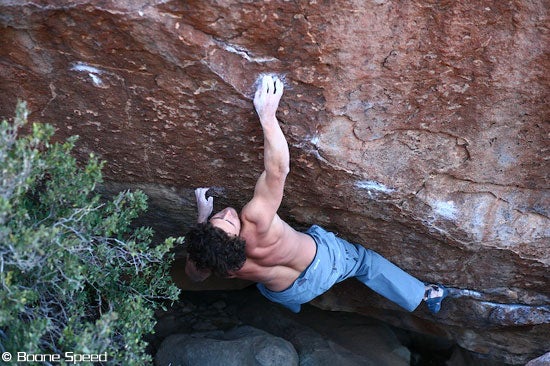 Michael Tucker a 2006 Hueco Tanks Guide, grew up in Cleveland Ohio, graduated from the University of Colorado at Boulder, and is currently full-time climbing before attending law school in August at Cleveland State University.
Check out High Intensity, a photo essay of new hard and high problems by Boone Speed, on page 40 of our 2006 Photo Annual (No. 248), on newsstands May 2.