Hueco's Grenade Boulder Closes Temporarily
Heading out the door? Read this article on the new Outside+ app available now on iOS devices for members! Download the app.
Michelle Goeman pillages Nobody Gets Out Alive (V2), Grenade Boulder, North Mountain, Hueco Tanks, Texas. Photo by Tim Kemple / KempleMedia.com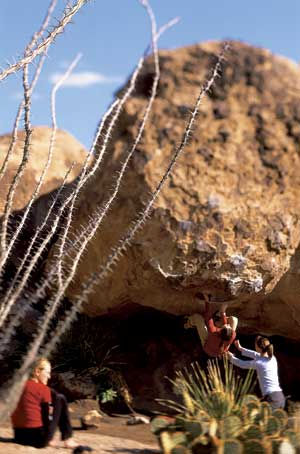 Rock climbers recently noticed canyon wrens nesting at a popular climbing site at Hueco Tanks State Park and Historic Site near El Paso, Texas. Due to concerns about disturbing the nesting birds, the Texas Parks and Wildlife Department has temporarily closed Grenade Boulder until hatchlings fledge. It is expected to be closed for about a month.
Signage designating a temporary closure of the North Mountain locale was erected March 21, according to site Superintendent Wanda Olszewski. The temporary closing, she said, was requested and endorsed by the Climbers of Hueco Tanks Coalition, whose volunteers were working on an erosion control project when the nest was noticed.
"This is the first case I'm aware of in recent years, or possibly the first ever, of a climber-requested closure," Olszewski said.
TPWD, which operates Hueco Tanks, and the climbing community haven't always enjoyed such favorable relations, so park staff were impressed that Hueco Tanks climbing coalition president Nikias Kiehnle and fellow climber Andy Klier came to them with the request for the temporary closure after they noticed the nest under the Grenade Boulder overhang.
Canyon wrens, as with all native birds, are protected by various federal statutes. The attractive songbirds are uncommon to locally common permanent residents in the Trans-Pecos and Texas Hill Country, TPWD wildlife biologist Mark Lockwood said.
While the Grenade Boulder climbing route is temporarily closed, dozens of other comparable climbing routes remain open in the park's North Mountain self-guided area.
Preservation of Hueco Tanks State Park and Historic Site's cultural and natural features is the site's primary mission and is required by law. Some climbing routes have been permanently closed over the years to protect archeological sites and other resources. But the park's mission also requires that the public be afforded recreational opportunities, and the staff works with affected user groups to try to accommodate their needs and provide the best visitor experience possible.
TPWD archeologists in 2007 assessed several areas at Hueco Tanks for signs of risk to archeological deposits, such as loss of vegetation, erosion or other changes that had occurred over time. Photographs of the sites were compared to photos taken of the same areas in previous years to determine user impact. Most of the areas were found to be in good condition, but those which indicated significant changes, such as the north face of Mushroom Boulder, were closed to further activities to protect valuable cultural resources.
Opened as a state park in 1970, the 860-acre site encompasses several clusters of 400-foot high mountains of granite-like rock that rise out of the flat Chihuahuan Desert terrain. Rock basins, from which the park gets its name, have served as a natural rain-collection system for millennia. Today, the state park represents both a natural and cultural oasis, where prehistoric peoples left a treasure trove of more than 2,000 pictographs and petroglyphs, some believed to date back several thousand years. More than 200 painted masks attributed to the Jornada Mogollon culture have been discovered at Hueco Tanks — the largest collection of painted masks in North America.
In the 1980s, Hueco Tanks earned an international reputation as a top rock-climbing spot, especially during mild winter months. In addition, a growing number of school groups from El Paso and throughout West Texas find the park to be an outstanding outdoor classroom.
Because of graffiti and other past damage to some of Hueco Tanks' invaluable archeological treasures and its fragile desert ecosystem, park users' access to the park has been limited in recent years in accordance with a public use plan. Park visitors must watch a 20-minute TPWD video that explains the history of Hueco Tanks, the importance of conserving its natural and cultural resources, and defines the park's self-guided and guided-only areas
North Mountain, with roughly four miles of marked trails, is open to unguided access for up to 70 persons at a time, while West Mountain, East Mountain and East Spur areas can be visited only on tours led by park staff, trained volunteers and commercial guides. Visitors also can choose from guided hiking, birding, rock climbing and bouldering tours, as well as three levels of rock art tours.
For more information, call Hueco Tanks State Park and Historic Site at (915) 857-1135.