Huge Conservation Victory in Cochamó!
309 hectares of old growth forest protected in perpetuity in "The Yosemite of South America"
Heading out the door? Read this article on the new Outside+ app available now on iOS devices for members! Download the app.
After many months of negotiations, 309 hectares of critical land have been purchased by Freyja Foundation in southern Chile's Cochamó Valley. The parcel is a narrow strip of forest which borders the Río Cochamó for approximately eight kilometers. Almost all of the tens of thousands of annual visitors to Cochamó (including countless climbers from all over the world), hike the length of this chunk of land on their way into the valley, making it a key acquisition in the long term conservation strategy being actively pursued by Freyja, and various other NGOs in the region.
Often referred to as "The Yosemite of South America," Cochamó is a veritable climbers' paradise. With multiple walls as tall as El Capitan, more reliable weather than further south alpine areas like the Torres del Paine and Chaltén Massif, and plenty of room left for new routes, Cochamó has become one of the most sought after global destinations for trad climbing during the Austral summer (winter in the northern hemisphere).
But unlike Yosemite, Cochamó is not a protected national park. It's a collection of private parcels, loosely managed by numerous owners. That means there are no paid workers—trail crews, rangers, sanitation departments, janitors, etc.—to manage the effects of visitation. On the other hand, there also are no grocery stores, gift shops, ice cream stores, power lines, or roads into the valley. Everyone who visits Cochamó arrives by foot, or on horseback. In that sense, Cochamó is much more wild—both in terms of the experience, and the native ecology—than Yosemite Valley.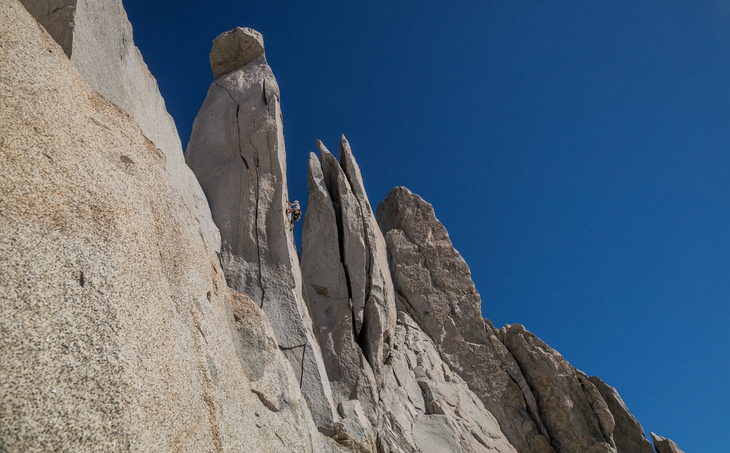 If a road was ever to be built into the valley (irrevocably changing Cochamó's pristine, untamed character), the most natural path for it would have been straight through Freyja Foundation's recently acquired land. That was a real threat under the previous owner—Felipe Escalona of The Real Eco State—who initially sought to subdivide and sell the land as dozens of private parcels. There are access easement laws in Chile under which any land owners (or potential land owners) in Cochamó Valley could justify the construction of a road. So far, that has not been a major issue. But with dozens of new owners, all eager to construct houses, or start new businesses, the pressure to build a road would have increased exponentially.
When Escalona's plans became clear, local NGOs Puelo Patagonia and La Organización Valle Cochamó campaigned for him to sell to a single conservation-minded organization instead. Fortunately, Escalona did an about-face, and even sold the property to Freyja Foundation at below market cost.
"This is not a guarantee that no road will ever be built into the valley," points out Brady Robinson, Director of Philanthropy for Freyja Foundation. "Other landowners on the same [north] side of the river could still pursue an access easement, and the other side of the river is a different issue altogether. But at this point, it makes the construction of any road into the valley highly improbable."
If the name Brady Robinson is familiar to Climbing's readers, it is likely because he was, for many years, the Executive Director of Access Fund. He was also a notable alpine climber in the 1990s and 2000s, partnering with the likes of Jimmy Chin and Conrad Anker on expeditions in the Karakoram and beyond. Robinson left the Access Fund in 2018 in part to pursue Patagonian conservation projects, including the current campaign underway in Cochamó. 
"Never before had I seen a place so beautiful–worthy of national park status in any country–without any human impact," Robinson wrote in a recent LinkedIn post about his first visit to Cochamó, 20 years ago. "I felt that I had been entrusted with a secret: that there was a place of unparalleled beauty, with trees thousands of years old and all kinds of endangered and endemic fauna that humans hadn't ruined yet."
Freyja Foundation, Puelo Patagonia, and La Organización Valle Cochamó have all been supportive of climbing in Cochamó over the years, recognizing the sport as a low impact form of tourism in line with the broader conservation goals for the valley. All three organizations have active climbers in leadership roles, and Freyja Foundation's president, Anne Deane, is a dedicated conservationist who has led numerous projects in both Chilean and Argentine Patagonia. "From our first visit to Cochamó five years ago, we fell in love with the valley and the greater Pucheguin," said Deane. "We immediately understood its significance as an important carbon sink and place of great beauty. To us, it was a no-brainer to purchase this strategic property and protect it."
That said, the conservation work to be done in the Cochamó Valley is anything but finished. Over 300 hectares (about 760 acres) have been protected, and will likely eventually be added to the recently established Cochamó Valley Nature Sanctuary spanning much of the northern side of the Río Cochamó. But the entire southern side of the river, which happens to be where the vast majority of Cochamó's established climbing routes are located, remains in peril. 
As I reported for Climbing in December 2022, some 320,000 acres of wilderness (roughly 420 times the size of Freyja's recent purchase) are for sale on the south side of the Río Cochamó, encompassing the Trinidad, Anfiteatro, and Monster valleys. While the real estate listing has been taken down since I wrote that article, the asking price when the property was first listed in 2018 was $150M USD—an incredibly steep number for any conservation organization to consider.
And yet, in a certain sense, all these conservation victories in Cochamó will be for naught if that 320,000 acres (so-called Hacienda Pucheguin) is not also protected from development by extractive industries, including Yosemite-style industrial tourism, in perpetuity. It does no good for a river to conserve only half of its watershed. Nor will the Darwin's Frog, Pudu, Huemul deer, Monito del Monte, Andean Condor—and many other endangered and endemic species which call Cochamó home—thrive under an artificially segmented biological corridor: safe on one side of the river, threatened on the other.
The obvious, common sense approach to conserving this ecosystem is to conserve it holistically. And to a large part, that is already underway, with national parks Vicente Perez Rosales to the north, and Hornopiren and Pumalin to the South. In terms of conservation, Hacienda Pucheguin is the last piece of the puzzle. It also happens to be one of the largest, arguably most spectacular, and, consequently, the most expensive.
Will Freyja Foundation ultimately step up to purchase Hacienda Pucheguin? At this time, I don't believe even they know the answer to that question. But what is clear from this purchase is that they now have skin in the game, and that is a very exciting sign for climbers and outdoor enthusiasts all over the world who have come to love this rugged, wild, incomparable part of the world.
Also Read: