Ice Pillar Collapses—With Climber on Lead
Lauren Olivia Smith was partway up 'Code Red' in Hyalite when the pillar toppled over "like a falling tree," triggering an avalanche.
Heading out the door? Read this article on the new Outside+ app available now on iOS devices for members! Download the app.
On January 27, Lauren Olivia Smith and Bailey Lasko, both of Bozeman, Montana, set out to climb Code Red (WI 5) in Hyalite Canyon. Code Red is a single-pitch pillar some two hours from the road, and Smith (on skis) and Lasko (on snowshoes) departed at 8 a.m. with 20 °F temps. It had snowed several inches the night before and, since both were experienced backcountry travelers, and since their approach brought them across several notable snow slopes, they discussed avalanche risk at length. But the new snow was seemingly well-bonded to each slope they crossed, and they trudged confidently up the final 1,000 feet to the base of Code Red.
Safely above any avalanche-prone slopes, Smith began flaking out their double ropes. She won first lead and eyed up the left side of the pillar: a gentle ice cone that straightened quickly to vertical. "Going up the final gully to the base," she told Climbing, "I did notice that the pillar looked funky and off-kilter, in a shape I'd never seen before." But from below Smith said Code Red appeared well-attached to the volcanic basalt, and she gave its stability no further thought.
A stiff wind blew spindrift onto Smith as she made her first swings into the entrance ice cone. The ice was brittle but not especially so—certainly not an indication of any large-scale instabilities. But then, 15 feet up, Smith heard a sharp crack! above her and felt the bottom half of Code Red collapse, toppling over "like a falling tree." "Looking up," she said, "I remember seeing a chunk of ice fall past me with my tool still in it."
Code Red detached roughly 35 feet above Smith, and she and it rocketed down the 30-degree approach slope not attached to anything but an unanchored Lasko. As she had climbed on its left-most side, Smith avoided being crushed by its many-thousand pound mass, and instead slid along next to the pillar in terror. "I didn't realize the magnitude of what was sliding with me," she said. Indeed, the ice fall triggered an avalanche that ripped the entire approach gully to ground: roughly 2.5 feet deep, 100 feet wide, and 1,000 feet long. Smith slid face out for 100 feet—dragging Lasko with her—before she was able to self arrest with her gloved hands. Remarkably, she was completely unharmed.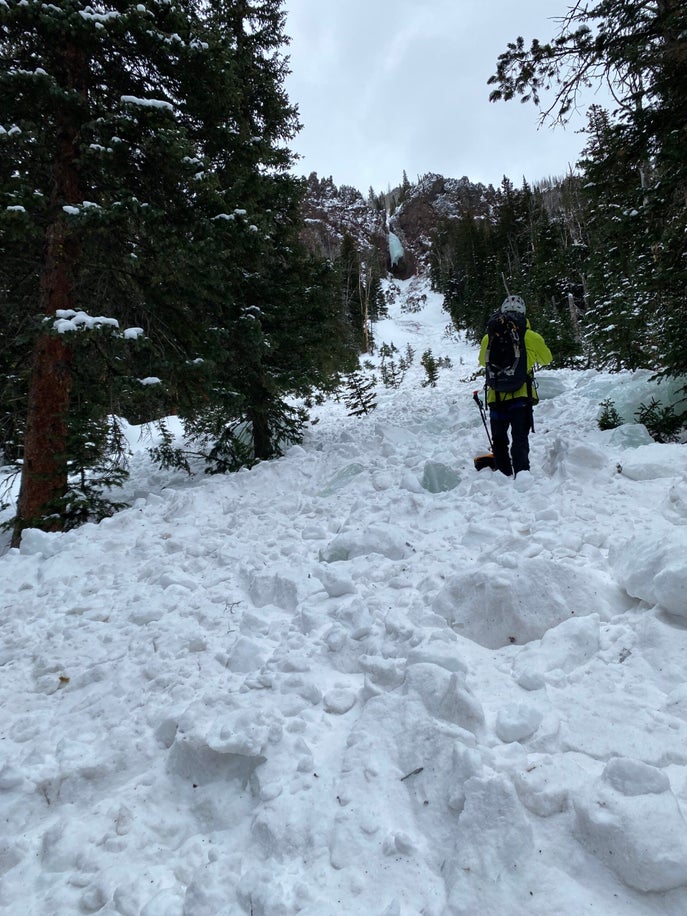 Looking back, Smith said she is still surprised that Code Red collapsed that day. She'd climbed free-standing pillars before, knew which temperature patterns to avoid, and chose a line that appeared well-bonded to the cliff. And yet, she said her concerns had been skewed heavily toward the recent snowfall: "I more often talk about snow conditions with partners rather than ice stability," Smith said. "I remember thinking it doesn't look quite right, but the part that was leaning seemed quite big, and we had a big freeze thaw [cycle], so I figured it was well attached, especially the left side, but the whole thing seemed solid." Smith said she now completes a full 360-degree inspection of any free-standing ice pillar before committing to it, in an effort to understand the ever-changing medium she enjoys so much.
---
Anthony Walsh is a digital editor at Climbing.
Also Read: