Ice Climber Dies Downclimbing in Clear Creek Canyon
A lone climber took a fatal fall after finishing a rope solo in Colorado's Clear Creek on Wednesday, January 19.
Heading out the door? Read this article on the new Outside+ app available now on iOS devices for members! Download the app.
Tucker Rowan, a 24-year-old ice climber, took a long fall late in the morning of Wednesday, January 19, in Clear Creek Canyon, Colorado. He was declared deceased at the scene.
Rowan had just finished top-rope soloing Secret Falls/Windy Saddle (WI3) a low-angle, 110-foot route with a bolted anchor.
Denver-based climbing guide Sam Sala, whose co-worker was on scene at the accident, told Climbing that Rowan had topped out and was attempting to downclimb a loose, rocky gully to the right of the flow. He slipped from near the top of the gully and fell to the deck.
A substantial amount of rock and debris fell along with the climber, but Sala said it was unclear if the rock pulled loose or if the climber was hit by the falling rock himself, causing him to slip in the first place.
A guided party was on scene to provide care when Rowan fell, and a search and rescue team was notified at 11:00 am, arriving shortly after, although "not much could be done," Sala said. At approximately 12:30 pm, the first responders declared that the rescue operation had become a recovery. The recovery, in which the Golden Fire Department, Arvada Fire Protection District, and Alpine Rescue all participated, resulted in the shutdown of U.S. Route 6 for approximately four hours, until 3:00 pm.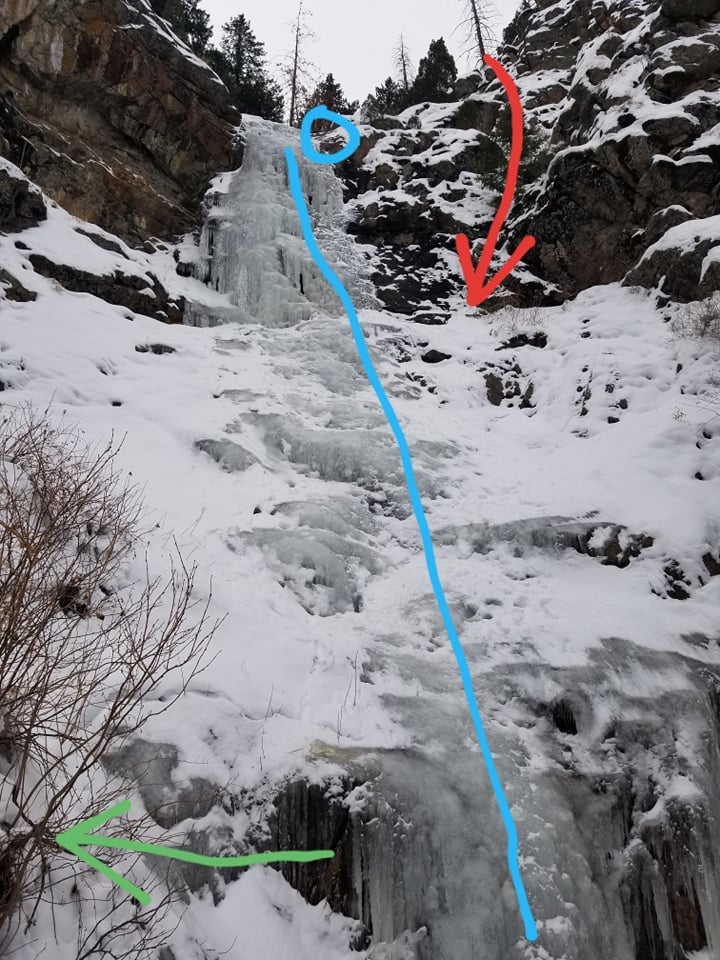 Sala, who is very familiar with the flow, said the majority of the line is low angle WI2 steps, which then turn into steeper WI3 for the final 30 feet, with anchors approximately 15 feet back from the lip. 
He noted that there is a lengthy walk off to the left of the route, which travels around the cliff band that the flow ascends.
The accident was avoidable, Sala said, "but I can see how he would've made the decision to scramble down." He believes that the safest and easiest option for descending climbers, all factors considered, is simply to rappel off the bolts, as opposed to downclimbing the gully or walking around. 
"A 60-meter rope is too short to get all the way down to flat ground," he noted, explaining why the climber chose to downclimb the gully as a viable alternative. "A single 70-meter gets you down with a bit of room, but a 60-meter comes up just short."
However, "rappelling as far as possible with a 60-meter rope would have gotten him close enough to the ground that an unroped fall [while downclimbing the remaining portion] would not have been fatal."
"A memorial service is being held on Saturday, February 5, 2022 in Frisco, TX," wrote his obituary published on legacy.com. "In lieu of flowers, donations may be made in Tucker's name to the American Mountain Guides Association. It was his dream to become a professional guide and it would warm his heart to be able to support their mission."