When Texas Freezes Over
It was always a daydream. If the perfect series of events happened, maybe, just maybe this canyon would produce ice flows.
Heading out the door? Read this article on the new Outside+ app available now on iOS devices for members! Download the app.
Here it was, a once-in-a-hundred-year cold front sweeping across Texas. Power was out in cities, people weren't able to able to get to work because of feet of snow, and I could think of only one thing: "Am I going to get to climb ice here in the Panhandle?"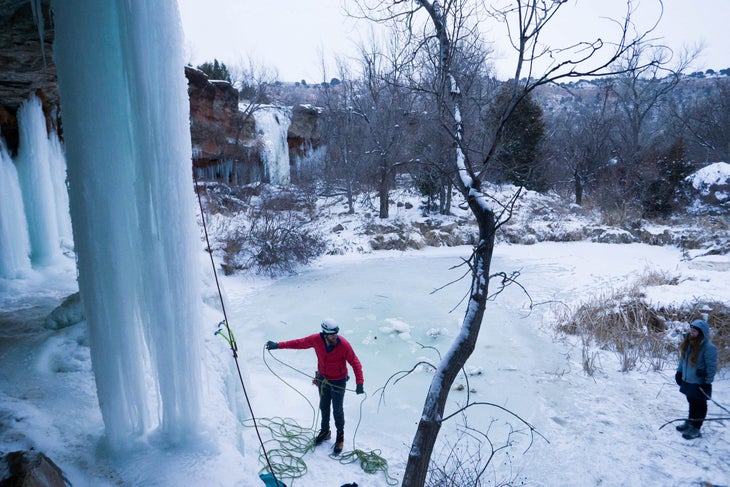 A few years ago, when my brother and I had been climbing for four or five years, we had a conversation about the associated risks of rock climbing and the talking points to memorize to tell our parents about how it is a relatively safe sport if you are careful . I then told my brother, "You know what I'll never get into,  though? Ice climbing. Those people are nuts. That can't be safe at all."
A few days later I received a call from a friend in Los Angeles who was shooting a short film with his new RED camera. He knew that we had a little experience in sport climbing and figured that all climbing was the same.
"I need you to meet me in Ouray, Colorado," he said, "and do some ice climbing for a few shots for this film."
Of course, I said, "Yep, tell me when to be there!"
Two weeks later I was toproping my first pitch of ice in the Ouray Ice Park, and with ice frozen into my beard, I was hooked and knew I'd be back. A year or two and a few bazillion dollars later, I had my full ice-climbing setup complete with used alpine boots and a handful of second or third-hand screws from eBay. The problem was, I live in Texas, and the closest ice climb is a six-hour drive to Colorado. I'd fallen in love with the sport, at least as much as one can get by following @iceclimbing, @realwillgadd, and @coldfear, and only climbing about five routes per year, but I was constantly thinking about what new climb I would want to try when the next winter rolled around.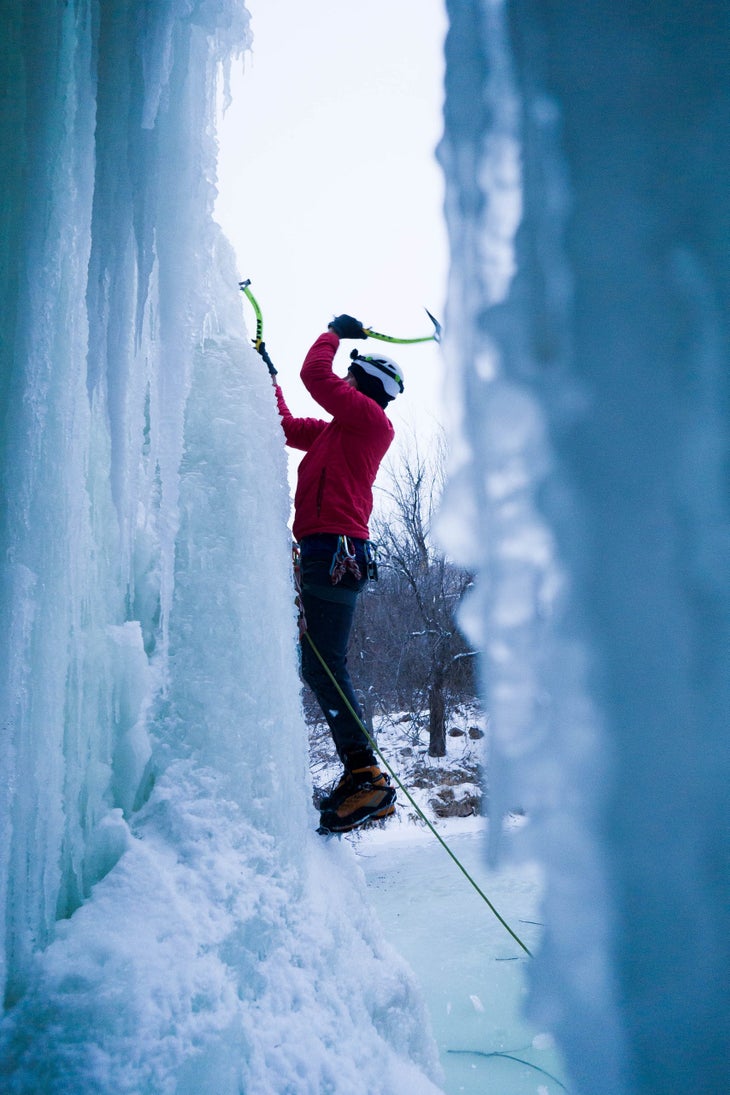 When I say, I live in Texas, I mean, the plains of Texas, where there are so few trees and hills they say if you stand on your tiptoes and look into the horizon you can see the back of your head.
The only real outdoor recreation near my town of Canyon is in Palo Duro Canyon State Park, known by local climbers for its ultra-chossy sandstone and some bouldering that constantly changes grades as holds break. With the persistent dry heat of the Texas Panhandle, the Red River Prairie Dog Town Fork at the base of the canyon is regularly dry, but on occasion a proper downpour floods the canyon floor. On one warm summer morning hike through the canyon, I began daydreaming. Maybe, if we got a good snow that began to melt, then the perfect sequence of freezing-cold days, the small waterfalls might make an ice flow or two. It was less a vision than an entertaining idea to keep my mind off the cactus thorns in my boots, but I held onto it.
Imagine my excitement when that exact set of events hit us in mid-February! After work on a Wednesday, I grabbed my headlamp and headed out to where I knew the waterfalls sometimes flowed. I hoped at most to find a small dagger that I could admire and swing my ice tools into while on rappel. When the small stream finally came into view and I saw a perfectly frozen ice flow, I knew this was a once-in-a-century opportunity.
I called my brother and encouraged him to quit his job at the bank so we could go climb it. He didn't exactly take the bait but we both took off work early on Thursday with our ice tools secured to our bags, a couple of curious friends, and the dream of being the first people to climb ice in the Panhandle (and potentially the entire state) of Texas.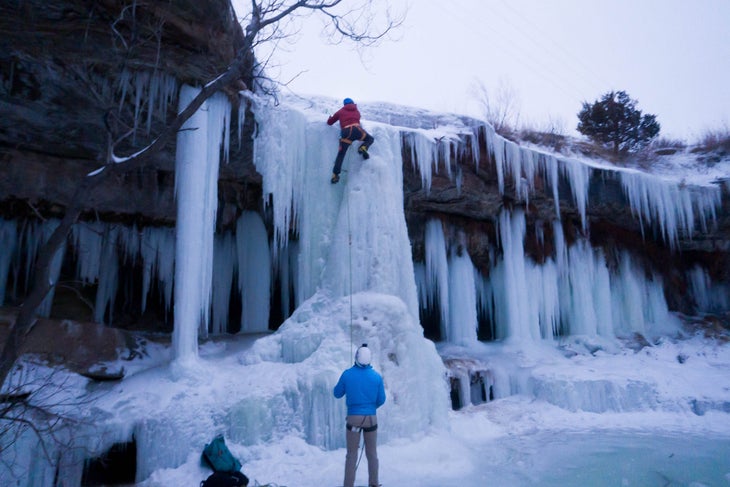 We abseiled into the canyon and with pure joy I swung my tool into the ice for the first solid stick of what to me was a humongous ice route, 25 feet. The ice was the perfect combination of sticky, cold, and solid. We named the first pillar When Texas Freezes Over (WI3-). The second pillar, a slender 20 feet tall, was Power Outage Popsicle (WI4).
We spent the next four hours repeating the same small flows of ice into the darkness of the West Texas sky.
By Saturday, temperatures had warmed and any sign of ice and snow throughout the region was gone. Now it is May and 80, and about to get a whole lot hotter. But it really happened: We discovered ice in Texas and put up two first ascents that may not see a repeat in my lifetime.