In Defiance of "The Edge"
Heading out the door? Read this article on the new Outside+ app available now on iOS devices for members! Download the app.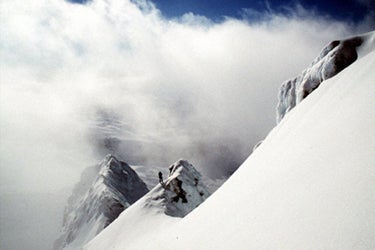 Here at ClimbingMagazine, we receive all types of submissions from aspiring writers and photographers. Many are trip reports, some are humorous recounts of past exploits, and a few are intended to provoke a quiet moment of thought and inspiration. This piece does just that, by conjuring up the romantic in us all, dreaming of that one summit that will someday change our life.
—Leah Miller
The mountain climber achieves a momentous feat and bellows, "Conquest at last!" A great moment of satisfaction has been reached. Returning to camp from a great adrenal blitz, the climber moves to celebrate the day and looks back at the mountain with new admiration, inspiration, and memories. One very small aspect of the mountain was made accessible by the gatekeeper, Mother Nature, and some of the mystery of that specific route has now been removed.
Through our pursuit of adrenal achievement, we mountaineers seek to surpass the average. Disregarding predictability and comfort, we aspire to attain the unattainable. To succeed on any ascent, when climbing a big-wall route, or when exploring unfamiliar wilderness, an adrenal explorer seems to borrow unknown forces from his or her spirit to surpass The Edge.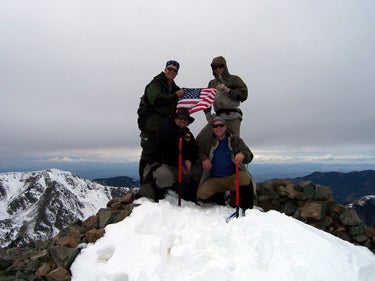 No concrete explanation of The Edge exists; however, the abstract knowledge appears when one surpasses its threshold. When we approach this fine line via our adrenal quests, the sense of risk is near, and, naturally, fear arises. At that moment, we know that we cannot manage on the easy-go, half-do mentality. As the outspoken mountaineer and training advocate Mark Twight put it, this is when we must "ascend above mediocrity."
In the most challenging of circumstances, when tapping into all our inner forces, motivation, training, and zeal, we often reach a point of wondering if we've come all that way only to discover that what we really sought was that which we'd so aggressively left behind.
There are many names for this state of mind, one being the "death march." In such states, we must recover our mind's focus, chasing away doubts, replacing them with inner tenacity, trust in our training and experience, and focus on our absolute inner drive.
What takes our minds away for those short moments varies, but has much to do with the contrast of our home-life routines. As opposed to most mistakes made in the routine of life, our mistakes on the mountain are acutely serious…and that fact rests heavy on our minds when approaching The Edge.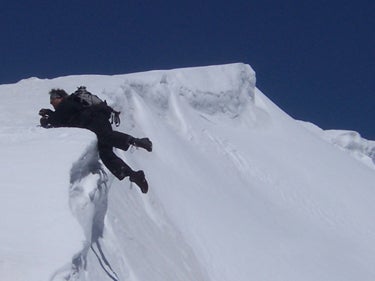 It is "self against the self," long before the involvement of any team dynamics. More often than not, upon our failure to reach our goals — finding ourselves locked down by ailment, bad weather, or otherwise bad luck — there is nothing to do but breathe, sleep, fiddle with gear, babble, or simply stare at your trail-soiled companion. You either find your soul in rallying the grit and fortitude for a second attempt, or terminate the endeavour altogether.
Our dreams are key to our adrenal adventures — picturing oneself on a challenging summit, overlooking a breathtaking ridge while hanging by a cold and sharp tool, on the morning after the achievement, soaking in the view of a sunlit cloud floor below. To those who understand the allure of the dangerous, and the powers of nature, dreams are our torture when trapped in our home or office setting. This much I've learned.
Those dreams attach themselves to experiences, of sorts. There is a particularly ironic satisfaction to be derived from the upward struggles of day-to-day life as we dream of risk, and risk "is the knife that pares away life's trivia…" as Twight composes it. We dream of facing the unattainable, and attaining the absolute simplicity on the mountain. That's what we love. When climbing, the mind becomes free from confusions and we have focus. Vision becomes sharper, the audible things richer, and we're filled with the deep, powerful presence of life. So dreams take us to initiative; we learn by application, and individual spirit takes us toward resoluteness…and eventually over the threshold of The Edge.
It is perhaps a common mistake of many adventurers to recount their most difficult mountain encounters as definitive and perceivable. Does one ever truly come to know "the mountain," when in reality it is the gatekeeper we are so avidly coming to know? Nature surrounds us, and we are its guests when on our adrenal missions. While on our undertakings to defy The Edge, if we were all in a state of total reality each time we "borrowed" a summit, we would halt in humility. To be in defiance of The Edge means just this — that we recognize the mountain as unconquerable in its essence, but in our pursuits to fulfill our adrenal appetites (and our desires to advance the human spirit), we are in fact only conquering…ourselves.