In Depth: Two 5.13s on the Diamond See First Ascents on the Same Day
Heading out the door? Read this article on the new Outside+ app available now on iOS devices for members! Download the app.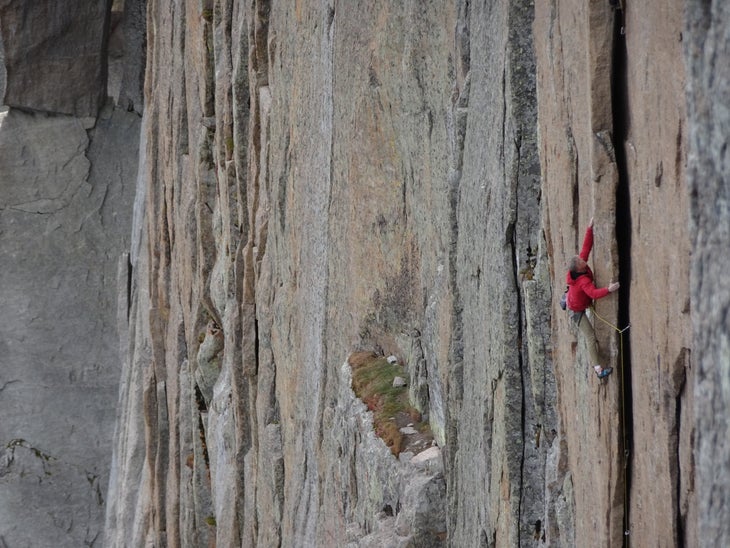 The East Face of Longs Peak—known commonly as the Diamond—is among the most iconic alpine rock faces in North America. Seventeen-hundred feet of sheer Rocky Mountain granite rises from the shores of Chasm Lake and tops out at 14,259 feet above sea level, with both the picturesque landscape and thin mountain air leaving climbers breathless. On August 9, history was made as two 5.13s saw first ascents on the Diamond on the same day, Beethoven's Honeymoon (5.13-) and Gambler's Fallacy (5.13b).
Beethoven's Honeymoon (5.13-) was opened by Josh Wharton and Phil Gruber. The route is a linkup of Eroica (5.12b) and The Honeymoon is Over (5.13c), with about 80 feet of new climbing. Wharton had climbed both Eroica and The Honeymoon is Over, but not within the last five years; Gruber had never climbed either route. Wharton spotted the potential line when he first climbed The Honeymoon is Over years ago, and suggested it as an alpine project for his partner.
After climbing together for more than 20 years, Gruber said that Wharton "is still the most motivated and adventurous climber I know."
He continued: "When it comes to climbing, if Josh suggests trying something, I usually give it a go. So, when he suggested this line a few years ago as an alpine wall project, I took it on."
Since 2017, Gruber has spent about 15 days working the project—initially sussing the line and placing additional bolts, then rehearsing the crux sequences. After being laid off earlier this year, he had more time to train for and dedicate to the route. He planned a continuous two-day lead ascent with  a bivvy on the wall. But after receiving a new job offer, Gruber knew he didn't have time to waste.
"I asked Josh if he would do a team free ascent with me," Gruber said. "It was a return to the way we climbed the Diamond when we first started climbing together 20 years ago. And it seemed like a poetic way to complete the route that Josh had initially proposed, not to mention a whole lot more fun."
They climbed in blocks—Gruber would lead the first four pitches and Wharton the last five, with both of them climbing every pitch. Gruber was disheartened when he fell at the top of pitch four on relatively easy terrain. He nearly pulled through without trying again, but Wharton was patient and lowered him back down to redpoint the pitch, which he did.
According to Gruber, Wharton "barreled" through the 5.13- crux pitch, which he had not climbed within the last five years, for an "amnesia onsight."
"I was excited for Josh, but I figured that was the final nail in the coffin for me," Gruber said. "With only one chance to send that pitch, and given I was already red-lining on the 5.12 climbing, my chances of sending this 5.13- pitch were zilch. Still, I figured I might as well try. I knew the moves and willed my body to hang on and keep moving, even though my mind kept saying it was impossible. Miraculously, I somehow made it through."
Two more 5.12+ pitches remained before the summit, which both climbers sent clean, opening up the most accessible 5.13 on the Diamond. "Soon I was at the top of the route exchanging high-fives with Josh," Gruber said. "It was one of the best experiences of my 32 year climbing career."
At the same time that Josh Wharton and Phil Gruber were making their first ascent of Beethoven's Honeymoon, Chris Weidner—supported by his partner Bruce Miller—was also making a 5.13 first ascent on the Diamond, just a few hundred feet away. The two parties shouted encouragement and fed off each others' enthusiasm.
The story of what would become Gambler's Fallacy (5.13b) started back In 2005, when Weidner and Miller made a ground-up ascent of the Layton Kor route Enos Mills Wall (5.11d, A3). At that time, they thought they might be able to free the route, or find a free variation that avoids the difficult aid climbing, but they bailed because of loose rock on the face.
"We realized then that going ground up on this particular line was not a good solution for free climbing," Weidner said.
Watch a film about Chris Weidner and Bruce Miller's ascent by Louder Than 11.
In 2010, the duo made a first ascent of Hearts and Arrows (5.12b), which starts out on the Enos Mills Wall. Over the course of the season they spent working on Hearts and Arrows, Weidner and Miller were able to get a good look at their previous high point five years early, spotting a potential variation over new terrain and started to once again consider a free version of Enos Mills.
"Seven years later, in 2017, we returned to that original vision, with the idea of finding the best free line of the Enos Mills Wall," Weidner said. "We rappelled in and spent several days swinging around, climbing different sections on toprope, and eventually decided on the line that became Gambler's Fallacy."
The line climbs up the first five pitches of Enos Mills Wall, which is also the start of Hearts and Arrows, then moves out onto new terrain for the crux face pitch (5.13b). The crux pitch climbs a slightly overhanging face up edges, pinches, laybacks, and a few crucial kneebars, before lunging to Table Ledge. It's only about 35-feet long, but has extremely strenuous climbing, especially at 14,000 feet. From there, pitch seven (5.12b) is a long and sustained crack system that shares ground with Enos Mills, but continues on direct where Enos Mills veers left. Then another 5.13a crux pitch with a roof and difficult boulder problem, followed by a finishing 5.12d pitch to the summit. Those last two pitches are all new terrain.
"We really didn't know at first how possible it would be." Weidner said. "I mean, it looked possible enough for us to imagine climbing it, but once we actually put our heads down and got into it we both were like, 'Uh-oh, this is harder than we expected!'"
To say that the team was resolute would be an understatement. In the past four seasons, Weidner and Miller have spent a total of 51 days working Gambler's Fallacy, split between one- and two-day trips into the backcountry. To put that in perspective, they made the lengthy alpine approach approximately 35 times for a project they were not sure was possible.
"I only really felt like the route was fully possible by early July of this year," Weidner said. "We got an earlier start on the project, we both really wanted to make this year the year so it was both of our summer priorities."
On August 9, Chris Weidner made the first ascent of Gambler's Fallacy. He led all of the pitches while Bruce Miller jugged behind and supported. Weidner managed a no-falls ascent of the route.
"I was very nervous because I imagined that having to repeat any pitch would have made the redpoint exponentially more difficult," Weidner said.
He continued: "It was a relief to send [the crux] first try, to be sure. However, the 12b crack above is long and sustained, and it had recently gone from being bone dry to soaking wet in many places. I knew that would be a grind. And the Roof Pitch above that is, in a way, the redpoint crux of the route, with a thin and insecure boulder problem right at the top of the pitch. So yeah, I was anxious, and I wasn't even close to celebrating after sending the crux pitch."
Despite the anxiety, Weidner managed to send the final two pitches clean and stood atop Longs Peak with four years of effort below him. Within the next few weeks, he will return return to support Miller's redpoint attempt, so both team members can put to rest their multi-year project.
"It's not the hardest, highest, or longest route I've done, but the whole journey, which really spans 15 years back to our first attempt in 2005, has required a tremendous commitment from me and from Bruce," Weidner said. "And the really special part is that we've done it all together as a team, as close friends. If a 'proud climbing achievement' can be measured in terms of trust, friendship, sacrifice and love, then this ranks as number one."
"I don't think our effort is at all comparable to what Chris and Bruce did on the same day," Phil Gruber said." Gambler's Fallacy opened up the most new pitches of hard climbing on any single route on the Diamond since Tommy Caldwell sent Eric Doub's line The Honeymoon is Over nearly 20 years ago. Chris and Bruce did a ton of work to establish their route. They seemed to be up there every time I was, and usually a couple of times in between. We are all friends, so it was great to cheer Chris on during his send, and inspirational to see him lead all of the pitches with mastery. Now we're all rooting for Bruce."