Several Indian Navy Climbers Dead, Others Missing, After Avalanche on Mt. Trishul
A 20-member expedition team was caught in a massive avalanche on October 1. Four climbers are confirmed dead, with two others still missing.
Photo: Soumen/Getty Images
Heading out the door? Read this article on the new Outside+ app available now on iOS devices for members! Download the app.
A 20-member Navy mountaineering expedition in India's Uttarakhand state was struck by an avalanche on October 1, while attempting to summit Mt. Trishul (7,120 meters). The avalanche directly hit ten of the 20 Navy climbers, along with several Sherpas, at around 5:30 a.m., when the group was a scant 1,300 feet from the summit. Post-avalanche, five of those expedition members were missing, along with one Sherpa. 
Four bodies were found and returned to Joshimath on October 2, but search efforts have yet to locate the fifth Navy climber, Lt. Cdr. Shashank Tiwari, and the unnamed Sherpa. 
According to the Indian Navy's official Twitter account, the bodies recovered were those of Lt. Cdr. Rajnikant Yadav, Lt. Cdr. Yogesh Tiwari, Lt. Cdr. Anant Kukreti, and Master Chief Petty Officer MCPO II Hari Om. "Deeply anguished by the tragic death of four navy personnel," Defence Minister Rajnath Singh wrote on Twitter. "The nation has not only lost precious young lives but also courageous soldiers in this tragedy."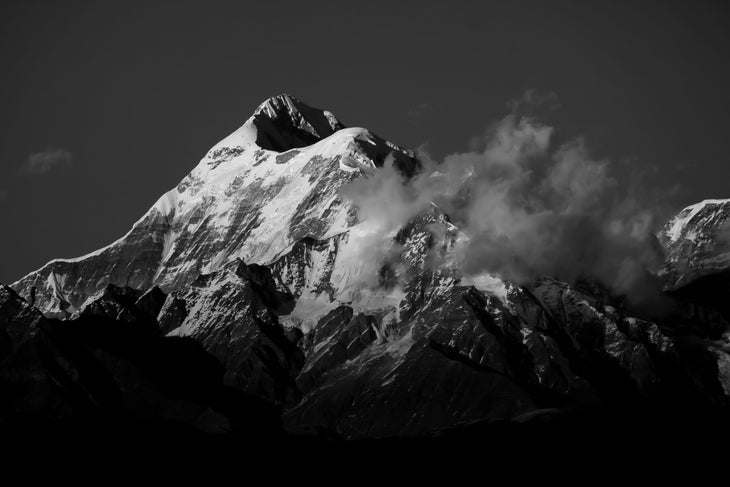 The Navy's Trishul expedition, which began its trek to base camp on September 14, was part of a variety of military events slated to mark the 50th anniversary of Swarnim Vijay Varsh. The holiday commemorates Indian intervention in the Bangladesh Liberation War in 1971, which resulted in the nation's independence from neighboring Pakistan and the creation of the Bangladeshi nation we know today. A 3,700-mile motorcycle ride by 50 Navy motorcyclists and a 435-mile bicycle trip by Indian Air Force members took place as part of the celebration, as well.
Kamya Karthikeyan, a 13-year-old Indian girl who became the youngest person to summit Aconcagua (6,961 meters) in 2020 at the age of 12, was a part of the expedition, along with her father, who is a naval officer. The two are reported safe. 
All the deceased were accomplished mountaineers and athletes, with dozens of summits of prominent Indian peaks, including Stok Kangri (6,153 meters), Kun Peak (7,077 meters), Abi Gamin (7,355 meters), and Kamet (7,756 meters) between them. 
All four of the men whose bodies have been recovered, Rajnikant Yadav, Anant Kukreti, Yogesh Tiwari, and Hari Om, participated in the Indian Navy's 2017 Everest expedition together. All except Tiwari summited, reaching the "Roof of the World" via the South Col. The team carried a ceremonial Navy ice axe, emblazoned with the Naval Ensign, to plant on Everest's summit. Prior to the ascent, another team of Navy divers took the same axe to the bottom of the sea off the Indian Coast.
Shashank Tiwari, another member of the 2017 Everest expedition and the first to summit, is the fifth climber missing on Trishul, along with the unnamed Sherpa.
Yogesh Tiwari and Yadav held a world record together, for covering 11 mountain passes by cycling 560 miles non-stop in 90 hours. Five of the 11 passes were among the highest motorable passes in the world. "Cycling for me is an addiction," Tiwari told The Hindu in 2016. I sometimes cycle throughout the night till my office hours begin." Both were accomplished ultrarunners, as well. Tiwari set a course record on India's Hell Race High 5 in 2019, running five marathons over five high-altitude passes in as many days.
The Indian Navy's last update on the search came on October 5, reporting that search efforts via helicopter and ground teams of Indian Army personnel were underway. A team of expert climbers from the Nehru Institute of Mountaineering (NIM), led by Colonel Amit Bisht, were spearheading operations.
"Time is crucial in such rescue operations. It determines the chances of survival," Bisht told the Times of India. "We lose valuable time picking up and dropping off rescue forces and equipment. Had there been a helipad at NIM and with other rescue agencies, we could have acted faster."
---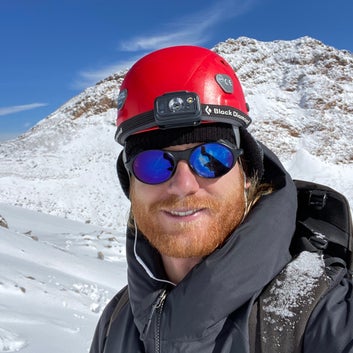 Owen Clarke is a freelance writer living on the road. In addition to spending time in the mountains, he enjoys motorcycles, heavy metal, video games, and key lime pie. 
This article is free. Sign up with a Climbing membership, now just $2 a month for a limited time, and you get unlimited access to thousands of stories and articles by world-class authors on climbing.com plus a print subscription to Climbing and our annual coffee-table edition of Ascent.  Please join the Climbing team today.