INTERNATIONAL CLIMBERS' FESTIVAL DIRECTOR POSITION DESCRIPTION
Heading out the door? Read this article on the new Outside+ app available now on iOS devices for members! Download the app.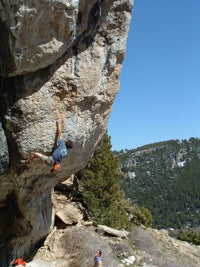 JOB TITLE: International Climbers' Festival Director
REPORTS TO: International Climbers' Festival Board of Directors
JOB OBJECTIVE: Complete all tasks necessary to running a successful annual festival.
QUALIFICATIONS: Applicants must be self motivated, organized and personable communicators who are familiar with the interests of the climbing community. Experience with budgeting, fundraising, grant writing, and community projects are helpful. It is recommended that applicants consider living in/near Lander as this job takes on significant challenges if pursued from out of town. The International Climbers' Festival continues to be a grassroots event that heavily depends on personal rapport and support of the local Lander community. Applicants are asked to attend the previous year's festival for training purposes (July 8-12, 2009) and expect to begin taking over the director duties in August 2009 (for planning the 2010 festival). It is also advisable that applicants own or have access to a computer.
LEADERSHIP OR SUPERVISORY DUTIES: Be able to prioritize job tasks and recognize when additional support is needed. Manage relationships between festival and sponsors, the public and volunteers. Work with ICF Board of Directors to ensure ongoing festival continuity and success.
FUNDS AND/OR PROPERTY: Responsible for all funds associated with festival. Manage a $15,000 budget.
RESPONSIBILITIES:
• Make all necessary preparations for the festival to occur. Includes designing schedule of events, recruiting presenters, and organizing complex event logistics.
• Maximize festival attendance and participation through use of advertising, the festival website, blogs and social networks.
• Convey the value and uniqueness of the ICF to prospective and repeating national and local sponsors, and manage relationships with sponsors, in order to ensure ongoing support of the festival.
• Recruit volunteers and delegate responsibilities as needed, e.g. volunteer coordinator, trade fair coordinator, local sponsorship coordinator.
• Create budget, pay bills, track revenues and expenses for all festival finances.
• Provide monthly progress reports to the Board of Directors regarding finances and completion of scheduled tasks.
• Maintain a positive image within the Lander community.
• Understand the vision and direction of the ICF and the bylaws, policies and procedures.
COMPENSATION: $5000, with the potential for incentives if the festival is financially successful. This is a yearround, part time position, culminating in the July festival. Past directors have estimated roughly 400-500 hours of work. A cell phone that is paid by the festival is included in the position.
HOW TO APPLY: Please send or email your letter of intent and résumé before June 19th 2009: climbersfestival@gmail.com International Climbers Festival PO Box 1304 Lander, WY 82520